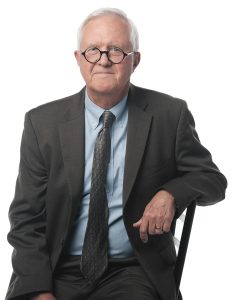 Judge David Avery
Allen Superior Court
Valparaiso University School of Law, 1976
Why did you decide to enter the legal profession?
A combination of having graduated with a B.S. in economics (what could I do with that in the recession in the early-to-mid-1970s?) and having grown up in the late '60s and early '70s when there was a great deal of social unrest. I came to the conclusion that the best way to make a change was not by "dropping out" but by being in a position to make changes from within the "system." I was anticipating that I would have a career doing something that would be helping others in a meaningful way and could, perhaps, make a difference in people's lives.
Who is someone who has inspired you in your career?
It could take me a long time to fully answer this question because there are so many individuals who inspired me. Other than a number of my family members, I have been blessed to have Byron Hayes and Ivan Lebamoff, who were the two lawyers who saw something in me to offer me a position. Not to mention all those attorneys who I have been associated with during the time I was in private practice, as well as my colleagues on the bench.
I'm very fortunate to be located in Fort Wayne and be a member of the Allen County bar. Early on in my career, I was indoctrinated into the culture of practicing law in Allen County both by the lawyers that I was associated with as well as those who were on the other side of the issue — the importance of striving to do good work, being civil, being involved in the community, being charitable and to committing to helping those who are in need of legal assistance but don't have the means to pay for that assistance. Allen County has been a wonderful place to practice law.
What's the best advice you've ever received?
During law school I clerked for an attorney who told me that the primary motive for becoming a lawyer shouldn't be because of the potential of earning a better-than-average income. Rather, the better reason for becoming a lawyer is to help your client obtain the best result possible by exercising your training and skills to the best of your abilities. If you accomplish that, the financial aspect will take care of itself.
What makes a good lawyer/judge?
Striving for the virtues of listening, empathy, patience, compassion, mercy and charity. Communication (returning calls). Honesty with your client, opposing counsel and third parties. Motivated to be organized (adopting a system of reviewing files on a regular basis, calendaring important dates, constant lists of things to do). I have come to believe in the formula of Law + Compassion + Mercy = Justice.
If you hadn't pursued a legal career, what would you be doing?
Perhaps being an engineer, i.e., mechanical, civil, electrical, etc. Over the years I really enjoyed my involvement in cases with expert witnesses in the field of engineering. Understanding how or why something happened in the manner it did is interesting. It must be why I enjoy reading and watching mysteries.
How do you spend your free time?
Spending time with my wife and family. We like games, movies and talking about our lives. My grandchildren enjoy being chased, doing puzzles, playing dolls, being creative with Legos and watching Disney movies (over and over and over again). I enjoy yardwork and taking walks. I love watching White Sox baseball. When I can, I enjoy fishing with my brother and friends. I enjoy fishing Lake Erie, Lake Michigan and Canada.
Your nominator wrote, "Dave claims to be a good fisherman." Are you?
I don't know that I would claim to be a "good" fisherman. Ethically I'm supposed to be truthful, but when talking to fisherman the tendency is to overstate the number of fish caught and the size of those fish. Fortunately, I'm not under oath when those discussions take place. I certainly enjoy fishing. I get as much joy from catching small largemouth bass in a farm pond as I do when catching northern pike in Canada … well, maybe not quite as much. I do enjoy being in the company of fishermen as much as I enjoy being in the company of lawyers and judges.
What's the best part about being a judge, and what's the most difficult part?
I enjoy doing those activities that help people. Handling conditional license requests has been satisfying when I see the reactions of folks who have not had driving privileges for years when they realize that I will be granting them driving privileges. Especially those that become very emotional. It has been life-changing for some based on feedback from a few of those who have written thank you notes after a period of time.
I enjoy performing weddings, at least most of them. I enjoy the challenge of handling civil disputes. There is such a variety of cases, and the variety of issues are most interesting. I enjoy observing good lawyering, especially in jury trials.
The most difficult part is having to make decisions in those cases where both parties have compelling arguments; or in those instances where I don't agree with the law but I am bound by precedent.
If you were an animal, what would you be?
Not sure. I guess I'll wait to see until after my reincarnation.
Which superpower would you rather have: invisibility or the ability to read minds?
Without a doubt, given a choice of these two powers, I would choose the ability to read minds. But only if I can turn the power on and off. I don't think I could handle knowing what others are thinking all the time. This power would really help me as a judge.•
Please enable JavaScript to view this content.