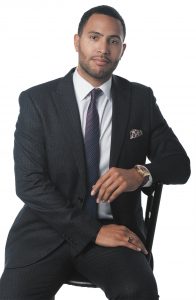 Julian Harrell
Faegre Drinker Biddle & Reath LLP
Indiana University Robert H. McKinney School of Law, 2012
Why did you decide to enter the legal profession?
I wanted to create abundance.
Who is someone who has inspired you in your career?
I wouldn't have the same opportunities today without my "fairy godmother" — she is at the top of the list. She opened a door more than 20 years ago that single-handedly changed my life trajectory. I wake up every day (usually because she's texted me at 5 a.m.) and am inspired by her generosity and sustained impact on my existence. There is a long list of people who have supported, pushed, inspired and motivated me to this point. I am thankful for each of them (they know who they are).
What's the best advice you've ever received?
At times, it takes sheer determination to overcome adversity.
If you hadn't pursued a legal career, what would you be doing?
Teaching high school history and making hip-hop music during the summer.
What makes a good lawyer/judge?
A good sense of humor. Active listening. Attention to detail. Time management. Lots of practice. Influential people who want to see you succeed.
If you were an animal, what would you be?
A wolf. By itself, a wolf is still a powerful and majestic creature, but wolves fare better with a strong pack. Also, I stay hungry (literally and figuratively).
Which superpower would you rather have: invisibility or the ability to read minds?
Reading minds — much rather know what other people are thinking.
How do you spend your free time?
Really enjoy eating at Milktooth and Beholder with my fiancee. Otherwise, it's a combination of making music, working out and catching up with friends.
How did you get interested in environmental law?
I always tell people that I "tripped and fell" into environmental law. During my first year of law school (as an evening student), I started working part time at Taft Law as a file clerk. Several of the attorneys on my floor worked in environmental law. Even as a file clerk, working in that setting was immersive and conjured up some curiosity. By the time I graduated from IU McKinney, I had spent considerable amounts of time around environmental law. I remember Scott Alexander and Bob Clark coming into my office one day and telling me they wanted to make me an environmental attorney and that "it was a no-brainer" — I agreed.
After joining Faegre in 2015, my practice accelerated, and I've grown to enjoy the environmental discipline even more, especially by expanding into environmental, social and governance (ESG) and sustainability work.
Tell us about your involvement in the arts.
Indianapolis is such an interesting market for the arts. There seems to be a constant tension between innovation, visibility and availability of resources. So far, my most memorable involvement has been chairing the board of The Sapphire Theatre and now serving on the Indiana Repertory Theatre board as chair of the Inclusion, Diversity, Equity, and Access (IDEA) Committee. I also make time to perform my own material around town, whether at the VOCAB open mic or merging hip-hop and Shakespeare with Indy Shakes (recently performed a snippet of Richard III that was a ton of fun).•
Please enable JavaScript to view this content.