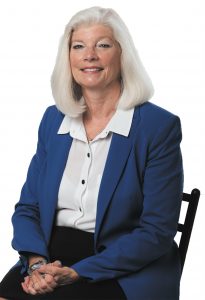 Karen Richards
Allen County prosecutor
Indiana University Maurer School of Law, 1979
Why did you decide to enter the legal profession?
I have been interested in being an attorney since I was a teenager. I grew up in a time of social and political unrest, a time when women were becoming more forceful about taking a greater role in society. It seemed that the best way to mold a better society was to work within the system, and being an attorney seemed to be a good fit for me.
If you hadn't pursued a legal career, what would you be doing?
I would probably be involved somehow in the music industry or in something involving historic preservation. Both are passions of mine.
Who is someone who has inspired you in your career?
I have been lucky to have had many positive role models, but probably the most influential were my parents. My mother was a career woman in the 1940s, when women were not part of the working world, and my father was a great advocate for women getting a higher education and pursuing a career path.
What's the best advice you've ever received?
Act like your mother is watching over your shoulder!
What makes a good lawyer/judge?
So many things contribute to being a good attorney: balance, integrity, hard work, a good sense of self, common sense, humility, a sense of humor and a measure of intelligence.
How do you spend your free time?
I really enjoy music, especially live music, art and history. I work with a local historic preservation organization and give yearly researched lectures in addition to leading local history tours. I think knowing and understanding history is critical so that we can appreciate how we got to where we are and how to learn from past mistakes!
If you were an animal, what would you be?
A cat.
Which superpower would you rather have: invisibility or the ability to read minds?
Invisibility — being able to read minds would be too distracting.
As the first elected female prosecutor in Allen County, what advice do you have for young women lawyers?
It is difficult being an attorney, and I still believe women have challenges that men don't have. First of all, look and act like an attorney. Social media, if not used conservatively, can embarrass you forever. Have a good sense of your own self-worth, because women are still judged differently from men. Aggressive men are considered a virtue, but this is not always true for women. That being said, you can accomplish anything if you work hard enough. You also must genuinely like and enjoy people, because if you do not, this is a miserable career. Finally, keep a close set of friends and family, because they will keep you centered.
What do you get out of your involvement with the Indiana Prosecuting Attorneys Council?
For prosecutors, IPAC is essential. Being a prosecutor is often a thankless job, and IPAC provides all of us with camaraderie and the support of our peers. IPAC is an excellent source of educational opportunities and provides a head check for important decisions. It also allows us the ability to have influence as a group and advocate for victims and our communities.•
Please enable JavaScript to view this content.