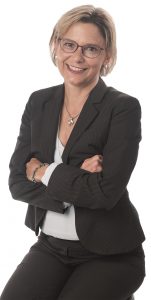 Kathleen Anderson
Barnes & Thornburg LLP
Indiana University Maurer School of Law, 1992
Why did you decide to enter the legal profession?
I remember wanting to be a teacher in about the first grade, but I otherwise can't remember wanting to be anything but a lawyer. Maybe I watched too much "L.A. Law" in middle school?
If you hadn't pursued a legal career, what would you be doing?
My younger self probably would have pursued a position in government. The more interesting question is what I'd do now if I had to choose an alternate career. If I had to choose an alternate career now, I might be an executive coach (something that requires life experience).
Who is someone who has inspired you in your career?
Throughout my career, many lawyers and judges have affected how I practice law and how I think about the practice of law. Some of those have been mentors and peers in my law firm. Many others were my adversaries, lawyers with whom I have interacted in the profession, in-house lawyers with whom I have worked and members of the judiciary.
What's the best advice you've ever received?
The best advice I ever received was to have dinner with my family. Nothing can replace that time around the kitchen table. My three daughters have all launched (mostly), and I am so glad that my husband Cort and I made our family a priority.
What makes a good lawyer/judge?
A good lawyer, or a good judge, is a good human, problem solver and communicator. And humility and a sense of humor are pretty helpful.
How do you spend your free time?
My husband I and are active in our daughters' lives, traveling to see them where they currently live in Minnesota, Washington, D.C., and overseas. I spend time gardening, passing out produce (I grow more than I can use) and saving and sharing seeds for the next year. My current project is training the Shetland sheepdog (sheltie) I got during the pandemic. And I'll be honest: I'm up to date on Netflix, etc., happenings and like video games.
Which superpower would you rather have: invisibility or the ability to read minds?
I think I've seen a movie or two indicating that my answer is a bad one, but I'll go with it anyway: the ability to read minds. My caveat is that I wouldn't want that superpower to be active all the time; that would be overwhelming.
If you were an animal, what would you be?
I just did a quick online test and was surprised by the answer: a spider. "Spiders weave their plans in intricate webs and allow events to unfold in their favor. You have the patience to wait and the will to get what you want." Not sure how the random test I took came up with that answer. Then I asked my husband Cort for his opinion. He said, "Cheetah."
Tell us about your work with the Fort Wayne Children's Zoo.
I love our award-winning zoo in Fort Wayne. I literally begged to join the Fort Wayne Zoological Society Board about 20 years ago until they finally let me on. For me, it isn't just about the animals — it is about connecting kids and animals, strengthening families and promoting the zoo's wider mission. Our zoo draws from beyond our local community. It is such a community gem, drawing lifelong supporters. I've served in various board positions over the years and have assisted with capital campaigns.
How did you get involved with the Judges & Lawyers Assistance Program, and what do you get out of that work?
I received a call a number of years ago with a request that I work with a fellow lawyer. This was new to me, and I honestly didn't feel qualified for the assignment. After that assignment, there were other requests for assistance. I can't give details because the process is entirely confidential. However, I can say that I often feel that I get as much out of an assignment as the person who needs the assistance or support. It is a way that I give back to our profession.•
Please enable JavaScript to view this content.