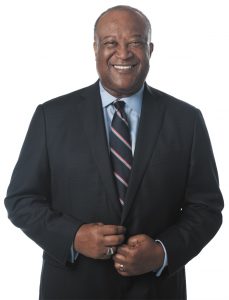 Lacy Johnson
Taft Stettinius & Hollister LLP
Indiana University Robert H. McKinney School of Law, 1981
Why did you decide to enter the legal profession?
Mine was not a typical path. At the age of 7, I witnessed my father being detained by the police following an incident in our neighborhood. We found ourselves in need of an attorney and hired attorney Frank Hughes, who went on to serve as the Circuit Court judge for Marion County. The charges were ultimately dismissed, but I remember the impact Judge Hughes had on our family during a very traumatic time. He stayed in touch with us throughout his life and submitted a letter of recommendation on my behalf when I applied to law school. His influence on my life and my family's well-being shaped my career choice.
If you hadn't pursued a legal career, what would you be doing?
I did have another earlier career as an Indiana state trooper for 14 years. My first encounter with law enforcement as a youngster was not a positive experience. Consequently, I wanted to make a positive impact with those who interact with law enforcement, especially minorities. Doing things in a different, helpful and positive way is important to me. To more directly answer the question, I would likely be more heavily involved in government and politics if I were not a practicing lawyer.
Who is someone who has inspired you in your career?
Congresswoman Julia Carson inspired me in the way that she worked tirelessly at providing opportunities for anyone that she touched — regardless of where they were in their careers. She often said, "Meet them where they are." When you encounter people at the top or at the bottom, that mindset makes all the difference in helping them on their journey. Congresswoman Carson carried an inspirational card with her at all times — probably until she took her last breath — that said, "Treat others the way you want to be treated."
What's the best advice you've ever received?
Treat people the way you want to be treated. I heard this in Sunday school lessons, but Congresswoman Julia Carson lived it. I aspire to walk in her footsteps with each and every interaction.
What makes a good lawyer?
Good lawyers are good listeners who act upon what they've heard in order to reach a fair conclusion.
How do you spend your free time?
My wife Patty and I have a son, Lacy III, who lives nearby, and we're blessed with five grandchildren and one great-grandchild. The majority of my free time is spent with my family and working with community organizations, including the Indiana University Foundation, Congressional Black Caucus, Madam Walker Legacy Center, NAACP, IndyGo, the Indianapolis Airport Authority — and various publicly traded corporate boards.
If you were an animal, what would you be?
I would be an elephant because they have good memories, are family-oriented, travel together and help each other.
Which superpower would you rather have: invisibility or the ability to read minds?
This question struck a chord with me — in a different way. There are too many in our society who feel invisible. Women and people of color are often treated as if they are not even there. We've all felt invisible at times. The real question is, how do we ensure everyone is seen and has the opportunity to voice their point of view?
What was your experience like working on the Biden-Harris transition teams?
Priceless. My experience in working on the Biden-Harris pre-election and post-election transition teams ran the gamut from being highly strategic to being extremely nimble in reacting to national events and other pressing issues. Pre-election, agenda items were always fluid, and days were filled with constant change and flexibility. Post-election, it become more focused and more intense to meet federal deadlines in launching a new administration.
What advice do you have for young lawyers of color?
Never give up. Set your goals. Make sure you're willing to adapt because circumstances often change. Initially, I never wanted to be a practicing lawyer in a law firm; I wanted to be involved with government as it relates to the law. Be flexible because your path will alter if you're open to new ideas. That said, keep your core principles intact. Your decisions and actions should also be grounded in those core values.
Why did you pursue public service, and what have you gotten out of those experiences?
Public service provides the opportunity to give back and to help make positive change. My life has been enriched by those experiences and by those I have met along the way. Many have served as important mentors to me through the years. Those mentors have come from all walks of life, including Sunday school teachers, athletic coaches, classroom teachers, neighbors and colleagues. All of us have opportunities to mentor others, and we often don't even realize our influence on others we help.
What's been the proudest moment of your career?
In reality, I've had multiple careers with different moments that provided a sense of fulfillment. Upon reflection, my proudest moment was being admitted to the bar while surrounded by my parents, family members, coaches, teachers — along with a very special Sunday school teacher, Mrs. Florabell Wilson. It was the springboard to what would follow, and I couldn't have accomplished this milestone without each of them. I am grateful and blessed.•
Please enable JavaScript to view this content.