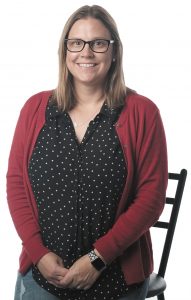 Rayann Knepley
Kids' Voice of Indiana
Why did you decide to become a paralegal/legal support staffer?
It was never my intention to become a legal support staffer/paralegal in the beginning. I was a new, young mother looking for employment. An attorney that had represented a family member had just recently lost his legal assistant, and they were looking for someone. The attorneys allowed me to come in and help them out for a couple of weeks. You could say I fell in love with law and being a legal assistant as I was with that firm for 14 years. After that, I went to work for another firm as a paralegal and then on to Kids' Voice when the firm I was working for joined them.
If you weren't working in legal support, what would you be doing?
My dream job was to become a physical therapist for a pro sports team such as the Pacers or the Colts; however, I don't think that I could handle that much schooling. I cannot imagine doing anything other than legal support now.
What makes a good paralegal/legal support staffer?
There are many attributes to being a good paralegal, but I think the most important one is that you need to be organized — not just for you, but for the attorney, as well. Reliability and productivity are a few others that come to mind. Lastly, we must be able to think outside the box as cases are very rarely the same each time.
What advice do you have for young paralegals/legal support staffers just beginning their careers?
Join an association, whether that be the Indianapolis Bar Association, Indiana State Bar Association, the Indiana Paralegal Association or all three. It's great to have a network of people that are in the same shoes as you, that have experience and can help guide you. Attorneys are sometimes busy and don't always know how to help. Networking is so beneficial.
What makes a good lawyer?
I believe a good attorney supports his/her legal support staff and helps them to grow and learn. If you allow your legal support staff to grow and learn, it helps your firm. I'm also a huge advocate for attorneys to be flexible. Allow your legal support staff off a little early for their children's activities. Be understanding of their personal life issues, as well.
How do you spend your free time?
Free time? What's free time? I am a wife to an amazing man, a mother of two wonderful sons, both of whom are in college — one in Virginia at Marymount University and one at IUPUI. I am also the clerk-treasurer for the little town where I live. My husband and I are also very active in our church, where he opens the services and I play the drums during praise and worship.
If you were an animal, what would you be?
I was having difficulties thinking of a response, so I asked my youngest son. His reply: "a lioness." When I asked him why a lioness, he responded by saying that lions are providers, but they are also caring parents. My heart melted!
Which superpower would you rather have: invisibility or the ability to read minds?
Ability to read minds. We all know attorneys aren't always the greatest at telling us what they want! I'm kidding … maybe!
What drew you to working with children/families?
As I mentioned previously, legal support staff/paralegal work just fell into my lap. It just so happened that family law was where it fell. I've done a little probate work and criminal law, but nothing I've worked on has been as challenging and fun as family law.
Tell us about being a guardian ad litem.
Being a GAL is one of the most rewarding things I have done. Advocating for the best interest of a child(ren) in a case where there may be some type of abuse or high conflict between parents can be stressful. You put yourself into a position where you must make judgment calls on individuals based off information provided to you all while keeping your own personal feelings out of it. However, knowing you are possibly helping a child from enduring further trauma is worth it. Volunteering my time to ensure children are happy, healthy and protected is the least I can do.•
Please enable JavaScript to view this content.