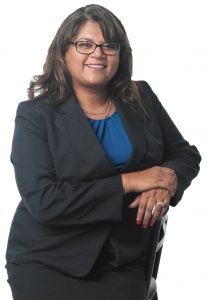 Rehana Adat-Lopez
Lake County CASA
Valparaiso University School of Law, 1996
Why did you decide to enter the legal profession?
Since I was young, I always wanted to be an attorney. I was born in Uganda in East Africa. My family immigrated to the United States when I was 2 years old to escape persecution by a dictator, Idi Amin. We came here with nothing. We were blessed to be sponsored by a small church in Fort Wayne. The members of the church were wonderful and assisted our family in many ways, including navigating the legal system so that we could successfully settle in the United States. Growing up, my parents always instilled in me the importance of getting an education, working hard, being kind and giving back to the community. I believed that a career in law would offer many opportunities to help others, especially those who might not otherwise be able to afford the services of a lawyer.
In addition to helping others, a career in law would allow me flexibility to choose from many career paths and areas of practice. In the beginning of my career, I was limited in my practice area due to the financial constraints of student loans. I worked in the private sector but made a concerted effort to do pro bono work throughout that time and learn as many areas of law as possible. My work in the private sector allowed me to gain invaluable experience in litigation and mediation. My knowledge and experience helped me secure my current position as the director of the Lake County CASA program. In my current position, I practice law, manage employees, prepare budgets, write grants and am responsible for the overall administration of the organization. Most importantly, my work allows me to represent the most vulnerable and voiceless members of society, children.
If you hadn't pursued a legal career, what would you be doing?
I think if I hadn't pursued law, I would have been a psychologist or a therapist — and a CASA volunteer (of course)!
Who is someone who has inspired you in your career?
My parents have always been an inspiration to me in every aspect of my life. They came to the United States with nothing and worked hard to provide their children with opportunities for a successful future. My father was a laborer and worked for the same company for 35 years. My mother worked part time in the supermarket service industry for 26 years. Throughout the years, they also participated in my school activities, volunteered for charitable organizations and always helped people in need. They provided me with a strong foundation.
I have been blessed throughout my career to work with many amazing and inspirational people. David Abel and John McQuillan were two litigation and mediation attorneys who taught me how to be a successful attorney in every aspect, from case handling to trying cases. Most importantly, they taught me civility in the practice of law. My fellow CASA directors, staff and volunteers also inspire me to continue to zealously advocate for the children we represent. My predecessor Gail Tegarden and former state GAL/CASA director Leslie Dunn both inspire me, as they are excellent examples of leaders and innovators in the area of child welfare law. Finally, my husband Steve and my two beautiful boys, Aiden and Tristan, inspire me to be better in everything I do every day.
If you were an animal, what would you be?
I would be an elephant. They are majestic animals. Elephants are peaceful, focused, family-oriented and loyal. They stay and work together in small groups, with an incredible amount of determination on even the smallest of objectives that are usually impactful to the greater herd. Elephants are also thoughtful creatures with a sophisticated memory and enough force to break down barriers. They represent wisdom, protection, strength and good luck.
Tell us about your work on the GAL/CASA Advisory Commission.
In 2018, I was elected by my fellow CASA directors across the state to serve on the Indiana Supreme Court GAL/CASA Advisory Commission, which provides guidance to the State Office of GAL/CASA and assists with strategic planning for the GAL/CASA network. This year I am beginning my second term on the commission. As a member of the commission, I attend meetings throughout the year on a quarterly basis. We discuss strategic planning for the year and emerging issues, trends and new caselaw in the area of child welfare law. We create plans to address emerging issues and trends. We discuss relevant and important upcoming legislation and its effect on the CASA network. We also address local matters and concerns. In addition to the commission, I am a member of the Standards and Best Practices Committee and the Conference Committee. I think it is important to participate on the state level to make sure that the Lake County CASA program is involved in strategic planning for the CASA network.
What's your interest in working with families and children?
I have always had an interest in working with children and helping families. I tutored and mentored children through Key Club in high school. I continued to work with children through Junior Achievement and the Boys & Girls Club. I also served as a guardian ad litem on numerous cases, and many times pro bono, in an effort to assist families navigating through times of turmoil such as divorce proceedings and custody battles. I eventually accepted a position as an attorney for the Indiana Department of Child Services. DCS' mission is to respond to allegations of child abuse and neglect. The goal is to protect children while keeping families together whenever possible. Once a case involving DCS is adjudicated, much of the focus of the case naturally shifts to the parents as they are ordered to complete many more services than the children. My desire to focus on the children in these matters brought me to the Lake County court appointed special advocate (CASA) program. I started out as a part-time CASA attorney and then became the director of the program. My current position with CASA allows me to focus on advocating primarily for what is in the best interests of the child. In many of the cases that we handle, the parents have mental health and/or substance abuse issues. Our goal is to provide the child with a safe, healthy, happy and permanent home, whether is it with the child's parents or an alternative caregiver such as a relative or foster parent. This work can be very difficult and frustrating, as the progression of the cases depends upon the pace at which the parent addresses his/her issues and engages in services. Ultimately, I enjoy my job and working with our community partners such as DCS, service providers and public defenders who share the same passion I have for assisting children and families. It is very rewarding.
How do you spend your free time?
In my free time, I enjoy spending time with family and friends. I love watching my two boys play sports, especially football. I like attending live concerts and events. I also like spending time at our lake house.
Which superpower would you rather have: invisibility or the ability to read minds?
I would rather have the ability to read minds. The power to read minds would have a huge positive impact on improving communication between people. You would have a clear sense of what others think and feel, which could help resolve conflicts and strengthen relationships. It would also assist with how to best present information and ideas to a person and persuade them to agree with your position in cases and matters in general. I would love to read the minds of jurors during trial!
What makes a good lawyer/judge?
A good lawyer must be persistent, compassionate, listen to each party and their position, take the information received, analyze and synthesize it, then respectfully advocate their client's position in a clear and concise manner — always keeping in mind that while this may be one of many cases for the attorney, it is the client's only case and it is everything to them.
What's the best advice you've ever received?
Don't sweat the small stuff and get caught up in small details. The facts are the facts, you cannot change them, do the best you can to work with what you have. In the end, it will all work out. Make sure you are always kind to everyone, as you never know what anyone is going through. •
Please enable JavaScript to view this content.