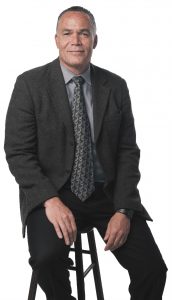 Robert Ebbs
Glaser & Ebbs
Indiana University Maurer School of Law, 1990
Why did you decide to enter the legal profession?
I went to law school because I thought it would enhance my career path at the time in public sector labor relations. I shifted gears to personal injury work after working as a law clerk for a sole practitioner in Bloomington whose practice included a handful of personal injury cases.
If you hadn't pursued a legal career, what would you be doing?
In no particular order: event promoter, winery/vineyard owner, co-owner of a rescue dog farm in Guatemala (for my wife).
What's the best advice you've ever received?
Stay in school as long as you can.
What makes a good lawyer/judge?
Listening, patience and experience.
Who is someone who has inspired you in your career?
Lee Christie. He is a mentor to me and many other attorneys. Additionally, his contributions (leadership, volunteerism, charity, etc.) to both the legal profession and community at large are aspirational.
Which superpower would you rather have: invisibility or the ability to read minds?
Invisibility, if I had the ability to use it in a positive way. Both superpowers could be disturbingly intrusive to privacy … and that's coming from a comic book fan.
If you were an animal, what would you be?
A bird. The ability to fly is amazing.
What's the value in programs like the Indy basketball and softball lawyer leagues?
Notwithstanding the exercise, the camaraderie among teammates and league mates, and a softener to the sometimes adversarial relationship with colleagues.
How do you spend your free time?
Exercise, travel and spending time with my wife, family and friends.
What do you get out of your involvement with the Indiana Trial Lawyers Association?
The ability to engage, collaborate and learn from a collective group with common goals that include the protection and advancement of civil justice for Hoosiers.•
Please enable JavaScript to view this content.