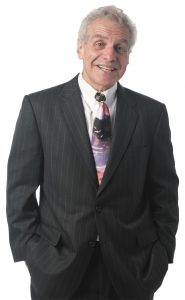 Ronnie Katz
Katz Korin Cunningham PC
Indiana University Robert H. McKinney School of Law, 1983
If you hadn't pursued a legal career, what would you be doing?
I would likely be focused on a musical and theatrical journey or practicing as a CPA. I had a competition going between the two sides of my brain when I was in college. My first two years at IU Bloomington I was focused on majoring in music and then became an accounting major my junior year.
Who is someone who has inspired you in your career?
There are three: A. Martin Katz (my father); professor Lawrence A. Jegen III (my teacher); and Justice Ruth Bader Ginsburg (my role model).
What's the best advice you've ever received?
Be yourself; never rest on your laurels; let your heart control what you perceive as "right." Your brain will enable you to learn how to do what is necessary; but most importantly, your heart will drive your common sense. (All of these can be attributed in some fashion to my late mother, Dorothy Katz.)
What makes a good lawyer/judge?
Honesty, compassion, commitment to working hard, a sense of fairness and, most importantly, LISTENING.
Why did you decide to enter the legal profession?
Primarily, I believed applying the creative side of the brain to real life challenges would be a fulfilling journey.
How do you spend your free time?
What's free time? Outside of work my priorities are my family:
My wife Lori Ecker, a singer, actress, master gardener and passionate environmentalist.
My son Benjamin, a physician based in Anchorage, Alaska, who practices with the Alaska Native Tribal Health Consortium.
My son Kyle and daughter-in-law Carrie along with my two grandsons, Asher and Avi, who reside in Austin, Texas. Kyle is a physical therapist in Austin.
My daughter Meredith, who works in television network marketing for VRBO, also based in Austin.
My daughter Ariana, a first-year law student at Washington University in St. Louis.
My siblings, particularly my older sister Jody and her four children and their families, all of whom live in Texas. Jody and I and our own respective families enjoy a beautiful, close relationship. One of my hobbies is baking, which no doubt was inspired by Jody's baking when she was in her teens while her little brother (me) was mesmerized by the Mixmaster and the leftover cake batter.
I also enjoy my exercise, which is largely fulfilled these days with trail running, an activity inspired by my friend and law partner Dennis Cantrell. With Dennis' encouragement, I completed three ultramarathons in 2021. It is through the trail running experience I have come to enjoy running far more than I ever did. It's no longer about time, but the journey and how you can use the time on the trails as "zen" time for the mind.
Photography and baking have also been significant hobbies for me through the years. One of the fun things I have been doing during the pandemic is baking for clients, more so when many restaurants were closed. Historically my kids were the intended beneficiaries of my baking efforts.
Supporting the arts and being involved in our community has also been a fulfilling experience for me.
If you were an animal, what would you be?
A shih tzu. Who doesn't love shih tzus? That's somewhat tongue-in-cheek, but I have a 12-year-old shih tzu who, no matter what, is thrilled with excitement every time I walk in the door.
I certainly wouldn't want to be a wild animal today. In the last 50 years, the span of less than one human lifetime, the population of wild animals on our planet has been reduced by 60%. We pay little attention to this issue today other than how this is impacted by climate change conditions. We need to reverse this trend.
What's it been like to watch the firm you co-founded grow over the years?
Interesting, fulfilling in some respects, but size alone never should be the objective. Most importantly, the lawyers in my firm inspire me to continue to grow as a counselor and adviser.
Tell us about your involvement in the arts.
It's the arts that drive humanity's growth, development and innovation on every level. For me, there are few things in life that move the linings of the soul from participating or merely listening to and/or watching great music and theater come alive before your eyes.
I am particularly proud of my firm's service and commitment to the arts community. I am fortunate that I have had partners who also supported these efforts, whether it was helping iMOCA and the Kurt Vonnegut Memorial Library get started when those organizations were in their infancy or assisting IndyFringe acquire its own home in the Mass Ave. district and then adding to it with the Indy Eleven Theatre.
It's also working with the staff of our arts organizations, listening to the boards as well as attempting to inspire others to become patrons or stakeholders in these initiatives. What I have gained from my commitment to the arts far exceeds any burdens encountered along the way.
Which superpower would you rather have: invisibility or the ability to read minds?
Definitely the latter.•
Please enable JavaScript to view this content.