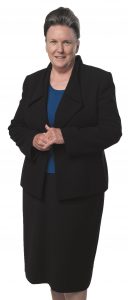 Ruth Rogers
Woodard Emhardt Henry Reeves & Wagner LLP
Why did you decide to become a paralegal/legal support staffer?
Becoming a paralegal/legal support staffer was not a conscious decision! At 17 years old and fresh out of high school, I contacted an employment agency. They tested me in shorthand, typing and English and decided that I needed to be in the legal field. My first full-time job was as a legal secretary for an attorney in a large intellectual property firm. I loved it and found my niche. While I didn't plan to be a paralegal/legal support staffer, God knew the future and exactly what career would be a perfect fit for me.
If you weren't working in legal support, what would you be doing?
At my age, if I weren't working in legal support, I would be retired! In the past, I've thought about teaching an online intellectual property course or perhaps advising companies regarding the selection, protection and proper use of trademarks.
What makes a good paralegal/legal support staffer?
A good paralegal/legal support staffer must be detail-oriented, have a thirst for knowledge and a tenacity to keep looking until they find the answer. They should do what they do best so that the attorney has to time to do what he/she does best.
What makes a good lawyer?
Good lawyers care about their clients and have a strong desire to serve them in the best possible way.
What advice do you have for young paralegals/legal support staffers just beginning their careers?
My advice to young paralegals/legal support staffers is to read everything you can find relating to your specific field of law, organize your knowledge for ready reference, work extra hours without complaint and assist anyone needing help.
How do you spend your free time?
My free time is currently spent cooking, helping young families with their kids and foster kids, volunteering as backup in the church nursery and Sunday school classes, traveling and walking trails.
If you were an animal, what would you be?
If I were an animal, I would want to be a swan. Most of them mate for life. They are believed to be highly intelligent and are considered loyal, honorable, faithful, devoted and supportive. They are calm — except they get very aggressive when protecting their young.
Which superpower would you rather have: invisibility or the ability to read minds?
That's a hard question! There are times I would like to be invisible, and there are times I wish I could read someone's mind. It would be a little spooky to be able to read everyone's mind all the time, though, so I'd go with invisibility.
What does it mean to be a "manager of formalities"?
Manager of formalities is a "catchall" phrase for docket supervisor, foreign filing supervisor and "go-to" person. It encompasses reviewing U.S. and foreign law changes, internal procedures and documentation/training encompassing all of the above.
Tell us about the Intellectual Property 101 "course" you teach to new employees at the firm.
While new to Woodard Emhardt Henry Reeves & Wagner, I compiled an "IP Legal Secretary Handbook" covering intellectual property law and internal procedures for my own reference. When new staff members without IP experience were hired, I shared my knowledge on my lunch hour, using my handbook. That eventually evolved into a 55-60-hour course taught over a three-month period to all newly hired legal assistants. Bits and pieces of the course have also been taught to other staff members and legal interns to give them a basic knowledge of IP and Woodard's internal processes.•
Please enable JavaScript to view this content.