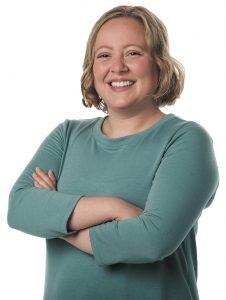 Sarah Harvey
Indianapolis Legal Aid Society
Why did you decide to become a paralegal/legal support staffer?
I first began working in the legal field as a court reporter for the Marion Superior Courts, Juvenile Division. I enjoyed the work and found that I was good at keeping up with the fast pace in the courtroom, so I decided to take an intro to legal studies class at Ivy Tech. I realized I absolutely loved it! Shortly after, I began working as a legal secretary at the Indianapolis Legal Aid Society.
If you weren't working in legal support, what would you be doing?
I probably would have continued on the path of pursuing a business degree so that I could pursue a career in human resources.
What makes a good lawyer?
A good lawyer must be able to see the big picture but also focus on those little details, and they must have compassion for others.
What advice do you have for young paralegals/legal support staffers just beginning their careers?
I would advise young paralegals/legal support staffers who are just beginning their careers to join a paralegal association so they can connect with other paralegals/legal support staffers to build their network, access career development services and engage in continuing legal education.
What makes a good paralegal/legal support staffer?
A good paralegal/legal support staffer must be very organized and able to quickly adapt if plans change at the last minute, as is often the case in a law firm.
How do you spend your free time?
As a full-time paralegal and part-time college student, I don't have much free time! When I do, I enjoy camping, hiking and almost any activity that involves the outdoors/nature.
If you were an animal, what would you be?
If I were an animal, I would like to be a cat because they are smart and curious, but also like to take a lot of naps!
Which superpower would you rather have: invisibility or the ability to read minds?
I would rather have the superpower of being invisible because if you are invisible, you can pretty much go anywhere you want!
What drew you to work with a nonprofit legal services organization?
I came upon the job at Legal Aid because I was referred by a friend. I really did not know what to expect when I started, but after seeing the difference we made in one or two clients' lives — I was hooked! I could not imagine working outside of nonprofit legal services. I really enjoy using my skills to help people who wouldn't be able to receive the help otherwise.
Tell us what you can about being a guardian for a 16-year-old girl — why did you do it, and what did you get out of it?
I had been working for two years in the juvenile courts sitting in on child in need of services cases, and I saw how harmful it could be for teenagers to be without a proper guardian or without access to good education. Around that time, the younger sister of a close friend moved from Honduras without her parents and was in need of a guardian to get signed up for school. I became her guardian to help her. She ultimately graduated and now works as an administrator for a construction company. I watched her evolve from a shy, quiet teenager to a strong woman — and I gained a sister along the way!•
Please enable JavaScript to view this content.