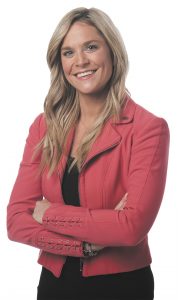 Sarah Jones
Krieg DeVault LLP
Indiana University Robert H. McKinney School of Law, 2014
Why did you decide to enter the legal profession?
I started my career in public accounting and knew it wasn't my lifelong dream but really enjoyed the challenging, fast-paced profession and being surrounded by driven and very intelligent professionals. I talked with friends and others in the legal profession before making the change and realized I could combine my business knowledge with an ability to negotiate and advocate for clients while practicing in a very similar environment. I jumped full-time back into school and have since found a profession and career I enjoy.
If you hadn't pursued a legal career, what would you be doing?
One of the most enjoyable places for me is in a kitchen, creating new and healthy twists on family favorites and appetizers. In an ideal world, I'd pursue a culinary dream of being a personal chef, with a focus on hors d'oeuvres that were aesthetically pleasing and satisfying while using healthier ingredients.
Who is someone who has inspired you in your career?
My parents have been incredible advocates and inspirations in all that I do, including my career. While neither is a lawyer, my parents have showed me that a career is not only the job that you do or the title that you have, but how you treat people both in your profession and in your community. I hope I can one day be as well-respected for the work I do and the person I am as they each are.
What's the best advice you've ever received?
"Nobody cares about how much you know until they know about how much you care." In a profession where relationships and trust are key, this statement rings so true from not only a client-relationship perspective, but also from a larger community involvement perspective.
What makes a good lawyer/judge?
One of the most powerful tools an attorney can possess is the ability to listen and truly hear the comments, perspectives and concerns from another. Whether talking with a client and learning of their business needs, negotiating with opposing counsel to reach a resolution agreeable to all parties or brainstorming alternatives with colleagues, listening and truly hearing what another is saying is key to being able to move forward effectively and efficiently and reach the best outcome for all parties involved.
How do you spend your free time?
I love spending my free time with my family, doing anything active and outdoors. My husband and I have two young boys (3½ and 2) and a 6-month-old puppy, so we have our hands full and are constantly playing all the sports, running and jumping at a park or otherwise just chasing after one of the boys (puppy included!).
If you were an animal, what would you be?
While possibly cliche, I would be a dog, and I think we can all learn a lot about how to act with others from dogs. I am incredibly fond of dogs and love their intelligence, loyalty and friendliness, but also am very appreciative of the respect they have for their families and those that care for them. And as a full-time working mom with young toddlers at home, I wouldn't mind a nap (or two) every day!
Which superpower would you rather have: invisibility or the ability to read minds?
While either superpower would allow for potentially hearing or seeing something I may otherwise not have wanted to, I'd rather have the ability to read minds. I believe many issues and disputes could be resolved more quickly with effective and honest conversations and communication, and having insight into what someone is really thinking while in the middle of negotiations or otherwise already conversing could be helpful in reaching a resolution or compromise more quickly.
What's the advantage of having an MBA and a JD?
As a transactional attorney, having both an MBA and JD and a background in business helps me not only understand the business operations and needs of the client better, but also allows me to provide more value from a financial analysis perspective, especially in M&A transactions, as I can identify potential issues or considerations from a financial perspective in connection with the deal.
Tell us about your work advocating for associates at your firm.
I chair our Associates Committee, which is a committee comprised solely of associates and is charged with maintaining an open dialogue with our executive committee, organizing social events for the associates, and identifying initiatives to improve associate retention, morale and culture. Over the past few years during my tenure as chair, our committee has successfully advocated for increased parental leave benefits, an increased starting salary and subsequent salaries of associates, and the development of dress for your day and work from home policies. We have also hosted successful associate retreats and community involvement opportunities to improve the morale and camaraderie among associates. •
Please enable JavaScript to view this content.