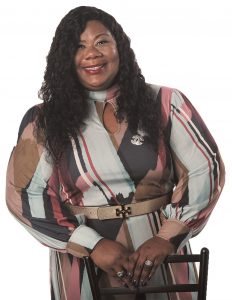 Tavonna Harris Askew
Health & Hospital Corporation of Marion County
Indiana University Maurer School of Law, 2001
Why did you decide to enter the legal profession?
The legal profession fits well into my solution-focused personality. I enjoy being an advocate and helping others problem solve. I wanted to utilize my legal skills to support people and businesses to make decisions that would positively impact society.
If you hadn't pursued a legal career, what would you be doing?
I've had a passion for business management and development for many years. I gravitate toward business strategy, operational improvements, project management and community impact. I think I would enjoy guiding the future growth of a business in an executive leadership role. I could also see myself leading a community foundation or a business foundation. In this role I could partner with organizations to do good while helping a business invest in the communities it serves.
What's the best advice you've ever received?
Ask for what you want and do not be afraid to go after your goals. Sometimes you must push the envelope to get to where you want to be. However, patience is necessary because the best opportunities normally take a bit of time to develop.
Who is someone who has inspired you in your career?
Although not a lawyer, my mother has been the most inspirational person in my career. When I am exceling, she is there cheering me on. When I am frustrated, she is there with a listening ear and sage advice. She prays for me and always reminds me of my inner strength that I no doubt received from her.
How do you spend your free time?
My favorite thing to do is travel with family, usually on a cruise, to a beautiful island. The smell of the tropical air and miles of open sea are the ultimate stress reliever. I also enjoy hosting fun and innovative events where I can connect family, friends and colleagues. Whether it's a chic party at Tiffany & Co. or a family cookout, I enjoy being the conduit to a fun experience.
If you were an animal, what would you be?
I have loved elephants since I was a young girl. Elephants are strong, intelligent, powerful and bring good luck to others. They travel in herds, caring for and supporting each other. I have a huge heart for people and service. Elephants seem to be the perfect reflection of who I strive to be.
Which superpower would you rather have: invisibility or the ability to read minds?
I would choose the ability to read minds as my superpower. Whether it's in our government or in our families, we bump heads and impede bettering our world because we cannot find common ground. If I could read minds, I could help us solve some of our most difficult problems and spread a little joy along the way.
Tell us about your work to increase diversity in the law and the community.
Throughout my entire career, I have been supported by a diverse group of men and women who have encouraged me to dream big and have sponsored me both personally and professionally. Through these relationships, I have been able to support others and connect them to opportunities and resources. In 2019, alongside my fellow steering committee and founding members, we formed the African American Legacy Fund of Indianapolis (AALFI). AALFI is a collective philanthropic initiative working to improve life-affirming outcomes for African Americans in our community. We do this by raising awareness and advocating on issues affecting the African American community, developing civic leaders, cultivating donors, making charitable investments in our community and building philanthropic assets. I am hopeful that through continued relationship building and strong community partnerships, the equity work of AALFI will be interwoven into the fabric of who we are as a community.
What has it been like to lead a health care corporation during a pandemic?
I don't know if I have the words to describe just how challenging this pandemic has been and continues to be. From the beginning my colleagues have put themselves aside and worked together to saves lives. This has required an unthinkable number of hours, innovative ideas and difficult decision making with limited resources. They've done all this while facing countless criticism, the loss of their own loved ones and often extreme exhaustion.
As one of the top local health departments in the country, the Marion County Public Health Department provided over 200,000 COVID-19 vaccinations and COVID-19 tests. A comprehensive COVID-19 response of testing, food and shelter for over 300 of our homeless neighbors was also implemented. MCPHD took the lead in providing technical assistance to the local hospital systems, federally qualified health centers, businesses, nonprofit organizations and schools. This included a partnership with the NCAA on its COVID-19 safety plan during March Madness. Eskenazi Health, a safety net health system, has been uniquely positioned to support the most vulnerable. From the doubling of ICU bed capacity to provide for critical inpatient needs to a broad and deep community response that included monitoring those recovering on oxygen at home, distributing food to tens of thousands of families through a partnership with Gleaners Food Bank and managing the safe recovery site for those experiencing homelessness, Eskenazi worked to be here for our community. The hard-working team at Indianapolis Emergency Medical Services handled a record number of runs all while maintaining the safe transport of patients across central Indiana. Our long-term care division navigated the difficult waters of keeping many of our community's family members safe while also figuring out new ways for families to connect when visits were impossible. All this was done and continues to be done while we ensure the continuation of necessary health care to those who need it.
Leading during this time of fear, sadness, transition and uncertainty while managing your own emotions and your own family's needs has been downright difficult. Yet I could not be prouder of my colleagues and the strengths it brought out in all of us. I'm thankful I get to play a leadership role during this unprecedented time in our world and I appreciate the faith my organization has in me to allow me to lead.
What makes a good lawyer/judge?
A good lawyer, and a good judge, is empathetic. She listens and uses the law to accomplish the best outcome for her client. She anticipates, she analyzes and she uses previous experiences to inform future decision making. She mentors others to help ensure that the next generation of lawyers are successful. She understands that the decisions she makes and the actions she takes impacts lives. She never takes that ability for granted.•
Please enable JavaScript to view this content.