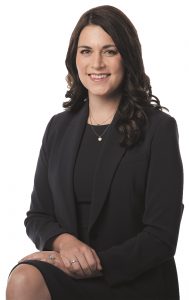 Taylor Bonacorsi
Katz Korin Cunningham PC
DePaul University College of Law, 2012
Why did you decide to enter the legal profession?
I enjoy advocating for people and what I believe is right. I was also fascinated by the legal process and litigation as a whole. Once I read and was called on to analyze a few caselaw opinions in an "intro to law" class in college, I was hooked.
If you hadn't pursued a legal career, what would you be doing?
Practicing medicine.
Who is someone who has inspired you in your career?
There have been many. But to name one, my first boss/supervisor at Johnson & Bell in Chicago, Marilyn Reidy. She was a phenomenal trial attorney, working mother, mentor and person. I wish I had more time to learn from her, but her success continues to inspire me to this day.
What's the best advice you've ever received?
Always be your own biggest advocate, otherwise no one else will.
What makes a good lawyer/judge?
Someone who is compassionate and takes pride in their work, who is dedicated to their clients and who advocates with confidence and poise.
How did you get into health care law?
Before I went to law school, I wanted to be a doctor. I find both the practice of law and medicine fascinating and transformative. So, I thought health care litigation was a good merger of both worlds.
How do you spend your free time?
At present, usually chasing around my two young kids (Vivienne, 3, and Dominic, 1) trying to take pictures of them or keep them out of trouble. After sunset, usually Netflix and a good glass of wine.
If you were an animal, what would you be?
A horse, just because they are awesome.
Which superpower would you rather have: invisibility or the ability to read minds?
Both sound equally scary, but the ability to read minds sounds like it has more perks if and when needed.
What do you enjoy about your work with St. Mary's Child Center?
I love the school's purpose in helping preschool kids in poverty get a solid cognitive, social and emotional foundation. The school gives them hope, encouragement and a safe space to be creative and think about their dreams.•
Please enable JavaScript to view this content.