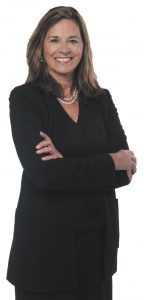 Judge Elizabeth Tavitas
Indiana Court of Appeals
Notre Dame Law School, 1990
If you hadn't pursued a legal career, what would you be doing?
I would have pursued a Ph.D. in psychology. I'm happy with my choice to pursue law!
Who is someone who has inspired you in your career?
I have been inspired and continue to be inspired by those who enter public service and do their part for the common good, whether that is in the judicial, executive or legislative branch. And I am inspired by lawyers who devote their careers or who volunteer their time to ensure access to justice.
What's the best advice you've ever received?
The Golden Rule — treat others the way you want to be treated.
What makes a good lawyer/judge?
Humility, loyalty to the law, civility and hard work.
Why did you decide to enter the legal profession?
Justice and the desire to help others; I knew early on that I wanted to serve as a trial court judge and hoped to serve on the appellate bench someday.
How do you spend your free time?
I enjoy spending time with my three children, my daughter-in-law and my two beautiful grandchildren. I love to travel and explore new places. I am an avid Notre Dame football fan, having grown up in a home where we watched Notre Dame football games on TV as a family for as long as I can remember. Now I enjoy attending Notre Dame football games. My favorite activity is traveling. I enjoy hiking, biking and snorkeling. I live outside Chicago and enjoy all Chicago has to offer — musicals, plays, ballet, concerts and art museums.
If you were an animal, what would you be?
Definitely a dog! Dogs are loyal and everyone loves them.
Which superpower would you rather have: invisibility or the ability to read minds?
Invisibility. So many times I have wished I could be a fly on the wall.
How does being a trial court judge compare to being an appellate judge?
They are quite different, yet both require the same responsibility to be faithful to the rule of law. As a trial court judge I was able to make decisions. As an appellate judge, I am reviewing judges' decisions for errors. I have had the honor to serve Lake County and now have the honor to serve Indiana as an appellate judge.
What advice do you have for young female attorneys who want to become judges?
There are many pathways to the judiciary. My path was public service. I started as a deputy prosecutor and was able to do two dozen jury trials in three years. This experience was invaluable. I also served as a public defender, a judicial referee and 12 years as a trial court judge. This was my path, but other women have traversed various paths to the bench. Do what you love and work hard, and people will notice.•
Please enable JavaScript to view this content.