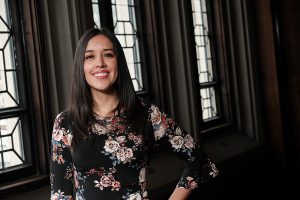 Indiana University Health
Indiana University Robert H. McKinney School of Law, 2015
Why did you decide to enter the legal profession?
I entered the legal profession because of my experiences growing up and desire to make a difference. I was born in a small, rural town in Mexico, and when I was 7 years old, my family traversed the border into the United States in search of a better life for my four sisters and me. When my family moved to Indianapolis, we lived in the inner city and I attended Indianapolis Public Schools. At the time, I did not speak English and had experienced a major culture shock. But despite how difficult things were, my parents worked hard to provide for the family. In fact, one major event that shaped the trajectory of my future is becoming a United States citizen when I was in high school. My father hired a lawyer who helped us navigate the legal process. This experience taught me how long, difficult and uncertain the immigration process can be. It also made me realize that lawyers can help make a difference for people. Lawyers understand the inner workings of the system, have access to resources and have the ability to advocate for others. Because of this experience, I developed an interest in becoming a lawyer at a very young age. This dream helped me stay focused in my academics; it pushed me to work hard and never give up.
If you hadn't pursued a legal career, what would you be doing?
If I were not an attorney, I would probably be working in employee relations or as a human resources professional. As an employment attorney, one of the things I enjoy most is the relationships I've developed with my internal clients, who are primarily human resources consultants. They help navigate and resolve some of the most difficult, interpersonal conflicts in the workplace. Their work with the employee life cycle has a direct impact on diversity initiatives and inclusivity in the workplace.
Who is someone who has inspired you in your career?
Although they are not lawyers, I would say my parents. My dad has the equivalent of an elementary school education, and my mother has the equivalent of a high school education. Both of them were born and grew up in Mexico and immigrated to the United States in search of a better life for my family. They worked blue-collar jobs all their lives. And despite any financial hardships and cultural barriers they faced, they provided everything my sisters and I needed — a roof over our heads, food on the table and unconditional love. They also understood the importance of obtaining an education and supporting my sisters' and my dreams. During some of the most challenging times in my life — the times when I've doubted myself — they have always reminded me of where I come from and how far I've made it. In many ways, I am who I am today because of them.
What's the best advice you've ever received?
To help make a difference in your community, be the best lawyer you can be.
What makes a good lawyer?
A good lawyer is someone who takes time to research and study the law, is able to interpret complex legal concepts in everyday, plain terms and approaches all aspects of their practice with integrity. 
What is something you wish people knew about lawyers?
Most of my nonlawyer friends think that to be a good lawyer, you must be good at arguing with others. But that's not entirely accurate. Not all lawyers are confrontational people. In reality, some of the most successful lawyers I've had the pleasure of working with have a calm demeanor and resolve conflict in a collegial manner. And when conflicts arise, they know how to effectively argue their position without being combative or confrontational.  
How do you spend your free time?
I enjoy working out, spending time with my family and dog, and traveling. I am obsessed with my Peloton treadmill and bike (yes, both!). After a hiatus of a few years, I jumped back into running and recently completed my fifth half-marathon. 
I enjoy spending time with my family. Growing up, my family celebrated many cultural and family traditions, and we still try to celebrate them today. I also enjoy spending time with my dog, Lola. She joined my household during the 2020 pandemic and was an excellent co-worker during that time. Lastly, I love to travel. I like to do quick Caribbean beach getaways and extended travel across the border or globe.  
If you could time travel to any period in history, where would you go and why?
I would revisit certain periods of my childhood in Mexico. I have fond memories of celebrating various family and hometown traditions. These traditions always included grand Mexican cuisine from family recipes that were passed down for generations. Another fond memory I have is attending fiestas in my hometown to commemorate different holidays. One of the most popular celebrations included "danzas," where the dancers wore feathered headgear and huarache sandals and danced to the sound of drums and violins. Most of these celebrations still take place today (including a small community on the near-west side of Indianapolis!).
You're active in Latino advocacy efforts — why is that work important to you? 
Because to whom much is given, much is required. When my family and I arrived to Indiana in the mid-1990s, we faced many cultural barriers and financial hardships. Despite these challenges, I have had great mentors in my life and participated in programs and organizations that provide access and opportunities to individuals of underrepresented backgrounds. These factors made a difference in my life and career. I would not be where I am today if it were not for the incredible support system and opportunities I received. And now, it is incumbent for me to give back. As a Mexican immigrant and someone who grew up in the inner city, I know what it's like to experience hardships. I also know that it makes a difference when young people know, and are being mentored by, professionals who look like them, talk like them and share similar cultural values. My hope is that it makes them realize their dreams are attainable and that no matter the circumstances, "si se puede!" (Yes, we can!) 
You've done a clerkship, practiced at a firm and now work as in-house counsel. How do those different experiences impact your current work?
Undoubtedly, my clerkship and law firm experiences have helped me in my current role. Each of these experiences provided me with research and writing skills and substantive and procedural knowledge of the law. I had the incredible honor to clerk for, and learn from, Judge Jane Magnus-Stinson, who is an incredible mentor and one of the most remarkable judges in the country. During my clerkship, I honed in on my research and writing skills, assisted in various courtroom procedures and learned the inner workings of the federal court. After my clerkship, I was fortunate to practice in the labor and employment group at Faegre Drinker Biddle & Reath, where I worked with some of the best attorneys in the state and nation (too many to name!). A large bulk of my work was employment litigation. Among other things, I managed case deadlines, prepared first drafts of documents, including motions, pleadings and briefs, communicated with clients on any updates and helped with litigation strategy. A large part of my current work is providing legal advice to our human resources partners on various employment matters. And because the law is constantly evolving, particularly during a time involving various pandemic-related rules and mandates impacting the health care industry, I have the skills to efficiently research, interpret and summarize the latest legal developments. I'm able to help my internal clients assess the legal risks, which helps the organization stay in compliance and save money and resources.•
Please enable JavaScript to view this content.