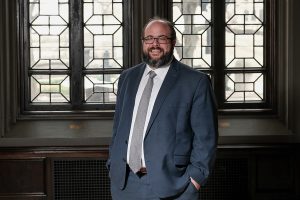 Indiana Legal Services Inc.
Indiana University Maurer School of Law, 2011
Why did you decide to enter the legal profession?
I think my path to the law started with an undergraduate professor who took me aside and told me I was an excellent writer. 
If you hadn't pursued a legal career, what would you be doing?
I would likely be a high school band teacher, as I finished my music education degree right before going to law school.  
Who is someone who has inspired you in your career?
My uncle, James Holtkamp. He was one of the kindest, most honorable people I ever met and a well-regarded attorney, and he guided me toward pursuing law school.  
What's the best advice you've ever received?
My wife has always hated the phrase "it is what it is." She stresses that we can change things to be how they should be, even though making that change may be challenging.  
What makes a good lawyer/judge?
It is not enough to know the law, or even to have mastered it. Lawyers and judges must be humbled by the power of the law and be aware of its shortcomings, especially for the poor and disenfranchised. 
What is something you wish people knew about lawyers?
Most lawyers want to do the right thing, but the law does not always let that happen.
How do you spend your free time?
I have been a member of the Fort Wayne Area Community Band for years, playing the flute. I also enjoy going on adventures with my family.   
If you could time travel to any period in history, where would you go and why?
I have always been fascinated by ancient Rome, and visiting at the height of that empire would
be thrilling.  
What do you enjoy about legal aid work?
I get to help people every day to overcome some of the worst crises in their lives. I am incredibly fortunate to do work that makes a difference.
You created the Tenant Assistance Legal Clinic — what compelled you to do that, and why do you think its services are necessary?
The Tenant Assistance Legal Clinic was started in coalition with the efforts of local governments and community partners to avoid as many evictions as possible at a time when eviction meant not only imminent homelessness, but possible severe illness and even death from COVID-19. The eviction process too often portrays the lack of access many people have to the courts, the lopsided power imbalance between landlords and tenants, and the crushing, permanent and often unbearable consequences that come from a single hearing that can take away a person's home and ability to find future housing. Home is life.•
Please enable JavaScript to view this content.