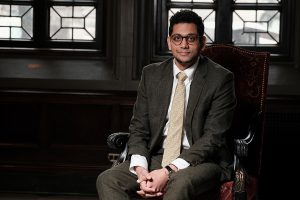 Lewis Wagner LLP
Indiana University Robert H. McKinney School of Law, 2014
Why did you decide to enter the legal profession?
In high school I attended a law camp at Georgetown University and absolutely fell in love with the law, the concept of trials and ultimately being able to advocate for someone's rights. As part of this experience, I was able to see historically how the law has been on the forefront of changes that have helped shape our nation, and that feeling fueled my desire to enter the legal profession.
After college, while working, I was exposed to a significant contractual/business dispute, and the back-and-forth negotiations/dealings involving lawyers were more interesting than my day job. That solidified my decision to go to law school.
If you hadn't pursued a legal career, what would you be doing?
In a former life, I was a civil engineer. I probably would have continued being an engineer, although I can admit I didn't love it. So, in an ideal world, I would have pursued a career involving children (i.e., a teacher, a coach, working for a children-based not-for-profit, etc.).
Who is someone who has inspired you in your career?
Without a doubt my family. I am a first-generation Indian American born to immigrants who came to this country to create a name for themselves, better their lives and give me every opportunity they didn't have. The sheer hard work, work ethic and dedication that I witnessed growing up had a very profound impact on my life and continuously inspires me each day. 
What's the best advice you've ever received?
Patience and the importance of civility. As a society, we have become spoiled with instant gratification. But that is not real life. The law is hard and challenging, and it is going to take time to learn the craft and become a good lawyer. Initially, as a 25-year-old first-year associate, I couldn't understand the importance of being patient. Looking back, though, being patient and my willingness to learn has certainly shaped who I am today. And civility. The Indianapolis legal community is much too small not to be civil. Our profession is inherently adversarial, but that doesn't mean lawyers have to be. I was taught very early on in my practice about the importance of civility, and it certainly made the practice more enjoyable.
What makes a good lawyer/judge?
In my mind, you must have this innate and genuine desire to excel. If you have the desire to excel, the law no longer is mundane; instead, every case is a challenge and every case offers an opportunity to learn, work on your craft and become better every day.
What is something you wish people knew about lawyers?
That we get along. In fact, a lot of us are really good friends despite being adversaries at work.
How do you spend your free time?
I love spending time with my wife Natasha, my French bulldog Harden, and my family and friends eating our way through every new spot in Indianapolis. And playing basketball, although between my knees and my Achilles I am probably going to have to find a new hobby soon.
If you could time travel to any period in history, where would you go and why?
I am an avid Houston sports and Purdue Boilermakers fan. Given that sports success for my teams are few and far between, I would go back to the summers of 1993 and 1994 so I could relive and soak in the elation of the Houston Rockets winning back-to-back championships (and yes, Michael Jordan played in 1994, so I don't want to hear it). I have been waiting nearly 30 years (and counting) to get to enjoy that experience again.
You're active in multiple bar associations, including IndyBar, DTCI and ALFA International. What do you get out of those organizations?
The best part about being actively involved in these organizations is meeting excellent lawyers, both in Indiana and from around the country. As I mentioned, to become an even better lawyer, you must be willing to learn and adapt from the best, and these organizations allow the opportunity to do just that.
Tell us about your work with Friends of Riley.
Friends of Riley is the young professionals arm of the Riley Foundation, and FOR specifically raises money for the child life specialists at Riley Hospital for Children. Child life specialists are individuals who work at the hospital who provide various services to patients and their families, including: (1) providing education to the patients regarding the treatment they are receiving; (2) providing comfort to the patients while they are undergoing treatment (for example, if a child is crying or screaming because they are scared, they try to soothe the patient by holding their hand when the parents are unable to be in the room, etc.); and (3) actively playing with children and providing them company in between treatment. As I always say, CLS are the people that allow the kids to be kids during such a difficult period.  
I was heavily involved with FOR for nearly four years, last serving as co-president. We were able to not only raise awareness for CLS during my time, but we were able to increase our annual donations significantly and help make FOR the premier young professional group in Indianapolis. I have always striven to give back to organizations whose mission it is to help children. Most children can't change the cards they were dealt in life, so it's our job to help them deal with those cards as best as possible.•
Please enable JavaScript to view this content.