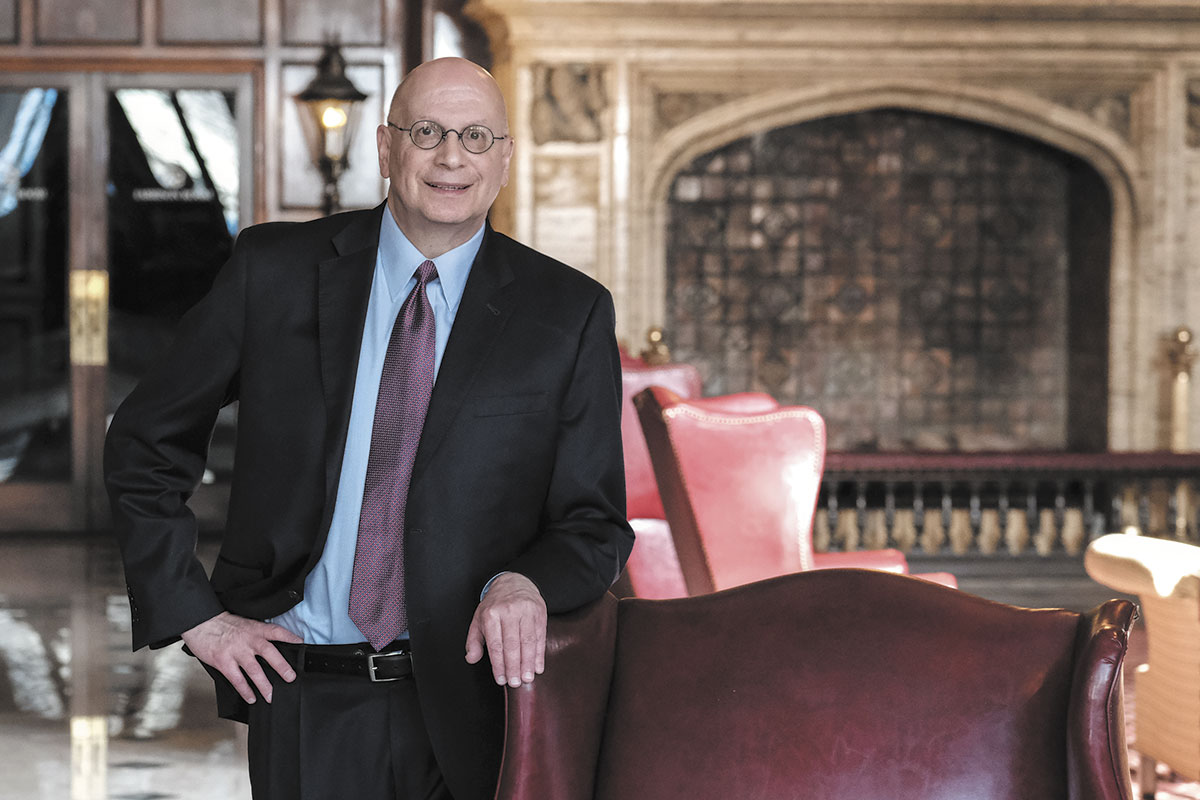 Indiana Office of Admissions & Continuing Education
Indiana University Maurer School of Law, 1981
Why did you decide to enter the legal profession?
Growing up, when anyone asked me, "What do you want to do with your life?" my mother would say before I even had a chance to answer, "He's going to be a lawyer!" When I was finally old enough to answer for myself, I realized that entering the legal profession opens all kinds of doors for someone to pursue a variety of different and exciting career opportunities.   
If you hadn't pursued a legal career, what would you be doing?
Because of my interest in the American political system, if I hadn't gone to law school, I likely would have pursued a doctorate in political science and gone into academia or political consulting.
Who is someone who has inspired you in your career?
I have been incredibly blessed to have had two great mentors, both of whom had a defining impact on my career. Following graduation from law school, I clerked for Judge V. Sue Shields, who was a trailblazer in the legal profession and an outstanding mentor. Then, later in my career, I had the privilege of serving as the Indiana securities commissioner for Secretary of State Sue Anne Gilroy. Sue Anne is a gifted leader who taught me that to be truly effective, a public official must have a servant's heart.   
What's the best advice you ever received?
My dad always said that no matter where life takes you, the most important thing is to be a mensch. As my character and fitness interviewer told me over 40 years ago when I applied for admission to the Indiana bar, an attorney's reputation for honesty and integrity is his or her most valuable asset, and it must never be compromised.
What makes a good lawyer/judge?
Being an effective lawyer or judge requires intellectual curiosity, compassion, a strong work ethic, and a deep commitment to justice, fairness and integrity.   
What is something you wish people knew about lawyers?
The overwhelming majority of lawyers are incredibly highly ethical professionals who work tirelessly to serve their clients. Attorneys are also unrivaled in the amount of time, resources and energy they selflessly devote to their communities and profession.
How do you spend your free time?    
I particularly enjoy reading nonfiction and following sports, especially my undergraduate alma mater, Michigan State.
If you could time travel to any period in history, where would you go and why?
I continue to be amazed by the courage, wisdom and intellectual prowess of our nation's Founding Fathers. It would be fascinating to have been able to witness firsthand the events leading up to the American Revolution.
Indiana recently adopted the Uniform Bar Exam. What was it like to lead that transition for the state?
It was very exciting. From the very outset, it was inspiring to work with the Commission on the Future of the Indiana Bar Exam, led by two Indiana legal heavyweights, former Chief Justice Randall Shepard and Judge Nancy Vaidik. Their ability to forge a consensus in recommending the adoption of the UBE established a blueprint for the smooth transition to the new exam. And the Indiana Supreme Court deserves great credit for adopting the UBE, which expands potential career opportunities for newly-minted Indiana lawyers and enhances the ability of Indiana law firms and businesses to attract legal talent to our state.   
You've served in multiple public-service roles in your career. What drew you to that work, and what do you enjoy about it? 
I love having the opportunity to have an impact on public policy in a way that has a positive impact on the lives of others. Whether it has been protecting Hoosier investors as securities commissioner, upholding the integrity of our elections as state recount director or serving our profession in my current role, it has been an honor to be of service to the people of this great state. I have also enjoyed representing Indiana on the national stage as the chair of the national trade associations of securities commissioners and now bar admissions administrators. As former U.S. Secretary of State Condoleezza Rice observed, "There's no greater challenge and no greater honor than to be in public service."•
Please enable JavaScript to view this content.