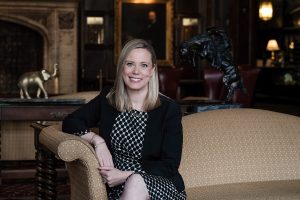 IU McKinney Hall Center for Law & Health
Indiana University Robert H. McKinney School of Law, 2016
Why did you decide to enter the legal profession?
When I decided to pursue a law degree, I knew at the time that I wanted to bolster my advocacy skills and hopefully achieve meaningful change for marginalized populations. What I know now about the legal profession is that the opportunities are endless. Lawyers, and the law, are everywhere, embedded in every part of society. I am very proud to be a part of the legal profession.
If you hadn't pursued a legal career, what would you be doing?
If I hadn't pursued a legal career, I almost certainly would have earned my master's in social work and become a licensed social worker, as I am now. I consider my social work degree the foundation on which my law degree is built. There is so much overlap between the legal profession and the social work profession. Like lawyers, social workers are trained to work toward social justice, help their clients navigate their communities and honor a person's self-determination.
Who is someone who has inspired you in your career?
When I was pursuing my law degree, I was the first person in my family to go to law school. The mentors I encountered while in school were vital to my success. My greatest mentor then and now is professor Fran Quigley. Fran mentored me as I tried my first case as a law student, as I organized a Networking Fair for Social Service Providers aimed to break down silos in our community, and he has supported me every step of the way in my professional career since then. Fran is a pillar in our community, advocating for his clients and students alike, and I am so grateful for his mentorship.
In addition to mentors like Fran, I must mention the women in the legal profession that came before me. Currently, there is a beautiful piece of art by Shaunt'e Lewis hanging in the law school depicting 11 influential women in Indiana's legal profession. The women depicted include Antoinette Dakin Leach, who won the landmark case breaking the gender barrier to practice law in the state of Indiana with In re Petition of Leach, decided by the Indiana Supreme Court (1893); Ella Groninger, Indiana's first female judge (1919); Harriette Vesta Bailey Conn, the first woman and first Black person to serve as Indiana's state public defender (1970); Myra Selby, the first woman and first Black person appointed to the Indiana Supreme Court (1995); and Loretta Rush, the first female chief justice of the Indiana Supreme Court (2014). These women have paved the way for other women to come after them in the legal profession, and I am forever inspired by their bravery and leadership.
What's the best advice you've ever received?
The best advice I've ever received is less of a statement and more of a set of values. My parents, Greg and Missy, instilled in me the ability to have empathy for people in all walks of life. They taught me that differences are to be embraced and celebrated. I owe them endless gratitude for their support and love.
What makes a good lawyer/judge?
People come to lawyers in times of crisis. With that in mind, a good lawyer or judge should work to make the person in front of them feel valued, heard and in charge of their own story. Establishing that kind of trust allows the pair to better work toward their goals, and ultimately produces better results. 
In addition to building trust, it is my strong belief that lawyers should use their skills to help clients navigate their communities, break down barriers — especially those that stem from inequality — and work toward systemic change. A good lawyer or judge knows the resources in their community and brokers those resources to everyone they encounter, empowering the individual along the way.
What is something you wish people knew about lawyers?
I wish more people knew that lawyers are not only trained on the law and how to interpret it, but lawyers are also trained to be critical, creative thinkers. Using this training, lawyers can work collaboratively with other individuals, groups and society as a whole to come up with unique solutions to complex problems.
How do you spend your free time?
My free time is spent hanging out with my amazing family! My husband Andrew and my twin boys, Simon and Guy, are the best part of my every day. Simon and Guy are a little over 1 year old, and it has been the best time of my life being their mom. We love to go on walks, try new foods and swim in the pool at grandma and grandpa's house.
If you could time travel to any period in history, where would you go and why?
I would forgo the option to time travel and stay in the present. I am thankful and happy to be right where I am!
Tell us about your experience in the ICLEO program.
The ICLEO program is such a gift to the state of Indiana. I participated in the summer institute in 2013, and I not only learned how to brief a case and survive a cold call, but I made lifelong friends in the process. Together we went on to law school, where we supported each other through grueling finals, graduation and into our professional careers. We have gone to each other's weddings, celebrated the births of our children and commemorated career milestones together. 
Going on year seven in my legal career, ICLEO continues to offer me professional opportunities, and I am forever thankful to have been given such a meaningful experience by the Indiana Supreme Court. 
Why did you transition from public defense work to working with law students, and what do you enjoy about your current role?
It has been one of the greatest privileges of my career to serve as a Marion County public defender. There are few things more important than defending a person's liberty, especially someone who otherwise could not access representation and is often entrenched in the criminal justice system due to systemic barriers. I am honored that my clients trusted me to represent them as we worked together to find solutions. 
Now, in my role as associate director of the Hall Center for Law & Health, I love that I get to walk alongside aspiring lawyers as they discover all that the legal profession can be. The students I work with every day are passionate, kind and intelligent individuals with bright futures, and I am so thankful that I get to be a small part of their stories as they prepare to enter the legal profession and make meaningful change of their own.•
Please enable JavaScript to view this content.