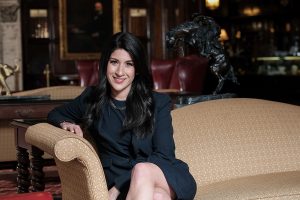 Faegre Drinker Biddle & Reath LLP
Ave Maria School of Law, 2013
Why did you decide to enter the legal profession?
When I was in middle school, I volunteered for a "Teen Court" program in my hometown where teens played the roles of lawyer, bailiff and jurors in front of judges for real cases in which other teens had gotten in trouble for minor offenses like shoplifting. That experience was my first exposure to the law. I have been drawn to it ever since and am grateful for that experience.
If you hadn't pursued a legal career, what would you be doing?
My mom spent over 40 years working as a flight attendant for American Airlines. Her job provided her with the opportunity to travel the world and take our family on trips to Hawaii using her free passes. Growing up, I always said I wanted to be a flight attendant like my mom so that I could also travel and experience all the amazing places that she did. If I hadn't gone to law school, I might have followed in my mom's footsteps and been a flight attendant.
Who is someone who has inspired you in your career?
I have a close friend from law school who is battling breast cancer. Supporting her through her cancer journey has inspired me and helped me to overcome my own personal and career challenges while also really helping me put the challenges and struggles that I am faced with into perspective. She is an amazing person and inspires me to be better and have a positive outlook on life.
What's the best advice you've ever received?
A piece of advice I received as a law student that immediately comes to mind is to "be a duck," meaning to keep calm and unruffled on the surface while paddling like crazy underneath. I think it is important for lawyers to remain composed and collected in front of clients and colleagues to instill confidence in difficult situations; therefore, being a duck is the perfect analogy.
What makes a good lawyer/judge?
In my opinion, a good lawyer is someone who enjoys serving others and shows compassion to his or her clients. Regardless of what area of law someone practices in, the best lawyers consistently use their skills and expertise to make their clients' lives easier and assist them through what are often very challenging or exceptional circumstances. Good lawyers also have strong communication skills and possess an ability to ease their clients' anxieties. Lastly, it is important for lawyers to build trust with their clients by always being genuine and honest.
What is something you wish people knew about lawyers?
I wish more people could really know and understand how much time and dedication it takes to serve clients well and do this job successfully.
How do you spend your free time?
I spend most of my free time riding and showing my reining horse. My husband and I travel frequently on the weekends to show our horses through the American Ranch Horse Association and National Reined Cow Horse Association. We also live on a horse farm where we board horses and run a lesson program and summer camps.
If you could time travel to any period in history, where would you go and why?
I would travel to the 19th century to experience what it was like to travel everywhere on horses! 
Why is pro bono work important to you?
Pro bono work is important because there are so many members of our community with legal needs who do not have access to the necessary resources to meet those needs. The pro bono work I focus on involves helping immigrants navigate the naturalization process, which is very difficult to do without the help of a lawyer. I have been personally impacted by several pro bono clients whom I developed close relationships with. I have helped clients study for the civics exam, attended their interviews with U.S. Citizenship and Immigration Services and have even been invited to their swearing-in ceremonies. The swearing-in ceremonies have been especially rewarding and I am grateful for these opportunities to help and make a positive impact on their lives.
Tell us about your work on the firm's Associates Committee.
I co-chaired Faegre Drinker's Associates Committee in 2020 and 2021. Prior to the merger of Faegre Baker Daniels and Drinker Biddle & Reath in 2020, the legacy Faegre firm did not have an Associates Committee. Learning to navigate co-chairing a new firm committee would have been a challenge even under normal circumstances, and COVID-19 and the remote work environment just made it much more complicated. I am most proud of a "Ramp Down/Ramp Up" program that the Associates Committee was instrumental in the firm implementing last year. The program provides for reduced hours expectations for associates and other professionals ramping down ahead of a leave of absence and ramping back up following the leave. This program recognizes that there are often inherent reductions in billable work for those who take a leave of absence and prevents associates and other professionals from being negatively impacted by that.•
Please enable JavaScript to view this content.