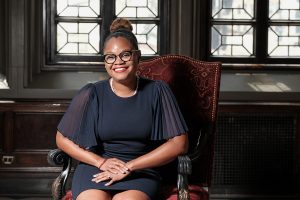 Barnes & Thornburg LLP
Columbia Law School, 2014
Why did you decide to enter the legal profession?
I studied abroad in Ecuador during my junior year in college and, as an anthropology major, I embarked on writing an honors thesis that required me to interview several people regarding social justice issues. At the end of one interview, the person I was speaking with asked me what I would do with this information when I returned to my country. In responding, I explained that I would incorporate the information I learned into the paper I was writing, and the paper would grant a level of exposure to the social justice matters occurring in that person's life. This specific experience made me yearn to be in a profession where I could have a more direct impact on helping others on a more micro, rather than macro, level. This experience prompted my decision to become a lawyer.
If you hadn't pursued a legal career, what would you be doing?
If I hadn't become a lawyer I would have pursued a career in either public policy or journalism, with a focus on being a travel journalist.
What's the best advice you've ever received?
To live your life with intentionality and to be intentional about allocating time to the things that enrich your life.
Who is someone who has inspired you in your career?
My grandmother Ouida. She made achieving anything that you wanted to do seem effortless and lived every day with a smile. 
What makes a good lawyer/judge?
The desire to achieve the right result and the willingness to process material that is sometimes dense, complicated or nuanced in an effort to get to the right result.
What is something you wish people knew about lawyers?
That we like to have fun, too.
How do you spend your free time?
Spend time with my husband, experiment with recipes, go to Orangetheory, watch movies, recreate at-home spa experiences, and catch up with family and friends. My loved ones are spread out across the country and in other countries, and I enjoy traveling to see them.   
If you could time travel to any period in history, where would you go and why?
I would go to the future and hopefully land in a time when space travel was possible for everyday individuals. I'm fascinated with outer space and would be thrilled for the chance to
space travel. 
Your nominator described you as "completely at ease in the courtroom." What is it about litigation that interests you?
The aspect of litigation that interests me the most is telling someone's story in a way that advocates for their interests. Everyone loves a good story, and every litigation dispute has one. 
Tell us about your work to promote diversity/inclusion in the law.
I'm a huge proponent of practicing law in an inclusive legal community. Some of the ways I try to promote diversity and inclusion in the law are participating as a board member of the Cornell Black Lawyers Alumni Network (my undergrad alma mater), where I serve as a regional chair. In that capacity I'm involved in initiatives aimed to develop a pipeline of attorneys from diverse backgrounds and to support career advancement opportunities. I'm also a member of the organization The NEW Roundtable, which aims to enhance the professional and business development opportunities of its members, who are in-house and outside counsel in senior positions and who are women of color. This year I enjoyed interviewing judicial extern candidates from underrepresented backgrounds in law schools through an American Bar Association program. I've enjoyed developing relationships with younger attorneys at my firm — some who are women, some who are people of color — and being a cheerleader for their success and being a resource.•
Please enable JavaScript to view this content.