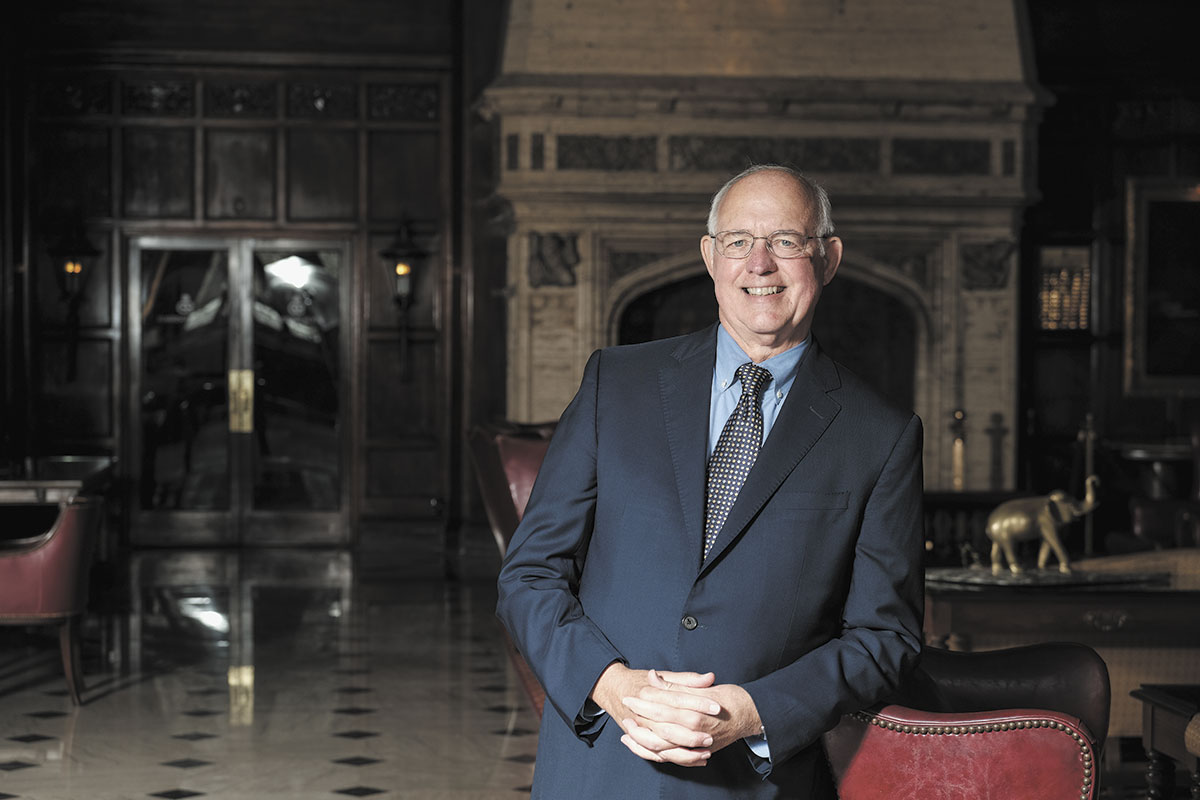 Dentons Bingham Greenebaum LLP
Indiana University Robert H. McKinney School of Law, 1975
Why did you decide to enter the legal profession?
It was really an afterthought. When I graduated from college, I planned on becoming a professor of international relations. I had accepted a fellowship to get a master's degree in Southeast Asian studies and then planned on pursuing a Ph.D. But when I visited the graduate school I learned that the head of the department wanted everyone to become an expert on Thailand, which was his area of expertise. I decided that was too narrow of a focus and decided to seek other alternatives.
I had been president of the Purdue student body and had hired local attorney Brent Dickson, whom I met in Purdue's Iron Key, to sue the Purdue Board of Trustees over some anti-demonstration policies the board had developed in response to student unrest over the war in Vietnam. Brent instead wrote a lengthy memorandum, which he submitted to the board's attorney, pointing out the constitutional due process violations in the board's policies, which led to the board rescinding them.
In discussing with Brent my frustration with the master's program, he suggested that, as a former high school and college debater, it would be natural for me to go to law school. He made a call to then-Dean Foust of the IU School of Law in Indianapolis, and I interviewed there within a few days and was accepted pending satisfactory results of the LSAT, which I had not taken. Brent, now Justice Dickson, was absolutely right. A debate and public speaking background is a very important asset to becoming a successful trial and appellate attorney. Although I had not previously considered a legal career, it was a great choice and I have loved being a lawyer. I unquestionably made the correct career decision.
If you hadn't pursued a legal career, what would you be doing?
My original plan was to become a professor of international relations, focusing on Asian studies. I interviewed with the Peace Corps during my senior year in college and considered joining the State Department after obtaining a Ph.D. in international relations.
When I entered law school attending the IU Robert H. McKinney night division program, I worked full time in international banking during the day. After two years of law school, I took a year off to work in London as assistant manager of an international lending bank in which my Indianapolis-based bank had an ownership interest. Upon my return, I traveled to Asia for the bank for the next two years, visiting countries from South Korea to Indonesia and nearly every country in between. On those trips, I met with officials at our U.S. embassies, government leaders in the countries we did business with, our banking contacts and some corporate clients.
It was only after four years of international banking that I decided I wanted instead to become a criminal defense lawyer. Admittedly, that was a drastic change. Over the years, I have continued to read extensively about international relations and world history. It is a subject that continues to fascinate me. And my wife and I have traveled extensively throughout the world. I have been to most countries in the Far East and Southeast Asia, Europe, the Caribbean and several in South America and Central America. Several years ago, we participated in a three-week People to People Ambassador Program criminal defense lawyer delegation to China. Over the next several years, we have plans to visit several other countries that we have not been to yet, including those in Africa.
For the past 20 years, I have limited my practice to representing corporations and professional people in white-collar criminal cases — business crimes including securities fraud, tax fraud, health care fraud, mail and wire fraud, money laundering and myriad others. As it turns out, my banking and financial background has been invaluable in representing clients in financial crimes.
Who is someone who has inspired you in your career?
I have read many books about Clarence Darrow and have been inspired by his tenacious representation of his clients. He was a true champion of his clients' causes.
During my lifetime, I have been inspired by Edward Bennett Williams, another giant in the legal profession. He was regarded as brilliant, always thoroughly prepared, articulate and a formidable advocate for his clients. Practicing in Washington, D.C., he was also well-connected, which is why Evan Thomas titled his biography of Williams "The Man to See." He was the "ultimate insider," according to Thomas.
What's the best advice you've ever received?
The best advice I have ever received was the recommendation from Justice Brent Dickson, when he was a lawyer in Lafayette, that I should pursue a legal career. Had he not given me that advice, I doubt I would have ever done so. I didn't know any other lawyers growing up and didn't even think about becoming a lawyer. No other family member other than my older brother had even gone to college. None pursued post-college degrees. So, the idea of being a lawyer seemed pretty far-fetched to me growing up.
As an experienced trial lawyer, probably the best advice I received was from Judge Gene Brooks of the U.S. District Court for the Southern District of Indiana. I had just tried a multidefendant nine-week federal criminal conspiracy trial in his courtroom representing the lead defendant, a lawyer from southern Indiana who had become a friend during the three or four years leading up to the trial. My client was about my age, and over the years we struck up a friendship. Judge Brooks wisely recognized that I had gotten too close to my client and, after the trial, pulled me aside and told me that, although he too knew my client and liked him, it appeared to him that I had become "too close" to my client and had perhaps allowed our relationship to cloud my judgment.
He was right. In hindsight, I had lost my objectivity, which a lawyer should never do. I get emotionally involved in my cases and my client's defense. I had a tendency to allow myself to get too close to my clients. Since then, I remain passionate about my cases, but based on the advice I received from Judge Brooks, I no longer allow myself to get "too close." It's sometimes a difficult line to draw, but a lawyer must always remain objective and render advice based on the facts and law of a case, not emotion or personal relationships. One can still fight zealously for a client but not allow the lawyer-client relationship to interfere with objectivity.
What makes a good lawyer/judge?
There are some common traits, but also some unique to being a lawyer versus a judge.
Good lawyers and judges are highly ethical and follow the rules. They are both students of the law and want to understand the law applicable to the case at hand. They are respectful of each other and other attorneys, witnesses and court staff. They practice with collegiality, professionalism and civility. They both strive for excellence.
Lawyers must also be good advocates for their clients. They must be ethical in doing so, but their client deserves counsel who will vigorously present their client's case. However, a good lawyer also counsels clients to reconsider their expectations when the law and facts do not support them. Many clients have unrealistic expectations. Their lawyer's job is to educate them on the law, apply the law to the facts accurately and present to them solutions that are consistent with the law and facts. Lawyers who pursue their clients' unrealistic objectives notwithstanding the law and facts do a disservice to their clients and the legal profession and waste court time.
A good judge, on the other hand, must be fair and withhold judgment until hearing all the facts and thoroughly understanding the law. Good judges must put their own biases and prejudices aside and decide cases fairly and objectively.
When I became a lawyer in 1975, we had many mediocre judges on the bench, particularly in state courts. Salaries for judges were very low and did not attract the best lawyers to the bench. And many judges were highly political, held ex parte discussions with lawyers they liked and did not follow the law. Over the years, due to increases in pay and our Supreme Court's diligent efforts to improve the quality of the judiciary, our trial judges — as well as appellate judges — have improved dramatically. We now have an outstanding bench from top to bottom. The same is true in federal court, where I do most of my litigation. There are exceptions to every rule, and there are certainly some "bad" judges out there — I have scars from trials in their courts — but they are fortunately few and far between today.
What is something you wish people knew about lawyers?
Lawyers care. They are empathetic, understanding and really want to help their clients deal with whatever legal issues the clients have. I think too many people think lawyers just want to make money. Almost every lawyer I have ever met genuinely cares about his or her clients and their best interests.
Unfortunately, many movies and television shows portray lawyers in the worst light. When I was part of the People to People criminal defense delegation to China, we did a mock trial for the law students at Tsinghua University School of Law in Beijing. Afterward, we took questions from the students, all of whom spoke fluent English and who apparently spent their spare time watching U.S. television shows. They asked us why our mock trial was so dull. They expected our lawyers to jump up on counsel table, wave our fists, shout and act crazy like they had seen "lawyers" do on television. They appeared disappointed that, in real life, that doesn't happen and, if it does, that lawyer is normally escorted to jail to serve a contempt sentence. I fear many people in this country also have distorted view of lawyers based, in part, on how movies and television shows portray them.
How do you spend your free time?
I have many hobbies, though I have had limited time to pursue them because of the time commitment to being a trial lawyer. I love fishing, boating, wildlife photography, golf, gourmet cooking, woodworking, spending time with family, reading and travel both in the United States and overseas. I have enjoyed sailing in the British Virgin Islands and scuba diving in over a dozen Caribbean islands, where I have over 100 open water dives. The walls of my law office are filled with photos of wildlife from our various trips and of countries we have visited. My wife and I have been on National Geographic expeditions to Alaska, Costa Rica and the Galapagos Islands. We plan to take a safari to Africa with National Geographic within the next two or three years.
If you could time travel to any period in history, where would you go and why?
I would have loved to have been a part of the Continental Congress that wrote the United States Constitution and debated the issues that formed our republic. I have read extensively the Federalist Papers and Anti-Federalist Papers and the history of our founding. It would have been fascinating to have debated with John Adams, Thomas Jefferson, Ben Franklin and others the powers that should be entrusted to a national president, the preservation of states' rights and individual liberties, and the very structure of the government that was being created.
What lessons did you learn during your years running a firm?
There were many, but perhaps the most important was to limit your practice of law to areas in which you felt very comfortable and to resist the temptation to take on cases that were outside your area of expertise. Kiefer & McGoff was a boutique law firm. I limited my practice to criminal defense, including a large practice of defending health care providers. Kevin McGoff, my partner, limited his practice to criminal defense, family law and attorney discipline cases. Our associates only practiced in the areas that we did so we could supervise them with knowledge of the procedures and subject matter. We had opportunities to take on other types of cases but declined to do so.
Not only did this practice permit large and medium-sized firms to send their best clients to us without fear that we would represent them in other areas of law that the referring firm handled, but it also ensured that we always practiced competently. My hat goes off to lawyers in smaller cities who are unable to limit their practices and thus do everything from estate planning to forming and advising corporations to family law, criminal defense, personal injury and just about every other area of practice. It is difficult enough for me to stay abreast of white-collar criminal law. I can't imagine trying to do so in such a diverse practice.
You've worked on more than 100 jury trials, which is becoming increasingly less common. Is the decrease in jury trials a bad thing?
Yes. There are times when cases just have to be tried. If lawyers lack trial experience, they are not prepared to go to the mat when that is in a client's best interest. Resolving disputes, whether civil or criminal, through a negotiated settlement is often the best alternative for clients for a variety of reasons. But there is too much pressure on lawyers and litigants today to reach a settlement, and often a "trial tax" or penalty if clients take their cases to trial and lose.
When I first became a criminal defense lawyer, many prosecutors did not offer plea agreements that made sense. Rolling the dice at trial was often a better choice, and most judges sentenced defendants about the same whether they entered guilty pleas or went to trial and lost. So, in my early years, I tried lots of cases.
Over time, in part due to the increasing volume of cases, prosecutors began offering much more attractive resolutions to cases, ones that clients could often not afford to refuse. The sheer volume of cases made trial in every case, or even a majority of cases, a practical impossibility. But the unfortunate result is that we have today a large number of "trial attorneys" who have never tried a jury trial and lack the skills and confidence to do so.•
Please enable JavaScript to view this content.