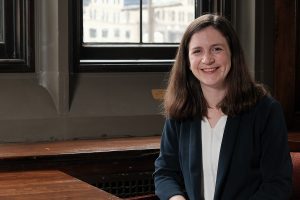 Plews Shadley Racher & Braun LLP
Indiana University Robert H. McKinney School of Law, 2015
Why did you decide to enter the legal profession?
Being a lawyer is a demonstrable and immediate way to effect change. Lawyers have historically been on the forefront of societal change and progress, and I believe we will continue to be. I wanted to put myself in a position where I had the resources and capacity to step up and improve our community. 
If you hadn't pursued a legal career, what would you be doing?
I interned for a congressman one summer during college and loved it. If I weren't a lawyer, I could see myself working in policy research or legislative drafting.
Who is someone who has inspired you in your career?
I'm inspired by my fellow women lawyers. Whether we are co-counsel or represent opposing parties, I am inspired by their advocacy, thoughtfulness and intellect. They reinforce that my voice matters, and I am so grateful for that guidance.
What's the best advice you've ever received?
Be present. It sounds simple but has been very difficult for me to master. With emails and texts and notifications, etc. coming at us constantly, it is important to make a concerted effort to be present in our environment and engage with the people and task immediately before us. I've found it makes home life more enjoyable and work life more effective and efficient.
What makes a good lawyer?
A good lawyer is both creative and optimistic. Many of the most accomplished lawyers I know are eternal optimists and truly enjoy finding creative solutions to tough problems.
What is something you wish people knew about lawyers?
Lawyers, as a whole, are inquisitive. We learn about all sorts of things to assist our client — subject matter we never even considered before. And for each case, we become fluent in that industry's language, understand their customs and appreciate their goals. After a while, lawyers amass a wide range of knowledge that people may not expect. 
How do you spend your free time?
As a mom of a 2½-year-old and 9-month-old, I spend much of my free time playing make believe, reading picture books or watching Disney+. I also enjoy spending time at my family's lake house on Lake Maxinkuckee, where I try, not always successfully, to improve my waterskiing and sailing. 
If you could time travel to any period in history, where would you go and why?
I have real concerns about setting off a time travel paradox. I would choose to stay put in 2022.
Your nominator described you as being skilled at both litigation and transactional law. Do you have a preferred practice area?
Litigation and transactional law are so different. I love the mix and honestly don't know if I would be willing to practice one to the exclusion of the other. Understanding the issues that come up in court helps me to draft a better contract. Counseling clients through corporate and real estate transactions helps me to depose a witness about their business shortcomings. The different paces of litigation and transactional matters also keep my days interesting.   
Tell us about your work with Heritage Place of Indianapolis.
I currently serve as the president of Heritage Place of Indianapolis, a nonprofit organization founded in 1976 by the Butler Tarkington and Meridian-Kessler neighborhood associations to offer social, recreational, cultural and educational opportunities to persons 55 years of age and older. Now, Heritage Place reaches hundreds of older adults each year. Programs focus on lifelong education, fitness, companionship, fellowship and community resource information. Being exceptionally close with my grandparents as a young child, I have seen how beneficial activity and socialization can be for this population. It's my goal to ensure that Heritage Place continues to be a sanctuary for older adults to live their best lives.•
Please enable JavaScript to view this content.