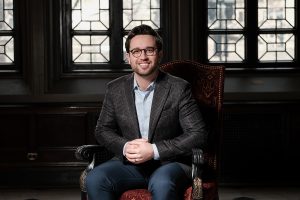 Dentons Bingham Greenebaum LLP
Indiana University Robert H. McKinney School of Law, 2019
Why did you decide to enter the legal profession?
I've always been the kind of person who wants to be in the room where decisions are being made. From my perspective, the legal profession would both open the door to that room and equip me with the skills and expertise to bring value to the decision-making process.
If you hadn't pursued a legal career, what would you be doing?
I think my dream job would be to open a microdistillery and tasting room. Realistically, I would probably be doing something in financial asset management. I studied finance in college and enjoyed the exercise of developing derivative strategies and portfolio analysis.
Who is someone who has inspired you in your career?
The person who first inspired me to study health law and policy and ultimately pursue a career in law was never able to see me realize that dream. My grandfather, Maurice Mullet, M.D., passed away when I was a senior in college. Grandpa "Mo," as we called him, was deeply committed to his vocation and served as the county health commissioner for 30 years. He established a scholarship for medical students who chose to pursue a dual degree in public health and was a mentor to so many of those students. More importantly, he was the most loyal and supportive grandfather a kid could ask for (even after he discovered I hate needles and the thought of seeing anything that was never intended to come out of our bodies). 
Whenever I reflect on my career, who I am and who I want to be, my mind often wanders to moments with Grandpa Mo. I think about the hours we spent in the car traveling to and from Canada on fishing trips. I think about all the times he would make the long drive from his home in Ohio to Taylor University just to take me out for dinner, where we would talk for hours about what I was learning and what I wanted to do with my life and career. I think about his funeral, where countless people spoke of his integrity, kindness, leadership and the impact he and his career had on their lives. We may have chosen different professions, but his legacy has certainly left an imprint on my life and career.
What's the best advice you've ever received?
You can always find time to make up an extra hour at work, but it's hard to make up that same hour with your kids.
What makes a good lawyer?
The best lawyers are team players. Being a team player goes beyond being a reliable contributor or simply leveraging the knowledge and skills of those around us. The best lawyers I know are committed to mentorship and the development and success of individuals on their team. They're also my personal favorite to work for.
What is something you wish people knew about lawyers?
Transactional attorneys are far more interesting when you don't know what we do all day, so I'll keep it that way.
How do you spend your free time?
My free time is pretty scarce, but I try to spend every moment of it outside with friends and family at the lake. Our daughter turns 2 this summer and absolutely loves the water. I suspect most of my free time will be spent chasing her around by the shore.
If you could time travel to any period in history, where would you go and why?
I've always been captivated by movies and TV shows about NASA and space travel. I think I would visit the late 1960s to witness the space race and see the United States put a man on the moon.
What's the value of a dual degree like your J.D./master of health administration?
Law school trains you how to think like a lawyer, but few classes actually equip you as a leader. The opposite is true for most MBA or MHA programs, where you are trained in things like organizational leadership and strategic management. When I first enrolled, combining the two degrees made a lot of sense with the direction I wanted to take my career. I chose the J.D./MHA path because I already had a strong foundation in finance and accounting and wanted to better understand health care operations to position myself to more effectively work with health care clients. In practice, I've found this background particularly helpful in offering legal advice with a business solution. 
Tell us about your work with the IndyBar Virtual Help Desk.
I used to joke that I would be a useless pro bono attorney. There aren't many pro bono opportunities in M&A, and I have absolutely no business doing anything in a courtroom — especially when someone's civil liberties are at stake. What's so great about the Virtual Help Desk is that anyone with a law license and access to the internet can do it (but I still keep a litigator on speed dial just in case).
During the pandemic, people had a lot of questions about their ability to access or pay for their health care, or how to be an advocate for a family member in a similar situation. These were topics on which I was more equipped to advise. I was also able to advise on matters that I don't frequently see in my own practice but that have a tangible impact on individual lives, like residential landlord-tenant issues, child custody and probate matters, among other things. I would encourage anyone who can offer an hour or two of their time to consider volunteering with the Virtual Help Desk.•
Please enable JavaScript to view this content.