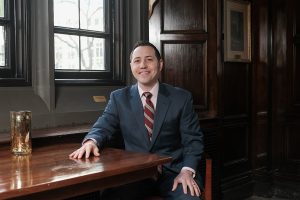 Hall Render Killian Heath & Lyman P.C.
Indiana University Robert H. McKinney School of Law, 2012
Why did you decide to enter the legal profession?
My dad is a lawyer, so that certainly opened my eyes to what a legal career can offer. As I got older, I realized that the legal profession would be a good match for my gifts and interests. I like to organize my thoughts in writing, and I enjoy speaking opportunities. I love doing research and learning new things. And I think it's fun to negotiate and try to get the best deal for a client. 
If you hadn't pursued a legal career, what would you be doing?
I would probably be in D.C. working in a legislative office or perhaps at a policy think tank. Before law school I had various jobs and internships with the legislative and executive branches in Washington. I am still a newshound and enjoy following politics and researching policy issues.
Who is someone who has inspired you in your career?
My dad recognized and encouraged my gifts in the tools of argument and persuasive writing. And my mentor Andrew Dick has also been a huge inspiration to me. He's the leader of our real estate service line at Hall Render and is very intentional in building a community of trust and camaraderie among our team, empowering people to "find their niche" within health care real estate law, and continually coming up with innovative strategies to reach our clients and stay at the top of our game from a technical knowledge standpoint. Many of the most interesting and specialized projects I've worked on have been through opportunities created by Andrew.
What's the best advice you've ever received?
My grandfather, who used to work in a steel mill, told me, "You can do anything you set your mind to." I didn't fully grasp what that meant until more recently. But it really means pressing on in the face of initial failure. If you work hard, stay humble and never stop learning, you will ultimately find success, even if it doesn't always look the way you had originally envisioned.
What makes a good lawyer/judge?
Curiosity and a thick skin. Curiosity means trying to gain an intimate perspective of your client's goals, as well as those of the opposing party, such that you can find areas of compromise that can achieve both parties' aims. Even when you're prepared, things don't always go your way, and people's words and actions can really go to your head if you let them. Having a thick skin means not taking things personally but really being an advocate. Where there is money at stake and emotions are running high, you've got to keep your flak jacket on!
What is something you wish people knew about lawyers?
We despise the billable hour as much as our clients do!
How do you spend your free time?
I have three young boys with boundless energy (and a patient wife who also has her limits). So typically my free time is spent doing something active outside to try to wear the boys out! We love going for bike rides, checking out the local parks or breakdancing in the kitchen. 
If you could time travel to any period in history, where would you go and why?
I think the revolutionary period in America would be a very interesting time to live. To see people who had so much to lose and were willing to risk it all for a common goal would be very inspiring and calls to mind what makes our country great.
What drew you to health law?
I have always been interested in politics, so the regulatory side of health law really appealed to me. IU McKinney had (and has) a great health law program, thanks to Eleanor Kinney, Nicolas Terry and many others. Even though the Medicare law has been in effect since the 1960s, health law still felt like a cutting-edge area. IU McKinney Law really gave me the tools and opportunities, such as the Indiana Health Law Review, to pique my interest in the area.
Tell us about your time working at the White House.
My job was in the correspondence office, and my day-to-day duties were relatively mundane. But the people I worked with were some of the most down-to-earth, principled and hardworking people I've had the privilege of knowing. I volunteered for every event I could (state dinners, presidential "arrivals" and "departures" on Marine One, the Easter Egg Roll and others) which made it fun to just be a part of the action. I had no idea that the president kept such a busy schedule, and as much as the policy side was interesting, the humanitarian and public-spirited events made it really rewarding to work there.•
Please enable JavaScript to view this content.