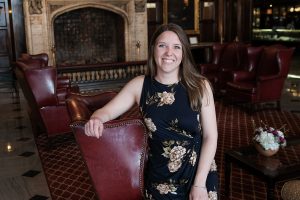 Plews Shadley Racher & Braun LLP
Indiana University-Purdue University Indianapolis, 2016
Why did you decide to become a paralegal/legal support staffer?
I had no intention of becoming a paralegal. I started college as a political science major with aspirations of law school. I loved political science, but it felt too much like a one-way track. After my freshman year, I changed to criminal justice and added a paralegals certificate.
I took a class called "Intro to Law" with professor Erin Engels at IUPUI. She started the class by saying, "If you have any intention of becoming a lawyer, call any attorney you know and offer to file their paperwork for free." Her intention was to determine if you would even like the job before going into debt for it. So that's what I did. I was fortunate to work for a small law firm in Danville all through college. I found out that I loved the legal field. I loved that I could substantially contribute to case resolution without a law degree. My plan after graduation was to work for a few years and then go to law school. I started at Plews Shadley Racher & Braun LLP after graduation with a plan to save for law school. But here I am, six years later. I love my job, I love those that I work with and I really appreciate the work that we do. I feel like I found a fulfilling career when I wasn't even looking for it.
If you weren't working in legal support, what would you be doing?
I would love to work in an economic development role. I am fascinated by real estate and commercial development and its impact on community growth. I enjoy reading about new developments and the statistics the public and private sectors use to determine why they are building in certain areas and their long-term goals for its impact. 
What makes a good paralegal/legal support staffer?
I believe it takes someone who is willing to always be a team player. Someone who is reliable and can sustain the "can-do" attitude. 
What makes a good lawyer?
There are so many qualities that make a good lawyer, but I think the most important qualities are creativeness and communication — the ability to look at a situation and not turn away from it because it doesn't fit the mold. Rather, they pivot and develop a strategy better than the first. If they can then communicate their case strategy, they are able to build the best team around them to achieve a successful outcome. 
What's something people might not know about the legal support profession?
The role of legal support is not a "9-to-5" job. There will be weekends preparing for arbitrations, mediations, hearings or case-dependent depositions. There will be late nights trying to finalize briefs and filing them at 11:59 p.m. This is the part of being flexible and willing to be a team player.
What would you say to someone who is considering a career in legal support?
Go into the career with an open mind, as you never know what type of practice you will actually enjoy until you start. 
How do you spend your free time?
If I'm not coaching volleyball, then I enjoy spending time at home with my husband and our two dogs. I recently invested in my golf game and enjoy playing on the weekends.
If you could time travel to any period in history, where would you go and why?
I would travel to the 1970s. My grandfather passed away before I was born but my grandmother always talked about what a great dancer he was and how his laugh could brighten any room. I would have loved to dance the polka with him and watch him light up
a room. 
Your nominator said you work in a variety of practice areas. Do you have a favorite area of law?
I truly do not have a specific area of practice I enjoy more than another. More than anything, I love a complex case with a good strategy. I really enjoy helping achieve what once seemed like an impossible outcome. 
We hear you like volleyball — tell us about your involvement in the sport.
I really got the love of volleyball from my sister. I started playing when I was very young with my sister in the backyard and then started playing on organized teams around 10 years old. I played from that point on through high school. After finishing high school, I enjoyed giving back to the sport through coaching. I have coached kids from fourth grade to seniors in high school at both local schools and volleyball clubs.•
Please enable JavaScript to view this content.