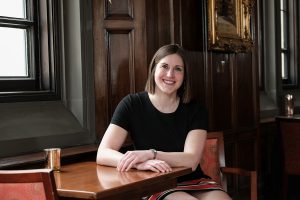 Ice Miller LLP
The Ohio State University Moritz College of Law, 2016
Why did you decide to enter the legal profession?
I decided to enter the legal profession simply because I love learning about the law. I've also always enjoyed writing and advocacy, and I wanted to make a career out of something that I was passionate about.
If you hadn't pursued a legal career, what would you be doing?
I like to think that I would be a chef or doing something in the food industry. I love cooking. During both my senior years of high school and college, I thought about taking some time to explore the food industry as a career option. The voice in my head telling me to pursue my other passion (the law) won the day. Lucky for me, I ended up with a job I love and still have food as a hobby!
Who is someone who has inspired you in your career?
The partners I work with at Ice Miller inspire me every day in so many different ways, and I could not pick just one of them. They are all distinctly different in how they practice law, and I love being able to take pieces of that to form who I am as a lawyer and figure out how to best utilize
my strengths.
What's the best advice you've ever received?
"TPW — tough players win." My college basketball coach (go Kenyon College!) always told my team this, but I believe the phrase originated from another icon of mine, Tom Izzo.
What makes a good lawyer/judge?
A good listener.
What is something you wish people knew about lawyers?
Nothing is more valuable to a lawyer than the ever-elusive uninterrupted, work-free vacation.
How do you spend your free time?
I spend a lot of time with my family in Ohio, where I have seven nephews and nieces. I love being an aunt. I also enjoy traveling, especially when I go to places where I can hike. Or, you can find me cooking or eating delicious food at one of the many great Indianapolis restaurants.
If you could time travel to any period in history, where would you go and why?
The 18th century, to witness the American Revolution and the creation of the founding documents for our country. Then I could really make a "that's not what the framers intended" argument in court.
What drew you to labor and employment law, and what do you enjoy about that practice area?
During summers prior to and during college, I worked as a factory worker at a plant where my father worked in human resources. Through that experience, I learned about blue-collar workplaces through the lens of someone working on the floor while also hearing the perspective of management. Then, when I got to law school, the subject matter of labor and employment law was incredibly relevant and interesting to me. I also really enjoy litigation. As a labor and employment lawyer, I get to be an expert in a subject that I'm excited about, and I also litigate on a
regular basis.
Tell us about your work with Firefly Children & Family Alliance.
I am so grateful for the opportunity to serve on the board of directors for Firefly Children & Family Alliance. The organization has an incredible impact on our community. Firefly's work focuses on child abuse prevention, family preservation and reunification, youth placement and recovery. My favorite part of my board work is when I have the opportunity to spend time with the staff and other volunteers. Firefly's staff is amazing. Despite the challenges in our community that they are addressing every day and seeing firsthand, they are tireless and optimistic in their work.•
Please enable JavaScript to view this content.