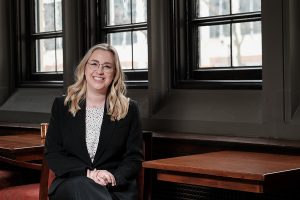 Taft Stettinius & Hollister LLP
Indiana University Maurer School of Law, 2015
Why did you decide to enter the legal profession?
I've known that I wanted to be a lawyer since I was child. And while I cannot remember what initially inspired the idea (it may have been all the classic lawyer movies I watched with my mom like "My Cousin Vinny" and "A Few Good Men," or the episodes of "Matlock" that I watched with my grandfather … ), I am grateful because it has led to a wonderful and fulfilling career. 
If you hadn't pursued a legal career, what would you be doing?
I think you would find me teaching. I'm a lover of history and reading, and I think I'd enjoy being a high school history teacher.
Who is someone who has inspired you in your career?
I am very lucky to have had the privilege to work with many talented lawyers in my short career. Folks like Rebecca Geyer, who runs her own practice, holds several committee and leadership positions, actively parents her three boys and still finds time to mentor younger lawyers and pass along a good book recommendation or two. Or Frank Deveau, whose subject-matter expertise and even-keeled manner of advocating for his clients always inspires me. Or Jayna Cacioppo, who can craft winning arguments on the fly and whose passion for the profession is evident each time she steps into the courtroom. Or Jeff Stemerick, Will Gardner and Ann McCready, who always make time to discuss case strategy or provide advice on legal writing, no matter how busy they are. People like Karen Devalal, Monica Dabio and the late Cathy Canny, whose ability to organize and stay ahead of deadlines always astounds me. There are too many of my Taft colleagues to name individually, but to each of you, know that you inspire me every day!
What's the best advice you've ever received?
"Happiness is a choice and everything else is a matter of perspective." 
What makes a good lawyer?
To me, the phrase "good lawyer" is synonymous with "good communicator." As lawyers, we are tasked with gathering the facts and law and communicating them in an effective, succinct manner. We must also serve our clients, and that requires being responsive to their needs. 
What is something you wish people knew about lawyers?
I wish people understood just how much of themselves lawyers give to every case. Lawyers have the ill-gotten reputation of being money-grabbing sharks who are only out to get you and who prioritize getting paid the big bucks above all else. That couldn't be further from the truth. Our client's cases become our own, and we carry an enormous sense of obligation knowing that every move we make could be the difference between winning or losing the case.
How do you spend your free time?
I have a 1-year-old daughter at home, and it has been the biggest pleasure of my life to watch her grow. I also love spending time with my husband and our two pups or playing a hand of cards with family. I'm also big fan of audio books, and will forever be planning my next travel adventure.
If you could time travel to any period in history, where would you go and why?
I would love to see what places like Machu Pichu looked like in their heyday. As an avid traveler, I love to explore historical sites, and I think it would be neat to go back in time and see what they looked like in their former glory.
What drew you to litigation, as opposed to other areas of the law that might not be in court as often?
The variety. As cliche as this sounds, I love to learn, and litigation gives me the opportunity to explore different areas of law and learn about a variety of business operations. I love that one case is never like the next.  
Tell us about your work with Women of Taft and why it's important to you.
I co-chair the Indianapolis office's women's affinity group at Taft. I knew from the first day I joined Taft that I wanted to be a part of the group. It's important to me that the women in our office have a place to come together, share their experiences and challenges, and build meaningful connections. I'm thankful that Taft wholeheartedly values and supports those important initiatives, too.•
Please enable JavaScript to view this content.