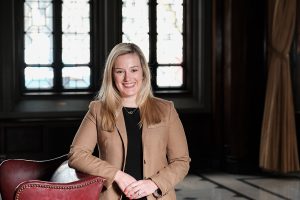 Barnes & Thornburg LLP
Notre Dame Law School, 2017
Why did you decide to enter the legal profession?
I decided to go to law school after taking a required media law class for my public relations major in college. I had never seriously considered going to law school before that, and no one in my family was an attorney. Something about that class just "clicked" for me, and I knew I wanted to go to law school and be able to take — and learn from — many more classes like that. I was not disappointed and genuinely enjoyed learning about so many different legal areas — I loved law school. I enjoy the interesting, complex and important issues we get to handle as attorneys — we are helping our clients problem-solve and strategize the best path forward. It is incredibly rewarding work to help people achieve their goals, and especially when you can do so efficiently for your client.  
If you hadn't pursued a legal career, what would you be doing?
I probably would have pursued a career in public relations had I not gone to law school. But I still think I missed my calling as a professional home organizer. I pride myself on my organizational skills — which helps me manage the complex cases that I work on. I have watched The Home Edit's show on Netflix several times!
Who is someone who has inspired you in your career?
There are so many people who have made a significant impact on my career, but three groups of people come to mind. First, my colleagues. Every day I work with incredibly talented attorneys at Barnes & Thornburg. These attorneys inspire me to want to learn and become a better attorney every day. I am especially thankful to attorneys like Jen Wright, Chris Bayh, Joe Eaton and Alex French, who have taught me a lot about how to be a strong advocate for our clients. Second, my husband. I met my husband in law school and he is also an attorney in Indianapolis. He is one of the hardest working and most supportive people I know. He never fails to take on a challenge with a positive attitude, and that inspires me to do the same every day. Third, my parents. My parents are business owners in South Carolina, and they have taught me so much about what it means to work hard and care about what you are doing. Having that perspective has helped me work, day after day in my practice, to ensure what I do makes a difference for my clients and their businesses.
What's the best advice you've ever received?
My 3L year of law school at Notre Dame, one of our professors told us that "very few things in life are true emergencies." I think that is great advice for a digital world that is connected 24/7 and helps me really focus on the importance of having a work/life balance. 
What makes a good lawyer/judge?
A good lawyer or judge is someone who listens. For lawyers, it comes in the form of listening to your clients and understanding their goals and helping them achieve them. For judges, it is not all that different — understanding the goals of those having the dispute — and setting the parties up for success to achieve those goals.
How do you spend your free time?
I love to read and could spend hours in a bookstore finding a new story to get lost in. My husband and I also enjoy exercising together — running on the canal in downtown Indianapolis or going to Orangetheory classes downtown together. It is a way we can spend time together doing something good for ourselves. I am also an active member of the Junior League of Indianapolis and spent this last year as the marketing vice president, and spend a good amount of my free time volunteering for the organization.
What is something you wish people knew about lawyers?
That lawyers are just people! Lawyers can sometimes get a bad reputation from the movies or television shows, but most lawyers are just people who want to do interesting work and help solve problems.
If you could time travel to any period in history, where would you go and why?
The same professor who gave me my favorite piece of advice told us about her time at Notre Dame Law School when she was one of very few female law students in her class. I would love to go back to that time and meet some of the inspiring first female law students at Notre Dame. I have no doubt I would learn so much from them about perseverance, hard work and what it takes to be "the first" at something. 
Why is mentorship of younger associates important to you?
Helping younger attorneys feel more confident and giving them tools to succeed makes for a stronger work environment. As a young attorney, you often feel unsure and a bit nervous when trying new things. I think it is important that they have a friendly teammate who is willing to give younger associates the tools they need to succeed. I am so thankful that I have had so many attorneys take time out of their busy schedules to teach me legal strategy, help improve my writing and give me advice in a nonjudgmental way. I think it is crucial to do the same as I become a more experienced attorney, as well. 
Tell us about your work with Girls on the Run.
Girls on the Run is an incredibly impactful organization, and I am thrilled to be on the board for Girls on the Run – Central Indiana. GOTR is a program for young girls that blends physical activity with skill development to give young girls the tools to succeed. GOTR teaches girls confidence, character, care and connections. I am passionate about this organization because it teaches young girls how to make a meaningful contribution to their community all while making a physical activity — like training for a 5K — fun! While I have been aware of GOTR since I was in college, I did not work as a coach until I was a 3L at Notre Dame Law School. That experience was transformative for me and made me really want to continue to stay involved with the organization and make a positive impact. I am thankful I get to serve as a member of the board here in central Indiana.•
Please enable JavaScript to view this content.