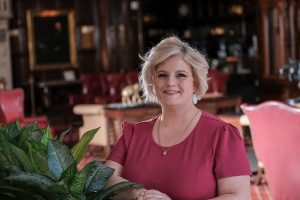 Church Church Hittle + Antrim
Valparaiso University School of Law, 2002
Why did you decide to become a paralegal/legal support staffer? 
It was not something I was looking for specifically. I had been doing program administration for several programs locally. My cousin sent me the job description for my current job, and on paper it was me. I applied, was interviewed on a Friday and offered the job on Monday.  
If you weren't in legal support, what would you be doing?
Probably teaching or working in a social services capacity. I feel like I have always been drawn to helping people.  
What makes a good paralegal/legal support staffer?
Someone who is organized, detail-oriented, patient and flexible. You have to have the ability to handle difficult situations with grace. Also, being able to anticipate the attorney's next steps.  
What makes a good lawyer?
Good lawyers are compassionate, zealous and have the ability to maintain objectivity. Some of the better outcomes have been achieved with an "outside the box" approach.
What's something people might not know about the legal support profession?
It is not as it appears on TV or in the movies. Legal support professionals are the backbone to a well-functioning legal practice.    
What would you say to someone who is considering a career in legal support?
Be prepared for anything. Every attorney is different. Every practice area is different. Every day at work is different. If you are looking for a cushy desk job, find something else.
How do you spend your free time?
My husband and I are traveling again. New Orleans is one our favorite places to visit.  We also enjoy attending concerts and going to see baseball games; we are St. Louis Cardinals fans. I belong to Pure Barre studio in Noblesville and love it — it's a great stress reliever and wonderful community of people. I enjoy various podcasts on my commute to work in the mornings.
If you could time travel to any period in history, where would you go and why?
There are three time periods I would like to see, in no particular order: the French Impressionism period — it is my favorite genre of art; Prohibition in the '20s — speakeasies, mafia; and the civil rights movement — amazing legal triumphs during that time.
You have your J.D. but have continued to work as a paralegal, not an attorney — tell us why.  
Quality of life; I created my own professional path. As indicated earlier, I was attracted to the job description at CCHA — it sounded like everything I enjoyed doing, all in one job. I was looking for something that allowed me to use all my education and professional experience and have the quality of life I desired.   
You've carved out a niche working on school law cases, particularly special needs cases. What is it about that area of law that interests you?  
I knew very little about special education law prior to starting at CCHA. I was ready for a new challenge professionally. I love that each day presents a new challenge. I enjoy what I do because the attorneys and staff I work with share the same passion for helping our clients.•
Please enable JavaScript to view this content.