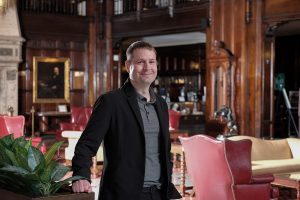 Woodard Emhardt Henry Reeves & Wagner LLP
Capital University Law School, 2012
Why did you decide to enter the legal profession?
My dad is a fairly prolific inventor. During his time working at P&G he obtained over 110 patents worldwide on inventions that are used in products ranging from Febreze fabric refresher to Bounce fabric softener to the hair dye molecules in Clairol ME+. Growing up, one of my earliest memories was going in to work with him. I was astonished by the glassware, tanks of argon gas and dry ice used in lab even though I had no clue how any of it was used at the time. This not only helped pique my interest in science but also in patent law. I was able to see firsthand how fulfilling it is to get something new to work and be successful. This fueled my desire to help inventors protect their inventions through patents and their brands through trademark protection.
If you hadn't pursued a legal career, what would you be doing?
In high school and college, I worked at the Kings Island theme park as a theater technician. I helped design and run sound systems and lights for stage productions. I enjoyed that work, and there is a part of me that would have liked to be a Broadway sound designer. But more likely, I would probably be working in the pharmaceutical industry or perhaps teaching organic chemistry at a college
or university.
Who is someone who has inspired you in your career?
My dad.
What's the best advice you've ever received?
Don't give up.
What makes a good lawyer/judge/chemist?
Like anything, it takes so many skills to be great, but observation, active listening and hard work go a long way.
How do you spend your free time?
I love being outside. You'll often find me outside running or hiking a trail or riding my bike.
If you could time travel to any period in history, where would you go and why?
I think I would enjoy the late 1800s or early 1900s. There were so many technological advances in science, medicine, manufacturing and communication that I think it would be exciting to see those advances affect people's lives. This time period has always struck me as when the conveniences of modern life really started to have an impact. But also, life moved a bit slower. Most travel was by rail or boat. A cross-country trip by train or an ocean voyage might be a neat adventure.
How does your background in chemistry inform your current work as an IP lawyer?
Most of my practice involves some sort of chemistry, whether it be polymer chemistry or organic synthesis. As a chemist, I use my background and knowledge as a cornerstone to help understand, translate and communicate an inventor's new idea or technology to others. That base level of knowledge also helps in understanding the risks and opportunities available.
We hear you're an avid woodworker — tell us about that.
I enjoy making things, and making things with my hands is particularly enjoyable. It's a neat feeling to transform raw materials into a finished product and have something useful at the end.•
Please enable JavaScript to view this content.