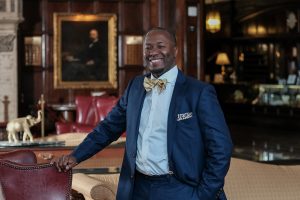 Scott Legal & Consulting LLC
Indiana University Robert H. McKinney School of Law, 2012
Why did you decide to enter the legal profession?
I grew up in Brunswick, Georgia. Brunswick was recently thrust into the national spotlight with the public lynching of Ahmaud Arbery. In Brunswick, I witnessed family and friends taken advantage of by landlords, overzealous attorneys and law enforcement. The best way to help was to join this noble profession to fight on their behalf.
If you hadn't pursued a legal career, what would you be doing?
My initial plans were to get my Ph.D. and teach African and African American studies. I was inspired by Cornel West and Michael Eric Dyson. I wanted to write books, lecture across the country and sit on panels wearing an ascot. I still think about academia as a post-legal career.
Who is someone who has inspired you in your career?
I owe my career to my college professor, the late Willie Edwards. He planted and watered the seed of pursuing a career in the legal profession. Despite his health issues and his wife's mobility issues, he traveled from Georgia to Indiana to watch me graduate law school. It was a proud moment for us. Whenever I get discouraged or have doubts, I think about the lessons he taught.  
It would be unfair to name just one person who has inspired me in my career. I am blessed to have a village of family, colleagues and friends from whom I gain inspiration — specifically, my colleagues Mutepe "Tep" Akemon, Tanisha Carothers and Amber Finley. We attended IU McKinney together. They work relentlessly for their clients and positively impact their communities with their service to others. They are amazing attorneys and better people.
What's the best advice you've ever received?
I advised myself. In 2010, I had a self-talk about a decision that would affect the rest of my life. Deep down I knew the answer and didn't need any reassurances. In the end, I told myself that Sherie Gilford was the one who made my life better. We are an inseparable and unbeatable team. This year marks our 10th year of marital bliss. We have four beautiful children: Maurice II, 7, Olivia, 2, Justyce, 1, and Journee, 1.
What makes a good lawyer/judge?
Lawyers are not superhuman. We do not know the answer to every question asked by our clients or that random person in the grocery store. It is perfectly fine to take your lawyer hat off. As attorneys we deal with the stress of others added on top of our personal tribulations. We sometimes allow the baggage from our clients into our home, and it can have a negative impact on our family and friendships. We are members of a profession that requires our best even when we are unable to give 100%. Being superhuman is not required and should not be required in our profession. We need rest. We need social interactions. We need love and affirmation from our closest loved ones. That is what makes a good attorney.
What is something you wish people knew about lawyers?
Lawyers "ain't got all the answers, Sway."
How do you spend your free time?
I spend my free time going to local venues listening to live music or comedy shows. I also find time to travel and try vegan restaurants throughout the Midwest.  
If you could time travel to any period in history, where would you go and why?
Ancient Egypt may be the greatest civilization. We are still trying to figure out how the pyramids were built. Ancient Egyptians are responsible for sports, entertainment, musical instruments, toothpaste and cosmetics. I can't imagine another time period as advanced as they were considering the times they were in.
Why did you decide to open your own firm, and what have you learned from that experience?
I crossed paths with many people and organizations who needed my skill set. I felt confident that I could hang my shingle and thrive. I learned to hire people who make my job easier. 
In addition to practicing law, you've worked in education. What do you enjoy about that?
I enjoy seeing young people grow into their potential. As an educator, I try to bring out the best in my students. I had professors who saw my potential and helped mold me into the man I am today. I try to have the same effect on my students. I anticipate the day of receiving an invitation to a law school graduation or swearing-in ceremony from a former student.•
Please enable JavaScript to view this content.