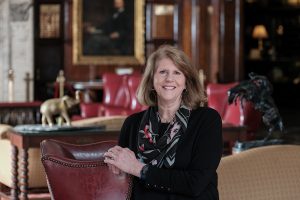 Taft Stettinius & Hollister LLP
Indiana University-Purdue University Indianapolis, 1993
Why did you decide to become a paralegal/legal support staffer?  
My story may be different than some, in large part because my undergraduate and master's degrees are in a different area (Indiana University Jacobs School of Music). My first exposure to the law environment was when I moved to Philadelphia after graduating from IU. I worked as a legal assistant for estate planning and tax attorneys, and after hours pursued singing gigs and taught private lessons. When I moved back to Indianapolis, I was a legal assistant at Sommer Barnard and continued to perform and teach private voice lessons. At Sommer Barnard, I had the opportunity to do some more challenging work, which I found very interesting and satisfying. For that reason, I decided to go back to school and earn my paralegal certificate at IUPUI while continuing to work full time at Sommer Barnard (and singing as much as I could). My role transitioned into a paralegal position for the firm's business and tax group while working on the paralegal certificate, and I have been with the firm (now Taft) ever since.
If you weren't working in legal support, what would you be doing?
Likely teaching at a college or university, which is the path that I had taken while at IU (in addition to performing).
What makes a good paralegal/legal support staffer?  
I think the traits of a good paralegal are attention to detail (being the first and last set of eyes on various documents, etc.), strong communication and organizational skills, multitasking and prioritizing projects, keeping up to date with the latest research and related tools, and being able to anticipate the next question before you're asked. 
What makes a good lawyer?  
I have met many attorneys during the course of my career within our firm and outside the firm (some just starting their careers and others having been in the field for a long time). In my opinion, the traits of a good lawyer are being able to effectively communicate, to recognize the value that other team members can bring to a transaction (which in turn allows the attorney to concentrate on his/her own particular strengths) and to mentor and share knowledge with colleagues and other support staff.    
What's something people might not know about the legal support profession? 
There can be a very high degree of satisfaction and advancement in having a career in the legal support profession. I am fortunate to be employed by Taft and to work with a very exceptional and talented group of professionals (not only attorneys, but other senior and support staff, as well).
What would you say to someone who is considering a career in legal support? 
There are so many different opportunities available now to legal support professionals, and varied venues (i.e., law firms of all sizes, private businesses, governmental agencies). The paralegal profession has really gained popularity and interest over the years (and certainly much more so than when I first started as a paralegal). I would encourage anyone who has an interest in law to explore the possibilities of joining a legal team (in an area that's interesting to him/her).
How do you spend your free time?
Well, I don't really have as much free time as I would like, but when I do I really like spending quality time with my husband, children and friends, reading, listening to music and going to concerts, spending time outdoors, and taking classes on my Peloton.
If you could time travel to any period in history, where would you go and why?  
I would travel back to the 1700s and 1800s, when some of the most prominent classical composers lived (such as Bach, Mozart and Schubert, to mention just a few). I am continually amazed when I read about these composers and listen to their music (absolutely beautiful, brilliant and timeless). I think it would have been fascinating to have attended a debut of their works and listened to live interviews.  
You've been with Taft for many years as it has gone through mergers/name changes/etc. What has it been like to see the firm transition over the years?  
Oh my, yes, there have been so many changes since I joined Sommer Barnard, now Taft after the merger in 2008. I could reminisce about all the technology changes (which are significant and really date me!) but hand-in-hand with all the technology advancements are the changes the firm has experienced (and embraced) to meet the growing needs and expectations of our clients. For instance, back in the day, there were no cellphones or email (and the quickest communication was by fax or sending overnight packages). Most of our closings were in person, electronic signatures were not used much at all and working remotely was not commonplace. The firm at that time was relatively small, with two floors in the Test Building on Monument Circle. Then, the firm moved to what now is the Salesforce Tower, and the lawyer base began to expand and a northside office was added after merging with another firm. The merger with Taft in 2008 was very exciting because instead of having two offices within a half hour of each other, we now had joined a firm with offices in Ohio and elsewhere, which in turn added such a wealth of expertise to serve the firm's clients (and opportunity to work with colleagues from several offices). I am able to work with a larger group of attorneys and support staff across all our offices. Taft has continued to grow and move forward ever since, and I feel very fortunate to be a part of such a great organization. 
What do you get out of your involvement with the Indianapolis Bar Association and the Indianapolis Paralegal Association?  
There are such great opportunities to meet others in the paralegal profession, compare notes and volunteer for community projects, to name a few, and I would encourage anyone getting into the paralegal profession to participate and take advantage of these types of opportunities. I have taken several CLE and other classes/presentations sponsored by these organizations, which have been invaluable and very relevant to current and upcoming changes in the law.•
Please enable JavaScript to view this content.