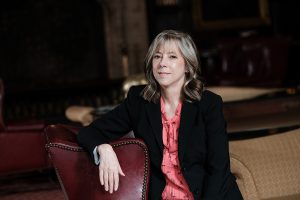 Barnes & Thornburg LLP
Valparaiso University School of Law, 2006
Why did you decide to go into legal administration?
I'd like to say it was part of some well-thought-out plan — but it wasn't. After graduating college, I took a job that I thought I wanted, but it turns out I did not. Needing to find any job at that point, I took a position with a law firm as an assistant. After a year or so, I wanted to learn more about the law and be able to do more legal work, so I enrolled in a paralegal program at Indiana University at South Bend and got my paralegal certificate. After a couple of years as a paralegal, some of the attorneys with whom I worked suggested I go to law school. This appealed to me because I have always loved doing research and writing. I also wanted to know the "why" and "how" of practicing law. After lots of thought, I went to law school and eventually became an associate at Barnes & Thornburg. Six years later, I got the opportunity to manage the South Bend and Elkhart offices and to work on the firm's mentoring program, its sponsorship program, Project Keymaker, and on other professional development programs. This opportunity brought me to what I find truly fulfilling — helping others grow their legal careers.   
If you weren't working in legal support, what would you be doing?
Research or writing of some kind. I've always loved to do both — and get to use both in my current role, whether it be researching speakers for our first-year fall associates or writing content for our quarterly legal personnel "Insider."
What makes a good paralegal/legal support staffer?
Aside from the foundational skills needed for the role, care for the work product and attention to detail are important. Someone who is always looking for ways to improve processes and knowing/asking what the next step is makes someone an invaluable member of an attorney's (or firm's) team. 
What makes a good lawyer?
Among other things, a good lawyer is someone who puts the client's needs first. After assessing the facts, law and desired outcome, they give the client their best advice, even if it's advice the client doesn't want to hear. A good lawyer treats their support staff with respect and as valuable members of their teams.
What's something people might not know about the legal support profession?
People might not realize that the support professionals often work just as hard as the lawyers and take great pride in the work product that goes out the door. Many times, legal support team members know processes and procedures better than their attorneys — which makes them such great teammates for attorneys.
What would you say to someone who is considering a career in legal support?
I would encourage that person to do their research on all the different support areas — word processing, legal assistant, administration, IT, paralegal — and to really make sure it's something they want to do. Understand that it's not an easy line of work and can involve periods of high pressure. You have to be able to work well under pressure.
How do you spend your free time?
I love to read, travel, try new wines and spend time with my husband, family and friends.
If you could time travel to any period in history, where would you go and why?
I have been to Florence, Italy, a couple of times and am just enchanted by it. Seeing all the art, the buildings and churches that have been around for many centuries is awe-inspiring. I would wonder what it was like to walk down those streets during the Renaissance, when so much beauty was
being created.
Three-part question: Why did you go to law school, why did you return to legal administration after practicing for a time and how does your law degree inform your work?
When working as a paralegal, I'd often wonder why something was done a particular way or what the reasoning was behind a law or rule. I also wanted to be able to do more on matters, so it seemed a natural progression of my education/career to go to law school.
The opportunity to become an administrator was attractive because of the variety of issues that are covered — staff support allocation, dealing with vendors, facilities management, budgeting, construction — and the opportunities for troubleshooting are endless. No two days are the same, and often you have a plan for how you believe your day is going to go, but at the end of that day you realize it was very different than you anticipated. It's a great career for someone who can pivot and likes trying to come up with solutions or better ways of doing things.
Being a lawyer first has helped me immensely as an administrator. In some ways, there's a level of respect you are given by practicing lawyers because you literally have done what they are doing, and you do
understand what they are going through. But more than that, by having the understanding of what lawyers do, you can instinctively get them the support, equipment, staffing, whatever, that they need. When staff come to me for help, I may know what they need because of my background. Being a lawyer has really given me a full understanding of the work and how best to support everyone.
Tell us about your work with the Boys & Girls Club of St. Joseph County.
A group from our office got involved with the Boys & Girls Club of St. Joseph County earlier this year after they came and made a presentation at a partners' lunch. They were looking for volunteers to come to one of their centers once a week to help with their literacy program. Each week two team members go to the BGC, and each works with one student on reading, reading comprehension and spelling. I have gone twice so far and am going once more before the school year ends. It is so rewarding to work with young kids and feel like you are helping someone with their development. You are helping one student individually, but also, in some ways, an entire community.•
Please enable JavaScript to view this content.