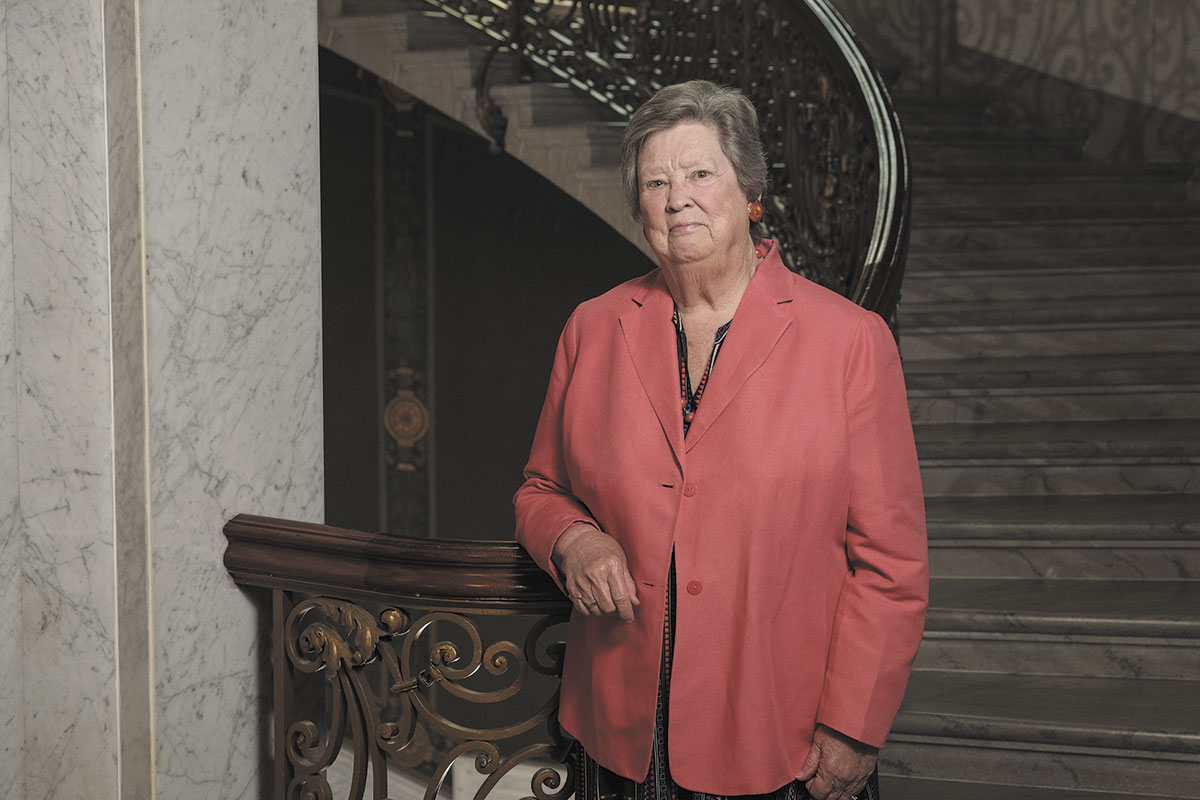 U.S. District Court for the Southern District of Indiana
American University Washington College of Law, 1969
Why did you decide to enter the legal profession? 
The idea of going to law school had been planted in my mind by a trusted mentor during my undergraduate college years at Indiana University. When I began to explore that possibility, despite not knowing that women ever even thought about going to law school, it seemed to be a good match for my interests and skills and talents and would allow me the opportunity to have an extended reach into professional areas where I could make a difference for good in the lives of others and within my community.
If you hadn't pursued a legal career, what would you be doing? 
Probably journalism.
Who is someone who has inspired you in your career?
Justice Sandra Day O'Connor, who became the first woman justice of the U.S. Supreme Court at about the same time I became the U.S. attorney in our district. Three years later, I became the first woman district court judge appointed in Indiana. That timing was always a source of encouragement and inspiration to me. My parents were also great encouragers. Judge James B. Young's confidence in selecting me to be his first assistant U.S. attorney was very kind and supportive when I was just getting started in my professional career.
What's the best advice you've ever received? 
To try to live my life within my natural boundaries — that is to say, by honoring the limits imposed by my areas of interests and my best talents, my energy levels, health, family responsibilities, relationships with friends, finances, etc. When I get outside these boundaries and am proceeding on tiptoes, things don't seem to go as well or for as long as I want to be able to go.
What makes a good lawyer/judge? 
All the qualities that make for a good person generally: integrity, diligence, adherence to ethical standards and a set of core values, absolute dependability, personal modesty/humility and sense of humor, a genuine empathy for others as well as a deep fidelity to the Constitution and the institutions of government, including, especially for me, the judiciary. A sixth sense that leads you to the sources of soul-deep joy is also a great gift.
What is something you wish people knew about lawyers/judges? 
How generous most of them are with their time and talents and money and advice, and how deep the affection runs within the legal profession among colleagues at the bench and bar, the law firms and academia. They are also great storytellers and very funny!
What advice do you have for young female lawyers who hope to become judges? 
Follow your instincts, trust your talents and training, prepare, prepare, prepare, and grab at the brass ring when it comes around. Any lack of confidence you feel most likely flows more from inside you than outside you, which means the world is (or can be) your oyster! Go for it!
Are you concerned about the public perception of the judiciary? If so, how can the judiciary change that perception? 
This assumes that the public perception of the judiciary is negative. My perception of the judiciary is absolutely the opposite. The country has seen up close and with no small amount of trepidation in recent years how political struggles and differences have threatened to shake the foundations of our democracy, and throughout these challenges it has been the courts that have provided the stability and due process and wise decision-making that have steadied the listing ship of state and reinforced the rule of law. My major concern is that more people don't realize how indispensable the courts really are to the proper functioning of our society and this form of government.
What drew you to public service, and why have you stayed in that area of the law? 
I found a niche early on within the practice of law that was just right for me, and I have been fortunate beyond telling to be able to remain there to develop and grow as a lawyer. My work in the trial court — both as a prosecutor and as a judge — has called forth my best abilities and given me great pleasure in the daily doing of these tasks. I have relished the wide variety of legal issues that were placed in my hands for a resolution, and the wonderful diversity of people whose lives intertwined with mine in the process and whose companionship has enriched my life. It has been worthy work, giving my life meaning, my efforts direction, and my sense of engagement and accomplishment a resonance and a joy.
What has been the proudest moment of your career?
There have been many, for which I am so grateful. Because I must choose one, perhaps the best moment of all was when my fellow district court judges adopted a resolution authorizing the naming of my courtroom in my honor. That was truly an all-surpassing honor! My proudest achievement outside of my role as a judge has always been and continues to be as wife/mom/grandma. "Your honor" pales in comparison to being called "mom" and "grandma!"
How do you spend your free time? 
I don't have a lot of free time, truth be told, because I always manage to schedule up my days and weeks. But around the edges of my work schedule, I enjoy tending to my summer vegetable garden, reading, photography, hobnobbing with friends and trailing around after our kids.
If you could time travel to any period in history, where would you go and why? 
Well, I've been pretty content to bloom where I was planted, but I can say that I have always been drawn to the history of our civil rights era. My family roots were in the southern U.S., before my parents transplanted to northern Indiana to raise their children. Following the news accounts of the racial turmoil and discrimination in those places and learning of the harsh injustices associated with racism and the burdens emanating from gross inequality of the sort that so many Americans have had to bear has had a magnetic pull on my mind as well as my heart. I often think that if I had been a judge during those days and in those places of deep unrest and disadvantages due to race, I hope I would have had the courage and wisdom to decide the cases assigned to me in humane and just and fair ways, following the model of judges like Frank M. Johnson of Alabama.•
Please enable JavaScript to view this content.