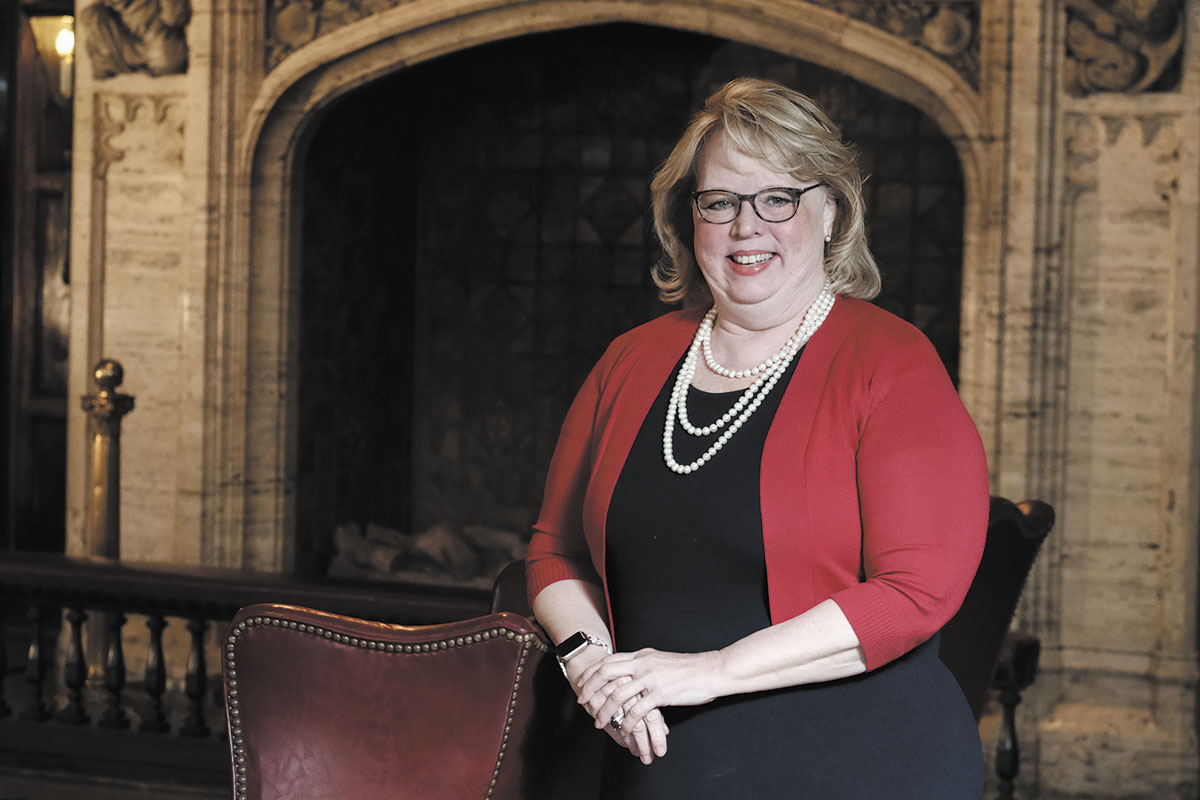 Office of Governor Eric J. Holcomb
DePaul College of Law, 1985
Why did you decide to enter the legal profession?
I wanted to be a prosecutor and help victims of crime. It was a profession that called to me. Specifically, I wanted to prosecute sex offenses — rape and child sexual assault cases. And I did, right out of law school when I was hired by the Marion County Prosecutor's Office and was assigned to what was then called the Sex Crimes Unit.
If you hadn't pursued a legal career, what would you be doing?
Probably teach — it goes along with my love of learning. What I love most about being a lawyer is constantly learning new things. And it also goes with my call to public service — instilled in me by my parents. My father was an educator. My mother was a nurse and the medical field was not for me. Blood and needles are definitely not for me.
Who is someone who has inspired you in your career?
So many people, at so many different times. To me there is a just a really fine line between "inspiring me" and "challenging me." Two who did both are Deborah Daniels and Susan Brooks. Deborah was my first supervisor in the Sex Crimes Unit at the Marion County Prosecutor's Office, and she also hired me at the U.S. Attorney's Office. I am grateful for her trying my first jury trial with me and, later on, for having confidence in me to take on federal cases. Second is Susan Brooks, who when she was U.S. attorney made me part of her management team and entrusted me to handle national security cases. Both pushed me to do more. Both inspired me to want to be the best possible — both personally and professionally. Both are tremendous examples of women supporting women to become everything we can be.
What's the best advice you've ever received?
It's important to have fun at work. We work long hours. We also often deal with difficult and emotionally draining issues. It's important to have balance — not only between your personal and professional life, but also within your professional life. So, I try to do things that add fun to my (and my colleagues') work life. I've actually seen increased productivity when there is "fun" in the workplace.
What makes a good lawyer/judge?
It's someone who is not only knowledgeable of the law but, importantly, one who also treats everyone else — other lawyers, court staff, witnesses, clients — with civility and respect.   
What is something you wish people knew about lawyers?
That lawyers, especially government lawyers, are hard-working and dedicated to their clients or the public, and everyone should be proud of the work they do.
How do you spend your free time?
I like to cook. Ask my friends; they will tell you I'm addicted to kitchen gadgets. There aren't many I don't have. I've been "lovingly chastised" over the number of salt and pepper grinders I have.
If you could time travel to any period in history, where would you go and why?
Two hundred and two (202) years ago in Indiana, when women finally got the right to vote. It was 70 years in the making, and Indiana was one of the final states to pass the constitutional amendment.
The women who led the march were phenomenal.
What was it like working in the Governor's Office during the pandemic?
Sobering. Challenging. Nonstop. The governor's job — first and foremost — was to keep Hoosiers safe and healthy. His second job was to keep the state healthy (economically). And at times, those two were in conflict. There were a lot of hard decisions that had to be made. We were blessed to have very talented and dedicated agency heads with us — from Dr. Box, our health commissioner, to General Lyles, the head of our National Guard. I cannot imagine a state where the agencies worked better together than we did in Indiana. While most of the world began working remotely — as did much of state government — most of us in the Governor's Office did not. We came to work every day and often worked long into the night and through the weekends.
COVID took me back to the 9/11 attacks and resulting crisis. There was a saying we had within the Justice Department at the time: "We don't know what we don't know." We didn't have the intelligence of what was going on around the world — we didn't know if there were going to be follow-up attacks, so we just had to prepare for the worst. It was much the same when COVID struck. Early on, we didn't know what we didn't know. We didn't know exactly how the virus would spread. We did know there were "superspreader" events. We learned people could spread the disease before they had symptoms. But as we gained knowledge, we adjusted. While there is no way we got everything perfect, I am very proud of the work we did.
You've devoted your career to public service. What drew you to that work, and what do you get out of it?
As I said, my father was an educator and my mother was a nurse. Having a career where I would give back to my community was just instilled in me at an early age. So, I went to law school to become a prosecutor. I wanted to advocate for victims — who had no say in becoming a victim. They were just targeted and often completely helpless. I also wanted to make sure the criminal justice system was in fact "just." Good prosecutors are always concerned that the right person is accused and has a fair trial — not just because it's the right thing to do to protect your community and ensure trust in the criminal justice system, but also because there are only going to be more victims if you haven't identified the right perpetrator.•
Please enable JavaScript to view this content.