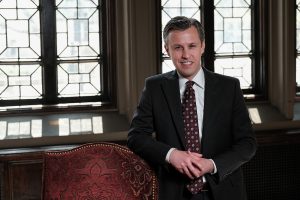 State of Indiana Management Performance Hub
Indiana University Robert H. McKinney School of Law, 2014
Why did you decide to enter the legal profession? 
Growing up in a family of entrepreneurs and attorneys, I was drawn to both business and the law. By the time I was in high school and college, I gravitated to political science; three public policy and legal internships later sealed the deal. I knew I wanted to use the law to solve business problems and improve outcomes for people. 
If you hadn't pursued a legal career, what would you be doing? 
Growing up, I wanted to be a doctor. It would have been fair to say, though, that I was hyperactive in elementary and middle schools. I could be a good kid or all over the place, so I'm sure my parents thought I might grow up to be either a preacher or a prisoner … . The law seemed to offer a good balance. 
Who is someone who has inspired you in your career? 
Gov. Mitch Daniels. I got my start at the beginning of his second term and, from the beginning, was drawn to two aspects of his leadership, in particular: first, a relentless focus on driving results then rolling that capital into the next big push, and second, his ability to communicate through anecdotes — to personalize broad-based policy objectives, bringing those around him on board. 
What's the best advice you've ever received?
At the beginning of undergrad, I worked night shift as a package handler. It was hard work and I learned a lot. One night, I was riding the bus in from the parking lot with a middle-aged co-worker. We got to talking and he asked me about school. I wasn't terribly excited about my first year of required 100-level survey courses and shared as much. He leaned in and lowered his voice: "Stay at it," he said. "Stay at it so you don't have to do this when you're my age." The job was a good one, and he wasn't saying otherwise; it was that he worked three to provide the best life for his family. I wish I could thank him for that advice — I've been staying at it ever since.
What makes a good lawyer?
I've found that passion keeps me growing in my practice day by day. In the midst of our current pace of technological innovation, legal and regulatory structures struggle to maintain meaningful footing, particularly around digital privacy. This environment of innovation in highly regulated sectors offers a great playground for me, and my passion for it makes me a better lawyer.
What is something you wish people knew about lawyers?
Lawyers are problem-solvers. We offer organizations a unique set of strategic and problem-solving skills to work through complex issues and come out stronger on the other side.
How do you spend your free time?
Outside of the office, I'm usually working with my hands. My wife and I are renovating an old home and there are a number of projects going on at any given time. We've learned a lot in the process, and I always find myself looking forward to the next project.
If you could time travel to any period in history, where would you go and why?
I am reminded of the scene in "Lincoln," where the president is communicating via telegraph to General Grant, potentially offering a peace negotiation to the Confederacy. He asks a young telegraph operator, "Are we fitted to the times we're born into?" "Well, I don't know about myself," the young man replies. "But you may be, sir. Fitted." Something about shadowing him, an adopted son of Indiana, seeing him in private, burdened by the weight of overcoming America's darkest time, watching while he used the levers of government, those of the law and those of persuasion to achieve the right outcome among a sea of common politicians with all of their interests in tow … .
"Any period in history" offers so many choices, but that time and that man stand out to me as pivotal, now a part of the bedrock of what makes this country and our system of government exceptional.
What drew you to government work, and why have you stayed in that field?
The focus and progress of the Daniels team drew me in. The opportunity to learn and help to solve big problems kept me on. I've been fortunate to work alongside a lot of good people and look forward to taking what I've learned to the private sector in the years ahead.
You're the state's first chief privacy officer — what does that role entail, and what do you enjoy about it? 
What a privilege it is to be in this role. In 2017, Gov. Eric Holcomb charged a small team of us to transform state government into a data-driven organization. I had the opportunity to draft and take part in negotiating passage of the Indiana Open Data Act, which broke down longstanding data silos and enabled us to unlock valuable data for researchers and civic organizations. In the time since, our team at the Management Performance Hub, or MPH, has built and continually enhanced our state's proficiency in delivering data products to drive decision-making. 
As we collaborate around data to solve problems and improve outcomes, privacy is a critical concern and, rightly, is positioned as a central aspect of Indiana's digital innovation efforts. My time is spent on everything from advising the MPH team and our partners on the application of data privacy regulations to drafting and negotiating law, policy and contracts to leading our privacy and security team and supporting our business units as they move to the cloud and encounter the various privacy and data protection issues that arise in that context. 
The draw for me is that under the right leadership, privacy can be a net positive for an organization, a catalyst for innovation and reputational benefit. I work toward that every day.•
Please enable JavaScript to view this content.