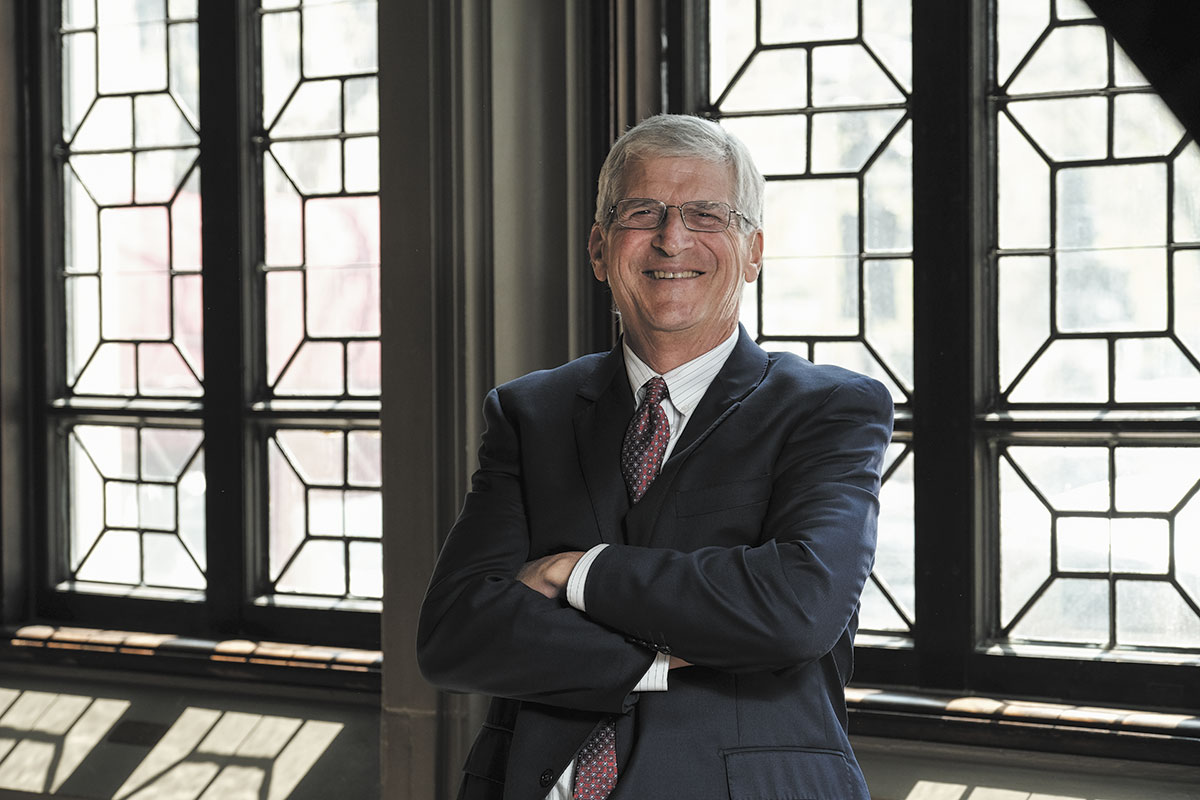 Indiana Legal Services Inc.
Indiana University Maurer School of Law, 1983
Why did you decide to enter the legal profession?
After my undergraduate years, I worked in a pool hall, a lumber yard and driving a truck for an industrial supply company. During the last of those jobs, I met many working-class people who were having legal troubles. I was struck by the difficulty they had affording and getting reasonable legal help. I decided to go to law school so I could represent those people for little to no money. After law school and a clerkship at the Indiana Court of Appeals, I lucked out finding a staff attorney position at Legal Services Organization of Indiana (LSO, which is now Indiana Legal Services) doing exactly what I set out to do — free legal help for low-income Hoosiers.
If you hadn't pursued a legal career, what would you be doing?
Had I not become a lawyer, I assume I would have ended up in some area of social work, trying to help the same people I am now helping with my law degree. But if I needed to actually make money, I would have worked on my pool game.
Who is someone who has inspired you in your career?
The fictional character Atticus Finch was one inspiration. Fight for justice while maintaining the dignity of the law. Be someone who represents their clients and the profession with unassailable integrity. In real life, my greatest inspiration was the Honorable William I. Garrard, the appellate court judge for whom I clerked after graduation. He was unpretentious. He had a wealth of common sense. He was a man of integrity. He had a great sense of humor. He knew and respected the law, which he approached with a strong sense of justice.
What's the best advice you've ever received?
Avoid using the word "should" when talking to your spouse or to your client. I received the advice as it relates to my wife while attending counseling. I received that advice as to clients from Rule 1.2 of the Rules of Professional Conduct. Just as with spouses, it is not a lawyer's place to tell clients what they should do, although the consequences might not be as severe with a client as they would be with a spouse. The difference is that many clients want their lawyer to tell them what to do. In fact, it is rare to have a client not ask, "What do you think I should do?" It is at that point that I remind them that they are the bosses of their case and that my job is to look at the facts of their case, to advise them about the law that is relevant to their situation, to provide them with their reasonable options and then to help them make a decision about what they should do. Avoiding the use of the word "should" has helped me at home and at work for many years now.
What makes a good lawyer/judge?
It may sound odd, but the Indiana Rules of Professional Conduct and Rules of Judicial Conduct contain the simple ingredients for a good lawyer or judge. Be competent — educate yourself. Be diligent — get your work done and show up to your hearings on time. Communicate — don't forget that you have a client whom you need to inform as to what's going on with their case. Keep your client's confidences. Be truthful. Respect the rights of others. Outside of those "playbooks" there are other simple qualities that make for a good lawyer or judge. Although you should soak up wisdom and guidance from other experienced lawyers and judges, chart your own course. You have something unique to bring to the profession. Don't just follow in someone else's footsteps.
What is something you wish people knew about lawyers?
I'd like them to know that, although there are lawyers whose behavior sadly provides the factual underpinning for those jokes, lawyer jokes are not an accurate reflection of the profession as a whole. An overwhelming majority of lawyers are exceptionally good people.   
How do you spend your free time?
My best release from the stress of the workday is walking nine holes of golf with my golf partner who shares my love of the game and avoids any concern about who is scoring better. I also have a couple of fairly regular card games in which I participate, one of which has been in existence for the last 45 years. Then there is my one and only grandchild. Spending time with her, a couple of states away, is always a delight. And then there are books to read, friends with whom to commune and fabulous meals to eat prepared by my very talented wife, who met me as a law student but then dropped out to pursue a catering career. I'm just a very lucky guy!
If you could time travel to any period in history, where would you go and why?
Although there have been many entertaining movies and books touching on time travel, I have never warmed to the thought of entering a time capsule. I have had a blessed life right here and now. As intellectually fascinating as it would be to head to another period in history, I assume I would just mess everything up for me and for others if I traveled elsewhere. I'll just stick to sitting in my easy chair with no crash helmet to wear or launch buttons to push.
What drew you to legal aid, and what do you enjoy about it?
My Jewish upbringing taught me the notion of justice, not just for the privileged few but for all people. I saw that the reality is that many people are denied justice due to their low income and inability to hire competent counsel. Just as with the story of the little girl saving starfish on the beach, I know that I cannot represent everyone who is in need. However, I find immense satisfaction when obtaining desperately needed relief for the single client that they would have been unable to obtain without the help of ILS. That is what drew me to legal aid work.
I continue to enjoy the work because of the very fine and talented colleagues I have, the inspired leadership at ILS, our organization's focus on collaboration statewide to provide the best possible outcomes for our clients and the freedom I have to take a wide variety of cases, many of them routine but frequently tackling systemic injustice and pursuing changes in the law to benefit our clients and all Hoosiers.
Why do you invest in mentorship?
At ILS, we do not just mentor our new attorneys but also law students who clerk for us. In both instances, that mentorship provides great benefits for the students and young lawyers. However, the best part of it is interacting with young people who are an inspiration to us older lawyers. The vast majority of these students and young lawyers are mind-blowingly intelligent, dedicated to justice for all and filled with hope and possibility. It is so reassuring to know that we are leaving the profession in good hands.•
Please enable JavaScript to view this content.