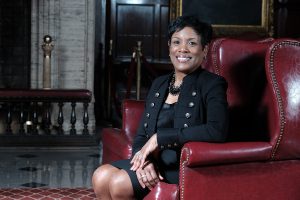 Katz Korin Cunningham P.C.
Indiana Business College, 1986
Why did you decide to become a paralegal/legal support staffer?
Actually, it sort of fell into my lap. I was not particularly looking for a position in the legal field. I was looking for an office position to utilize my administrative skills. A small law office found me and set up an interview with me. During the interview, the attorneys had a sense that I would become a quick study and offered me a position as a legal assistant. I became intrigued by the legal profession and the rest is history.
If you weren't working in legal support, what would you be doing?
Growing up I wanted to become either a schoolteacher or librarian. I have six sisters, and I would pretend to be a teacher and my younger sisters were my students. I have always had a quest for knowledge and have been a lover of books since my mother started taking my sisters and I to the library on a regular basis. My very first job while in high school was working at the Marion County Public Library, Emerson Branch. If I were not working in legal support, I would probably have a job doing some type of business administration work in the education field.
What makes a good paralegal/legal support staffer?
I believe a good legal support staffer must be organized, flexible, observant and able to multitask. A good legal support staffer also must be able to prioritize work assignments and remain calm in stressful situations.
What makes a good lawyer?
Knowing and understanding the law, honesty, being quick to listen and being truly concerned about their clients and how to best advocate for them. They also care about their staff and those that lend support to them daily. 
What's something people might not know about the legal support profession?
Often, legal support develops a working relationship with the clients just as the lawyers do.
What would you say to someone who is considering a career in legal support?
Gain some knowledge of the legal profession, especially the area of law that the lawyer you are working for is practicing in, as well as a clear understanding of what your job responsibilities are and what is expected of you.
How do you spend your free time?
I enjoy reading, shopping, traveling, spending time with family and friends, and volunteering at my church and in my community.
If you could time travel to any period in history, where would you go and why?
Probably the Victorian era because I'm fascinated with the architecture and fashion. I have always loved the design of the Victorian homes, with their wraparound porches and their interiors decorated with extravagant and ornate furnishings. Anyone who knows me knows that I'm all about women's fashion, and the Victorian women's fashion is of great interest to me.
You've been at KKC for nearly two decades. What is it about the firm that has made you stay?
KKC is family for me. I appreciate the diversity and spirit of friendship, community and
closeness among the group of attorneys and support staffers. 
We hear you like to sing — tell us about your involvement with music.
Music and singing were always a big part of my family growing up. I started singing in both the church choir and school choir when I was just a young girl, and it carried over into my adulthood. I am currently a member of the Heartland Church Worship Team and sing for three Sunday morning services every week. I love to sing. It calms my spirit and shuts out all the noise and negativity of this world. Singing also allows me to show reverence and offer adoration to God.•
Please enable JavaScript to view this content.