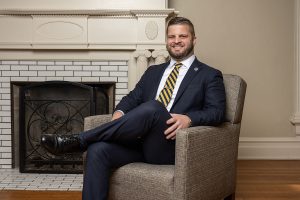 Madison County Prosecutor's Office
Indiana University Robert H. McKinney School of Law, 2017
Why did you decide to enter the legal profession? 
Growing up, the folks I admired most were lawyers. During my time at Hanover College, I took several courses geared toward law school, and I found the intellectual exercise of the law to be very rewarding.
If you hadn't pursued a legal career, what would you be doing? 
If I hadn't pursued a career in the law, I would've chosen a career in law enforcement. I spent five years as a reserve police officer, and I'm a third-generation law enforcement officer. I admire so many police officers whom I've come to know and work with over the years, and it's a true privilege to serve alongside them as a prosecutor.
Who is someone who has inspired you in your career? 
I've been blessed with many mentors and role models in my career, but my father has been a constant source of inspiration. He served as a police officer for more than 40 years and is the kindest and most patient man I've ever met. His commitment to this community serves as an inspiration to me every day. 
What's the best advice you've ever received? 
My grandmother was the source of many of the principles that have shaped me as a person. The advice that I remember most often is, "You will have many regrets in life, but the one thing you will never regret is being kind."
What makes a good lawyer/judge? 
Humility, courage and persistence. Humility: The law is vast and complicated. Courage: Doing the right thing is rarely the easy thing. And perhaps most important of all is persistence: You will be frustrated. As Calvin Coolidge famously said, "Nothing in this world can take the place of persistence. Talent will not; nothing is more common than unsuccessful men with talent. Genius will not; unrewarded genius is almost a proverb. Education will not; the world is full of educated derelicts. Persistence and determination alone are omnipotent."
Do you have a secret talent? 
Trivia. I'm a vessel of useless knowledge.
What made you want to be a prosecutor, and why have you stuck with it? 
A prosecutor's job is to do justice, and that's hard to beat when you actually get to do it.
We're told you're the brains behind the new and improved Madison County Prosecutor's Office website. Why was that project important to you? 
The law can often be slow to innovate, and prosecutor's offices are no exception. We have a duty to be accountable to and transparent with our community, and our new website allows us to better communicate with both the public and law enforcement and to utilize our resources more efficiently by directing inquiries and requests to the appropriate staff member. There are a lot of great features about our website, but my favorite is our law enforcement portal. Law enforcement from around the county can utilize our website to submit criminal cases, finds dozens of resources, and download templates for various kinds of search warrants and subpoenas. It's proven to be a very effective tool.
What is something you wish people knew about lawyers? 
I wish people understood that lawyers have to abide by one of the strictest codes of ethics of any profession, and that the facts of any case are more complicated than you hear in the news.
How do you spend your free time? 
I try to spend as much time as I can with my wife, seeing old friends, and getting out on the lake or the golf course.•
Please enable JavaScript to view this content.