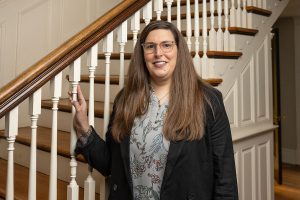 Quarles & Brady LLP
Purdue University, 2008
Why did you decide to become a paralegal/legal support staffer?
I worked as a federal contractor for the first three years after I graduated college. The position I held had limited growth opportunities and became slightly tedious. After researching job postings and considering the aspects of my current job I enjoyed, I began looking for a new role as a legal assistant and enrolled in the paralegal studies program at IUPUI at the same time. I ended up getting hired by a local corporation's legal department in the patent group as a legal assistant. Within a year I was promoted to a paralegal position and haven't looked back since.
What makes a good lawyer?
There are many qualities that make a good lawyer. I think some of the most important qualities are effective communication and being able to recognize the skills and value of their team in order to provide the best client experience.
What's something people might not know about the legal support profession?
The law is constantly evolving and so is a paralegal's role. It's important to stay up to date on current rulings and regulation changes within your practice area to ensure you're providing the most accurate work-product.
What would you say to someone who is considering a career in legal support?
Many people associate legal careers with litigation, but it's important to note there are so many different areas of law. I recommend doing some research to determine what area may be of most interest or best suited to their skill set.
How do you spend your free time?
I'm a brand new mom, so lately all my free time has been figuring out how to keep a tiny human alive and happy. Additionally, I enjoy reading, biking on the Monon and baking.
Tell us about your experience with patent law — what drew you to that area, and what do you enjoy about it?
I just kind of fell into patent law and have been lucky enough in the course of my career to gain experience in other areas of intellectual property law, such as trademarks, copyrights and licensing agreements. I enjoy the variety of work associated with intellectual property matters. It can take years to receive a granted patent or registered trademark, and in that time there's regular contact with clients to better understand their inventions or brand/products in order to obtain the best protection of their IP. That regular communication also assists in building client relationships and trust in the services being provided.
Tell us about your participation in the ALA's Fight for Air program — what's the highest you've climbed?
I first heard about the stair climb before I even started working at Quarles at a fundraising event I attended with a friend at our current managing partner's home. Once I joined Quarles, I learned more about the personal connections within our office and the climb itself. I signed up to participate in my first stair climb in 2020 and attended "practice" climbs with my co-workers in the BMO Plaza. As you can imagine, an event scheduled in April 2020 was postponed multiple times prior to being completely canceled. Unfortunately, I've had to participate virtually each year since but hope to attend in person in the coming years.
Do you have a secret talent?
I've racked my brain and asked various friends and family members and cannot come up with a single hidden talent — I guess I'm just an open book.
If you weren't working in legal support, what would you be doing?
I can't imagine being in a position outside of legal support, but if I could do anything else, I would love to attend culinary school
What makes a good paralegal/legal support staffer?
Among other things, a good paralegal should be a proactive self-starter with a strong attention to detail.•
Please enable JavaScript to view this content.