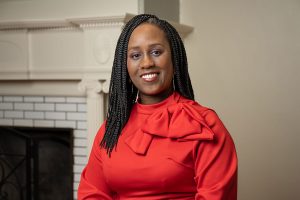 Office of the Indiana Attorney General
Indiana University Robert H. McKinney School of Law, 2018
Why did you decide to enter the legal profession?
I decided to enter the legal profession at an early age. I recall reading that a child's allowance could be considered the property of the parent and that a parent could take back a child's allowance. The injustice! How could this be possible? The notion that my allowance could be taken from me after I completed my chores and earned my allowance was unacceptable. Because of this experience, I became aware that there are rules that could negatively impact me and that I needed to know those rules so that I could advocate for myself.
What's the best advice you've ever received?
"You cannot achieve something that you do not apply for." I recall a story where my mom was asked how my sister and I earned spots in a competitive summer enrichment program. Although my mom's response to this question was very modest, her words of wisdom to my sister and me were, "You cannot achieve something that you do not apply for." This statement reinforces that if I am interested in attaining anything, I must learn about what I am interested in, focus my time and energy on what needs to be done to attain what I am pursuing, do what needs be done and apply. To me, this statement means do not self-sabotage, but commit and pursue those things you desire.
Before becoming a lawyer, you were a file clerk, legal assistant and paralegal. How does that background inform your work? 
In addition to affirming my goal of becoming an attorney, those experiences solidified the saying, "everything depends on everything else." Every role and person involved in delivering legal services is critical. Professionally and ethically, attorneys are ultimately accountable for the legal work that is completed on behalf of a client. Nevertheless, all members of the legal team and their experience and expertise are significant and impactful to the practice.
Tell us about your work with the National Black MBA Association — why is that work important to you?
With the Indianapolis chapter of the National Black MBA Association, I served as program director of the Leaders of Tomorrow (LOT) program. Part of the mission of LOT is to provide resources to minority high school students to increase their ability to enter and excel in college. As LOT's program director, I collaborated with various professionals to mentor high school students and develop a yearlong curriculum to improve student's academic performance and leadership skills. I genuinely enjoyed working on behalf of and with high school students to develop students' leadership skills, serve within their communities, refine their communication skills, plan and prepare for college, and explore various careers.
How do you spend your free time?
In my free time, I spend time with friends and family. I enjoy a good brunch, taking weekend trips, watching movies and fully using my Colts season tickets.
If you hadn't pursued a legal career, what would you be doing?
If I had not pursued a legal career, I would be working in either government or the nonprofit sector in economic development, particularly at the city level. I studied economics in college and have a longstanding interest in the growth, development and maintenance of vibrant communities. 
Who is someone who has inspired you in your career?
I am extremely fortunate in that I am not starved for inspiration in my career. My family, of course; college and law school professors; mentors, who include people in various professions; and my friends have and continue to inspire me. If I had to pick, I would say my parents. Although it is not one person, from an early age until now my parents serve as a faithful, loving and united force in supporting me. Their example of being committed to education and setting, focusing on and achieving goals continues to inspire me. 
What makes a good lawyer/judge?
In my opinion, the qualities of good lawyer/judge are similar to the qualities of a good person — thoughtful, disciplined, empathetic, courageous and curious. More specifically, a good lawyer/judge is an adept critical thinker. Being able to absorb, understand and analyze diverse types and, at times, substantial amounts of information, then arrive at a decision based on and supported by these elements is extremely important. 
What is something you wish people knew about lawyers?
Despite some of the jokes about lawyers, I wish people knew that lawyers are people. While being a lawyer is a privilege, it is also a great responsibility. The challenges associated with practicing law are very real. If lawyers do not take time to rest, replenish and reset, the result can be detrimental both personally and professionally to themselves, their clients, the legal community and all of the communities lawyers impact. In order to counter the potentially negative effects of lawyers failing to address their needs, the first step may be for some people, especially lawyers, to acknowledge that lawyers are people. 
Do you have a secret talent? If I shared it, it would no longer be a secret. But seriously, I do not believe I have a secret talent. 
Why did you decide to enter the legal profession? I decided to enter the legal profession at an early age. I recall reading that a child's allowance could be considered the property of the parent and that the parent could take back a child's allowance. The injustice! How could this be possible? The notion that my allowance could be taken from me after I completed my chores and earned my allowance was unacceptable. Because of this experience, I became aware that there are rules that could negatively impact me and that I needed to know those rules so that I could advocate for myself.•
Please enable JavaScript to view this content.