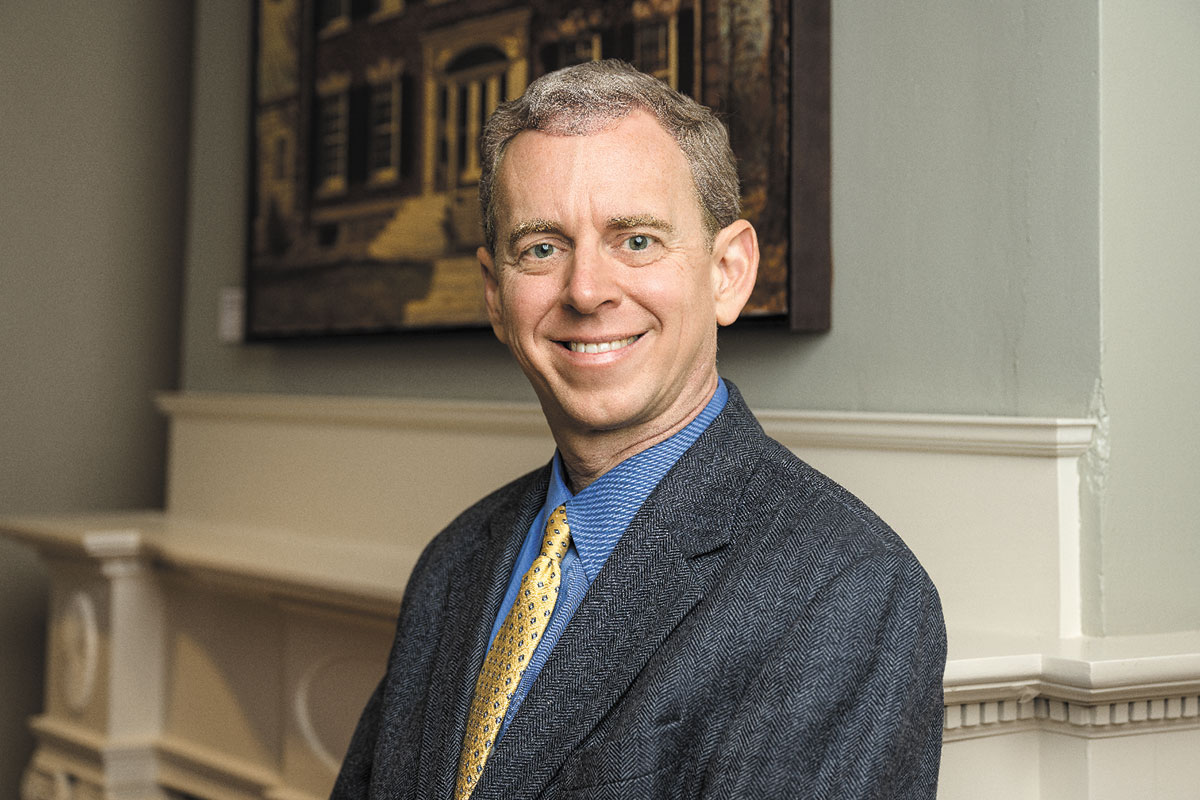 Woodard Emhardt Henry Reeves & Wagner LLP
Indiana University Maurer School of Law, 1995
Why did you decide to enter the legal profession?
It almost seems like predestination. I'm the fifth generation of attorneys in my family, including two grandfathers, my dad and my sister.
More personally, I like talking to people, problem-solving and variety. Working as an attorney allows me to combine my talents in creative ways to help people who all have unique inventions and concerns.
What drew you to IP law, and what do you enjoy about it?
I was fortunate to figure out my career choice early. I started college on an engineering track because of my technical interests, but I was also studying business and considering other options. During my sophomore year I was struggling, but I was fortunate to have someone recommend that I sit down and talk with a patent attorney, who introduced me to the idea of IP law. It seemed like the perfect combination of business and technology, and I haven't looked back. One of the benefits of being an IP attorney is that clients are often genuinely excited to come see a lawyer. When a new client comes in, I often ask if they have seen "Shark Tank." Just like those contestants, clients are often passionate about their new invention, brand or project. My job is to help them make that a reality. While we start with their new invention or project, at the same time we talk about their business plans and how they plan to actually develop and sell the product or service. Do they have a manufacturing plan, do they have a marketing plan, etc.?  IP law is a great combination of talking with clients, strategic business planning and working with technology.
Tell us about your work with the associates at your firm — what do you enjoy about working with them?
Many associates start with a lot of academic knowledge, but not real-world experience.  They are often focused on the details of the law, but they are focused on the trees. I enjoy the "aha!" moment when they start strategically seeing the forest and not just the trees. I especially enjoy sitting down with associates, and other attorneys, to discuss and brainstorm about not only what they have done or may do, but digging into "why" we did or should do something a particular way, or why we should select one choice among the ones available, keeping the client's end-goal and a cost-justified approach in mind.
What makes a good lawyer/judge?
Some attorneys, clients and judges want to win or decide a conflict with a black-and-white solution, while others approach conflict with a goal of de-escalation and resolution. Sometimes my litigation juices kick in and I feel some remorse at settling a case I know I can win, but de-escalation and resolution is almost always the better choice, even if it takes compromise. A good lawyer/judge looks for those opportunities for resolution rather than continued conflict.
What's the best advice you've ever received?
When looking at college and career options, my dad gave me the advice to make sure to study something that would provide me with some specific skills when I graduated. For any career, you still start with the basics, but having useful skills when I started would make me more marketable.
What is something you wish people knew about lawyers?
Contrary to the common stereotype, a lawyer's goal is to tell a client "yes" and to help a client achieve what the client wants to do. Sometimes the lawyer has to act as a reality check and has to help choose among the best available options, but lawyers want their clients to succeed.
How do you spend your free time?
I love spending time with my wife and daughter, including time at our family lake house, traveling together or just going out to dinner. I'm a voracious reader, usually of science fiction and fantasy. I also enjoy water sports such as sailing and crafting woodwork in my workshop.
Do you have a secret talent?
When I met my now-wife, she was shocked that I actually knew how to dance. She says I don't look like a dancer. She was also amazed with how much I enjoy working with tools, because I apparently don't look like a lumberjack. Nevertheless, she enjoys that I have both of those secret talents.
If you hadn't pursued a legal career, what would you be doing?
In my dream job I'd be captaining a yacht somewhere in the tropics! More realistically, I love working in the workshop and DIY projects. I'd probably be doing something in the field of engineering or construction to build things.
Who is someone who has inspired you in your career?
Hal Woodard was one of my mentors. He was a phenomenal attorney, but beyond that, he was a consummate gentleman and friend. One of his habits was to visit each person in the office every day to ask how they were. He would ask questions about their kids and their nonwork lives. He made each person he talked to feel special. He also inspired my philosophy in practicing law: to always be diplomatic and understated in dealing with everyone, rather than responding in a way that raises the confrontation level.•
Please enable JavaScript to view this content.