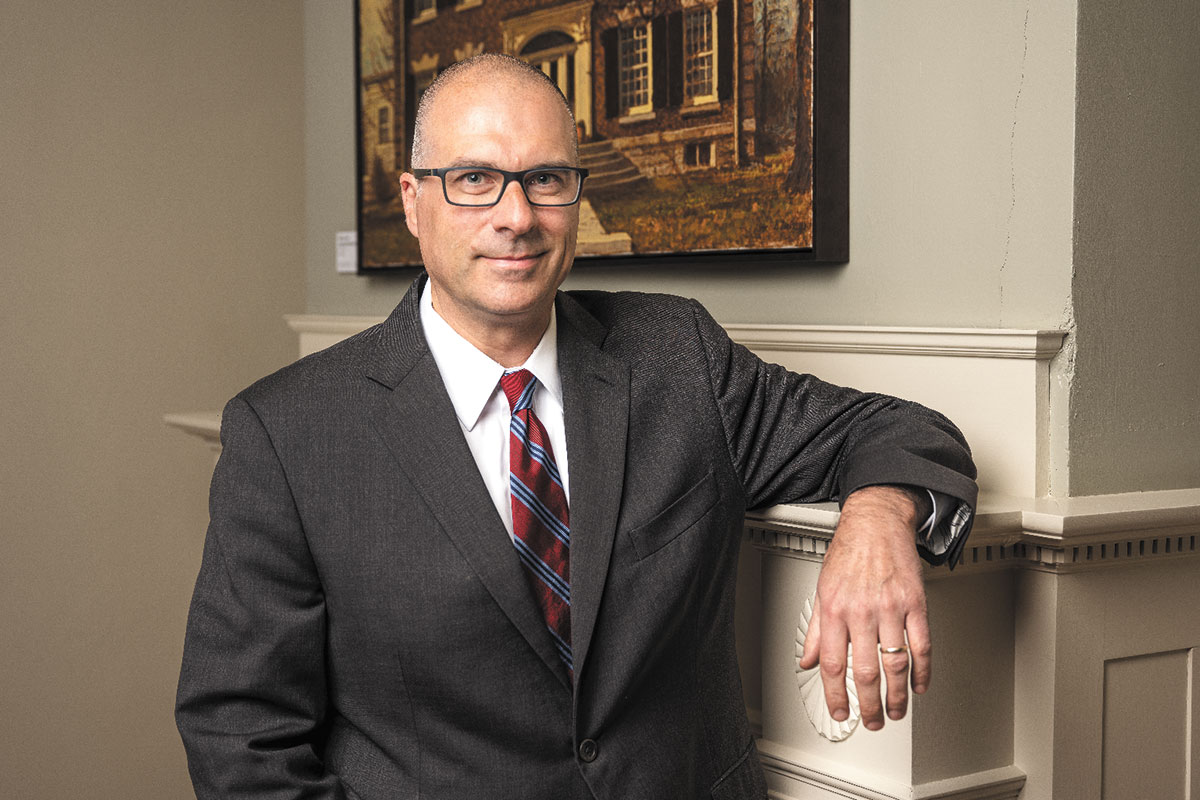 Dentons Bingham Greenebaum
Indiana University Maurer School of Law, 1998
What makes a good lawyer/judge?
Experience. Experience teaches lawyers certain valuable skills: listening, oral advocacy, etc. I don't believe anyone is born a great lawyer, or is a great lawyer on the first day he or she is admitted to the bar. Many new lawyers have the talent and potential to not only be good, but to be great. They simply need the right combination of experiences to attain greatness. Optimizing the chances of gaining the experience necessary to reach greatness requires hard work. This correlates well with Teddy Roosevelt's "The Strenuous Life" speech given more than 120 years ago: "I wish to preach, not the doctrine of ignoble ease, but the doctrine of the strenuous life, the life of toil and effort, of labor and strife; to preach that highest form of success which comes, not to the man who desires mere easy peace, but to the man who does not shrink from danger, from hardship, or from bitter toil, and who out of these wins the splendid ultimate triumph." The path to greatness is not linear. There will be setbacks along the way. If one works hard, overcomes obstacles and gains the requisite experience, greatness lies within most lawyers' grasps. Of course, this is my conjecture — I certainly do not consider myself to have achieved greatness.
What is something you wish people knew about lawyers?
I wish people knew all the positive societal impacts that lawyers make. Too often, society lumps a few bad apples in with all the good lawyers and maligns the practice of law generally.
How do you spend your free time?
Spending time with my family, planning and taking our next adventure, and sports, which is really a catch-all category. Sports are made up of youth sports — we're down to one at home now, so more time is freeing up, but my wife, Audrey, is a saint for coordinating schedules, ferrying our kids to and from practices, and making sure I know when the games are — Indianapolis Colts football and Seattle Mariners baseball. My younger son and I traveled to New York City last summer and took in all three games of a Mariners-Yankees series, including Luis Castillo's first start for the Mariners after the trading deadline. This summer, we'll be going to Spain to visit my older son, who will be studying in Barcelona.
Do you have a secret talent?
I can eat 50 eggs. Just kidding. Some might say being able to come up with à propos movie quotes for various situations qualifies as a secret talent.
What drew you to utilities/energy law, and what do you enjoy about that practice area?
The gravitational pull of dumb luck attracted me to a utilities, energy and water practice. When Keith Bice and I started at McHale Cook & Welch, one of the predecessor firms to Dentons, the recruiting partner asked in which practice groups we wanted to be placed. We both requested the corporate and real estate practice groups. Because there wasn't enough work for both of us in those areas, the firm, in the wisdom of Solomon, split our practice group assignments, giving me real estate and utilities.  Somewhere during that first 12-18 months of practice, a case came in where a utility had encountered some serious regulatory trouble. I spent about two years of my life on that regulatory litigation, and we ultimately received a favorable outcome for the client. I think my work on that case built trust with the partner overseeing the case. From that point forward, I did more and more utility work. As for what I enjoy about the practice, first and foremost, it's the great people I get to work with and for, and the relationships I've developed over time. Much of life is circumstantial, so I feel very lucky and grateful that circumstances have me working for and with people I consider friends. Secondly, back in 1994, my dad explained that his practice of law as a litigator was different every day. That has turned out to be true for a utility, energy and water practice, as well. Working on the regulatory issues for a wind energy project one day, to advising on water rate issues the next, to land use and tax abatement issues for a solar project the day after that, and then on to electric vehicle charging policy the following day, every day is different, and that keeps things interesting.
We hear you're a podcaster — tell us about that.
You may regret asking this question. Back in 2013, my family and I moved to Denver and purchased a new car once we arrived (a Subaru Outback — Indiana made, but there are so many of them in Colorado that we joked that it must be the official car of Colorado). With this new set of wheels came the ability to plug in my phone (this was before new cars came equipped with Bluetooth as standard technology) and listen to podcasts. I tried to find a podcast about water, without any luck. Sensing a market need, I got buy-in from my wife, developed a business plan identifying a list of topics, potential guests, needed equipment, etc., and ran it by several people in the industry who I trusted. To a person, each said I should go forward.
I convinced three people to be interviewed for this podcasting experiment in late 2013, recorded the first three episodes in January and February of 2014, and released the first three episodes on March 17, 2014. Before starting this podcasting journey, I promised myself I would publish an episode per week for a year and reevaluate after I made it through the first year. It didn't take me long to realize that podcasting is a lot of work, especially while trying to balance work and family obligations. I made it through the first year keeping that promise I made to myself and decided to scale back to two releases per month, which is much more manageable.
As of April 4, 233 episodes have been released. The podcast has been a great way to network, develop relationships and educate myself about water issues. I've interviewed utility leaders from coast to coast and places in between (e.g., George Hawkins, Adel Hagekhalil, Jeff Kightlinger, Cathy Bailey, OJ McFoy, John Entsminger, Pat Mulroy and more) and people playing significant roles in the water sector (e.g., the late Hon. Gregory J. Hobbs Jr., Cindy Wallis-Lage, Christine Boyle, Tom Ferguson, Bo Abrams, Claudia Toussaint, James Eklund and more). The podcast has enabled acquaintances internationally and has welcomed guests from six continents.
Producing a podcast has made me appreciate sound engineering and how hard it is to get that right; it's also taught me not to let perfection be the enemy of the good (had I not learned this lesson, I'd still be doing takes on episode 20 or so, vainly trying to get it "right").
All in all, podcasting has been a great experience. Just like life, it's had its ups and downs, but the journey has been fun. I'm fortunate to have an understanding and supportive wife, enthusiastic industry colleagues, and the good fortune to start the podcast and build an audience before the podcasting field got crowded.
Why did you decide to enter the legal profession?
My father was a trial lawyer and, later, a judge. While growing up, I never thought I'd be a lawyer. I don't have the knack for public speaking and the ability to speak extemporaneously that my dad possesses. After graduating from college in 1993 when the job market was tough, I spent some time Kerouac'ing about Seattle selling insurance, working in an upscale fireplace shop (we installed the fireplaces on Paul Allen's Mercer Island estate, installed barbecue grills for several Seattle Mariners players, including one for Jay Buhner the day before the 1994 Major League Baseball strike, and after I left for law school, the shop installed the fireplaces at Bill Gates' new house), and backpacking, hiking and snowshoeing through the Cascades (including building and sleeping in a snow cave). After a few years and speaking with my dad about being a lawyer — how each day was different and presented new and constantly evolving challenges — I decided to apply to law school, and the rest, as they say, is history.
What's the best advice you've ever received?
a. "Don't let the form control you." Early during my senior year of high school, I was completing applications for college (back when this was done in wet ink) and came to a check-the-box type of question in which my preferred response didn't fit neatly. My dad advised me to not let the form control me. Rather, I should select the best answer and qualify it by creating space for and adding additional information and context to explain myself more fully. His advice taught me to never let artificial constructs control the message that needs to be conveyed.
b. Confidence in my ability to deliver. I was a young associate with a full plate of work and then some. As I sat in Randy Seger's office midweek being assigned another project that had a Friday due date, I told him I'd "try" to get it done by Friday. Randy paused and said I needed to show confidence in myself and say that I will get it done. Who knew Randy could channel Yoda on the fly? ("Do. Or do not. There is no try." — Yoda in "The Empire Strikes Back"). I successfully completed the project by the deadline, and I have shared Randy's advice with younger lawyers often.ractice of law generally.
Who is someone who has inspired you in your career?
Many people have provided inspiration, but I have to go with my dad on this one. He opened my eyes to what being a lawyer could be.
If you hadn't pursued a legal career, what would you be doing?
Hmmm … let's go with being a part-time backcountry travel guide and a part-time historian. I love getting off the beaten path and vastly enjoy history. •
Please enable JavaScript to view this content.