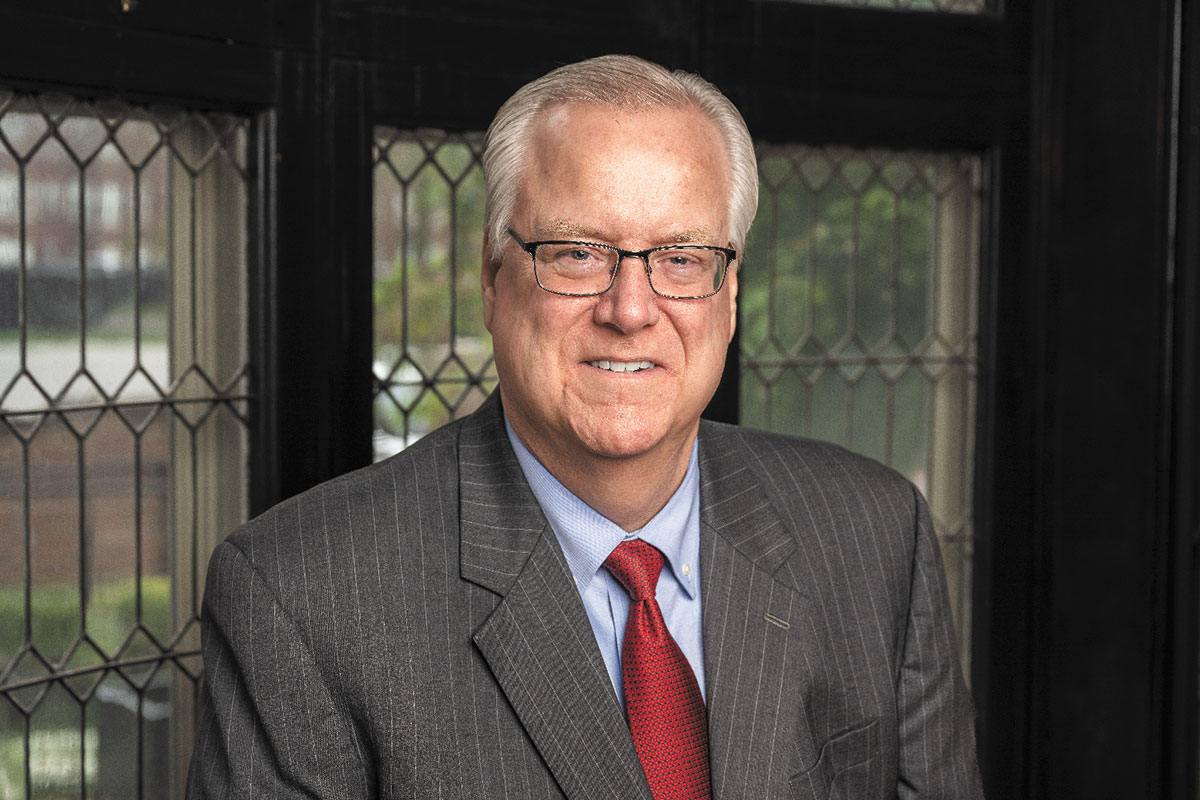 Office of Gov. Eric J. Holcomb
Indiana University Maurer School of Law, 1987
Why did you decide to enter the legal profession?
First and foremost, I wanted to help people, and the legal profession offers so many ways to do that. Half of my career has been spent in state and local government, including two years clerking for a trial judge, two years clerking for an appellate judge and 10 years as legal counsel for two governors. I find it hard to adequately describe how much public service means to me, but it's incredibly rewarding and has fulfilled my intentions for becoming a lawyer.
Who is someone who has inspired you?
My ancestor, Theis Thorkildsen Lundegaard, a founding father of Norway and a signatory to the 1814 Norwegian Constitution. His dad died when he was 3 and he grew up in poverty, but through hard work and determination, he built a life of significance that positively impacted so many. He was known for his mental acuity, common sense, wit and humor, fearlessness, and compassion for those less fortunate. He's a role model to me, and I've always aspired to be like him.
Do you have a secret talent?
When I was 15 years old, I got a job as a janitor at a bowling alley. One of the perks was that you could bowl a couple games for free right before or after your shift, so I often did that. Surprisingly, I quickly got good at bowling, and several years later during my first year in college, my intramural bowling team won the campus championship. I haven't bowled in many years and would probably throw my back out if I did, but I suppose that could be considered a secret talent because virtually no one knows about it, until now.
What makes a good lawyer/judge?
Having spent a significant amount of time in the last six years advising Gov. Holcomb on judicial appointments, I'll focus my answer on the attributes I believe are very important for a good judge to possess. While Socrates famously, and quite correctly, said that a good judge is able "to hear courteously, to answer wisely, to consider soberly and to decide impartially," I'd add several more to the list. A good judge must also have a deep respect for the judiciary as an institution, be of high character and integrity, have excellent communication skills, embrace change and innovation, respect the boundary between interpreting the law and making it, and be absolutely committed to justice and the rule of law always.
What's the best advice you've ever received?
To be honest, humble and hungry. Honesty is an incredibly important value that tends to nurture other positive attributes like kindness, love and respect. Being humble reminds a person that it's not all about them, which can lead to greater understanding and compassion toward others. And being "hungry" is about doing meaningful things with your life, because one person can indeed make a difference.
How do you spend your free time?
Reading and taking walks with my wife. We even try to hike trails around Indiana occasionally, although my knees don't always agree. But I love to learn, and reading books, articles and the news is an incredibly important part of my life and helps me to be a better person and citizen of this country. I believe we have a duty as citizens of this great nation to be informed about what's going on in society and around the world. So reading the news daily from different and politically diverse outlets, as well as reading scientific or other articles that go into greater depth on important subjects, is something I take seriously and really enjoy.
What is something you wish people knew about lawyers?
That lawyers do remarkable things every day to help people, such as providing pro bono legal services to the less fortunate or contributing to society in other meaningful ways. And we do those things because we care. But unfortunately, lawyers have gotten a bad rap in the past, which has only been magnified by the rise of the internet and the craziness of social media. Today, it seems the lawyers people hear about most frequently or who make the news regularly are often not good representatives of our noble profession. And it is a noble, learned profession without which society would be a hot mess
Gov. Holcomb has made a significant number of judicial appointments. What can you tell us about the process of reviewing and selecting judicial candidates?
Well, Gov. Holcomb has made 88 so far, which is unprecedented in state history and equates to one appointment every 3.5 weeks since he took office. Plus, there are seven more in process right now. At this pace, he'll probably be at 110 before his term ends. For perspective, Gov. Daniels appointed 63 judges and Gov. Pence appointed 25.
My goal at the start of the administration was to create a robust, efficient and effective process for vetting candidates so the governor can make the best possible decision. Key aspects of our process for trial court vacancies include having a face-to-face interview with every applicant, interviewing them in the county where the vacancy exists instead of at the Statehouse, learning about that county in general as well as the reputation and needs of its judiciary, and talking with many people who know the candidates well and can speak to their character, experience, skills, abilities and demeanor.
Our process for appellate appointments is similar but even more robust and includes, for example, giving the finalists a writing assignment that helps us compare how each of them applies the law to the same set of facts and how they explain their reasoning. The governor also interviews each finalist in an informal setting, typically at the Governor's Residence, before making his final decision. We've had a lot of compliments about our process and how we approach judicial vacancies.
If you hadn't pursued a legal career, what would you be doing?
Serving our country in some way, such as the diplomatic corps, the military or our intelligence agencies. During college, I developed a much deeper understanding of the uniqueness and importance of the United States in the world. One of the great accomplishments of the last 40 years is the spread of democracy and democratic ideals around the globe, and our country has been critical to that happening. Being even a small part of that effort would have been very meaningful to me.
Tell us about your work with the American Heart Association.
At a young age, I was shocked to learn of the existence of heart attacks, that heart disease affects nearly every family in our country, and that this disease and its aftermath can be absolutely devastating on loved ones.  Having been blessed in so many ways in my life, I knew after law school that I wanted to give back in some way, and the mission of the American Heart Association really resonated with me.  So I got involved and volunteered, serving nearly 30 years in various leadership roles at the local, regional and national levels, and the progress made over that time in fighting heart disease and stroke has been nothing short of incredible.  My life has been immeasurably enriched through my service to this amazing organization.  •
Please enable JavaScript to view this content.