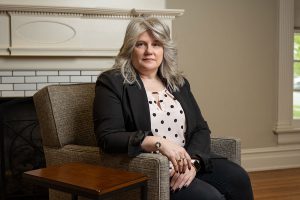 Kroger Gardis & Regas LLP
IUPUI, 2023
If you weren't working in legal support, what would you be doing?
Had my life experiences been altered a bit, I believe I would have gone into public service. I would have been interested in being a police officer working my way to the FBI.  
What makes a good paralegal/legal support staffer?
I think what makes a good support person is understanding that you are more than a support person, but really part of a team. No matter what your role is called, we are there to support the attorney(s) we work with, and we are there to help boost their practice(s), which, in turn, boosts the firm and makes everyone look good.     
What would you say to someone who is considering a career in legal support?
Soak it all in. The great thing about a law firm is that there are usually so many different areas of law at work. The experience you can get doing various jobs within different areas of practice gives you insight into what you may or may not like. And do not be afraid to ask questions.  
How do you spend your free time?
Currently most of my free time is spent on work associated with obtaining my undergraduate degree from IUPUI. I will graduate this December with a B.A. in policy studies. When I'm not working on homework, I'm usually spending time with my adult kids in some way. I spend a lot of time with them doing Broadway shows, movies, concerts and mini getaways when possible.   
You've worked for KGR for 23 years — what is it about the firm that's made you stay all that time?
I feel like we have a unique setting at KGR. I have stayed for 23 years because of support and flexibility, but it doesn't hurt that we genuinely have fun as a firm. When I started at KGR, I wasn't quite sure what I was getting into, but quickly built a relationship with the attorney I worked closely with for 20 years. And when I decided I wanted to attend IUPUI, my attorney, along with the firm, were never anything other than completely supportive and excited for me to further my education. Then I decided to stay at KGR when my attorney switched firms. That decision to stay has led me into the policy field that I've longed for and is creating new opportunities all the time.  
We're told you're the ethics director for the Indiana Paralegal Association — what does that role entail, and what do you enjoy about it?
I am fairly new to the position of ethics director for the IPA.  The role allows me to have a board position and oversee any ethical issues that may come up with any of our members. Paralegals are held to ethical standards and our members have their own canons that they must follow. But it's the getting involved aspect that I thoroughly enjoy and the ability to be involved in monthly discussions on how we can continually improve our profession. I want to give back as much as possible.
What makes a good lawyer?
I think good communication makes a great lawyer. Whether you are referring to a good lawyer for clients or a good boss, their communication skills shape everything about their practice. They listen, absorb, and respond clearly and concisely.
Why did you decide to become a paralegal/legal support staffer?
I have always been interested in the legal profession, and my ultimate dream was to become a lawyer. After graduating from high school, I attended a nighttime program to receive my paralegal's certificate. That was when the profession didn't even really know what to do with paralegals yet. I needed experience, so my first legal job was as a receptionist and all-around assistant in a tiny office with one attorney, and I was instantly hooked. I worked my way from that receptionist position into various secretarial, assistant and eventually my current paralegal role. All my positions led me to realize my true calling was in public policy work. I'm now working on learning everything I can to continue supporting my policy team at KGR and growing our practice.  
Do you have a secret talent?
I can't say I have an actual secret talent, but something a lot of people don't know about me is my love of boxing. I have followed a particular former pro MMA trainer to many different gyms in Indianapolis for years and absolutely love it. It is one of the best workouts I think a person can have. Due to my work and school schedule, it's been almost impossible to make it for a while, but when I do it's my ultimate happy place. Even at my age.    
What's something people might not know about the legal support profession?
People might not realize how much behind-the-scenes work goes into an attorney's finished product. Deadlines, drafts, revisions and filings can take much more time than people think. Not to be too arrogant, but people may not realize that we are the ones who keep the wheels turning for that finished product.•
Please enable JavaScript to view this content.