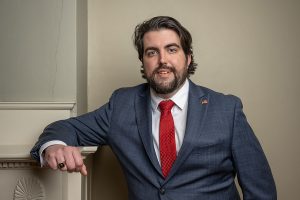 Barnes & Thornburg LLP
Valparaiso University School of Law, 2017
Why did you decide to enter the legal profession?
The legal profession is one of the few professions that provides an intense analysis of the important decisions of the past as guides for the important decisions to be made in the present. In addition, the legal profession allows individuals to engage in some of the most important discussions that people consider, such as self-governance, the inherent good of mankind, the fair treatment of individuals, ethics, philosophy and morality.
Who is someone who has inspired you?
First, my legal and business professors at Holy Cross College in South Bend. Personally, I wanted a career that was challenging and could have a positive impact on society at-large and in my local community. I am forever indebted to Holy Cross College for giving me the skill set to be successful in the legal profession. Second, attorney Adrian Guzman, who gave me my first legal clerk intern position while I attended Holy Cross College. Guzman has been a mentor to me my whole life, and it is a privilege to call him
my friend.
What's the best advice you've ever received?
My father told me, "Don't confuse effort with results." This is not to say that effort is unappreciated. It will be noticed, but if nothing comes from all that effort, the harsh truth is that it just doesn't count.
What is something you wish people knew about lawyers?
We despise the billable hour as much as our clients do!
How do you spend your free time?
Generally, I like to read books, watch hockey, hang out with the Hoosier Hub guys and, most importantly, act as an unlicensed therapist to my wife while she watches the Green Bay Packers play during the NFL season.
Why did you decide to pursue an LL.M. after law school, and what has been the benefit of that degree?
I wanted to get a better understanding and a holistic view of the securities and capital markets industry. My professors at Georgetown University were generally Securities and Exchange Commission regulators. To that end, I spent a year learning from the best securities and capital market regulators in world. In sum, my LL.M. degree has been invaluable to my career.
You spent some time working on Capitol Hill before entering private practice. What lessons did you learn from public service that carry over to your work now?
From my time working with Sen. Todd Young's team, I learned the following lessons: 1.) Put the purpose first while exercising compassion and collaboration; 2.) keep your integrity; 3.) push for innovation; and 4.) understand how to deal with disappointment, criticism and adversity.
What makes a good lawyer/judge?
Many lawyers tend to see every problem as a legal one. However, that's not how clients see their problems. Good lawyers know how to immerse themselves in a client's business and provide appropriate legal services to achieve the desired commercial objective. Truly understanding a client's problems comes from active listening. It's an underrated skill that never goes out of style.
If you hadn't pursued a legal career, what would you be doing?
Most likely I would be ripping cigs and working for the best steel transportation company in the country, Ficel Transport.
Do you have a secret talent?
My very useless talent is I can make a spit bubble, close it, blow it in the air and put it in my mouth without popping it. In sum, I can blow bubbles.•
Please enable JavaScript to view this content.