Joan Ruhtenberg, clinical professor of law emerita at Indiana University Robert H. McKinney School of Law, who taught generations of Hoosier law students the fundamentals of legal writing, died March 4. She was 84.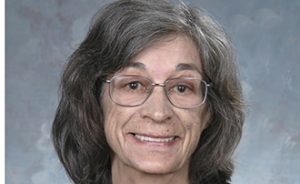 A celebration of life will be held at the Gothic Chapel at Crown Hill Funeral Home & Cemetery in Indianapolis at 11 a.m. April 29.
Ruhtenberg was born in Memphis, Tennessee, and earned a bachelor's degree in English from Mississippi University for Women. She studied Latin languages and literature at the University of Colorado and composition and rhetoric at the College of William and Mary.
Settling in Indianapolis, Ruhtenberg took graduate courses in English at Indiana University-Purdue University Indianapolis, then followed her long-held dream of becoming a lawyer and enrolled at IU McKinney.
Graduating magna cum laude, Ruhtenberg was hired by IU McKinney as a legal writing instructor for the 1980-81 academic year. She continued teaching and directing the legal writing program until she retired in 2014.
Under her leadership, the IU McKinney legal writing program was repeatedly recognized nationally for its excellence. Also, she co-authored the second, third, fourth and fifth editions of "A Practical Guide to Legal Writing & Legal Method."
"Like me, many of our grads were fortunate to be taught by Joan Ruhtenberg and owe much to her gifted teaching and caring mentorship for our success in law school and professional careers," Cynthia Adams, vice dean and clinical professor of law, said in a news release. "A doyenne of legal writing and critical thinking, Joan was instrumental in developing our Legal Communication Analysis (LCA) program into the nationally ranked program it is today."
IU McKinney alumnus and now adjunct professor Michael Mullett and his wife, Patricia March, created the Joan M. Ruhtenberg Scholarship for Achievement in Life and Legal Writing.
Now in its 24th year, the scholarship is awarded to a student who demonstrates excellence in legal writing, qualifies for financial assistance and has overcome obstacles to be admitted to the law school. Nearly 30 IU McKinney law students have received support from the scholarship.
"Professor Ruhtenberg's legacy of excellence in teaching legal writing lives on in the law school legal communications program and in the many McKinney alumni who she taught and influenced," said IU McKinney Dean Karen E. Bravo.
Please enable JavaScript to view this content.