State legislators honored longtime Court of Appeals of Indiana Judge Edward W. Najam Jr. for his decades of service last week in anticipation of his upcoming retirement.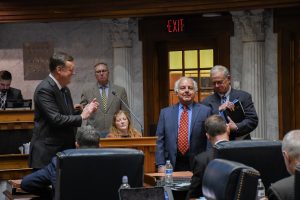 Republican Sen. Eric Koch brought a Senate concurrent resolution on Jan. 25, recognizing Najam for his 30 years of service on the Court of Appeals, calling him "a friend and true colleague."
Najam, who was appointed to the Court of Appeals by Gov. Evan Bayh in 1992 and retained by the electorate in 1996, 2006 and 2016, is set to retire this year, although an official date has not been announced. Pursuant to Article 7, § 11 of the Indiana Constitution and Indiana Code § 33-38-13-8, appellate court judges must retire when they reach 75 years old.
An official retirement date for Najam is likely to be set later this month, according to a Court of Appeals spokesperson.
Chief Judge Cale Bradford and several members of the appellate court joined Najam in the Senate chamber last week to celebrate his judicial service.
Lawmakers recognized Najam's achievements, including his role in the advancement of modernizing the practice of law, his academic and legal successes, and his commitment to the Indiana judiciary.
The resolution highlighted Najam's 10-year service on the Supreme Court Committee on Rules of Practice and Procedure, his initiation of the Appellate Rules Project that prompted the first comprehensive review of appellate rules in 30 years, and his work helping to initiate the Odyssey electronic case and financial management system for Indiana courts.
"It is altogether fitting that the General Assembly recognize Judge Edward Najam for his 30 years of exemplary service and to thank him for his meaningful and far-reaching contributions to the practice of law in the state of Indiana," Koch said.
Several senators directly congratulated Najam, including Democratic Sen. Tim Lanane, who thanked the judge for his distinguished judicial career.
"He always has a smile on his face, a friendly word to say and some words of encouragement, and I've appreciated those over the years," Lanane said. "I hate it that you're retiring, to be frank with you, but congratulations."
Democratic Sen. Rodney Pol, an attorney who has argued cases before Najam in the past, recalled a time when the judge issued what Pol described as a "well-thought-out" opinion.
"The thought that went into it and the consideration, both applied by the law and then in practicality, spoke both to your character and who you are," Pol said.
Republican Sen. Mike Young thanked the judge for serving Hoosiers well in his interpretation of the law.
"I think you epitomize exactly what it is to be a judge and to have those balanced scales, and they never tip one way or the other," said Young. "You did a fantastic job and we are grateful that you were a judge here in Indiana."
Koch turned back time in remembering when Najam was a private practitioner just a few blocks down from Koch's office when they first became friends.'
"As I read his opinions, I also thought that they reflected somebody who spent a career representing and helping real people in real situations," Koch said.
Mirroring Pol's comment, Republican Senate President Pro Tem Rodric Bray noted Najam has spent decades listening to lawyers argue their cases before the court.
"That is a lot of time listening to lawyers argue their case," he said. "But to do so in an even and balanced way for so many years gives a great bit of confidence to Indiana in our judiciary, which is vitally important."
Please enable JavaScript to view this content.